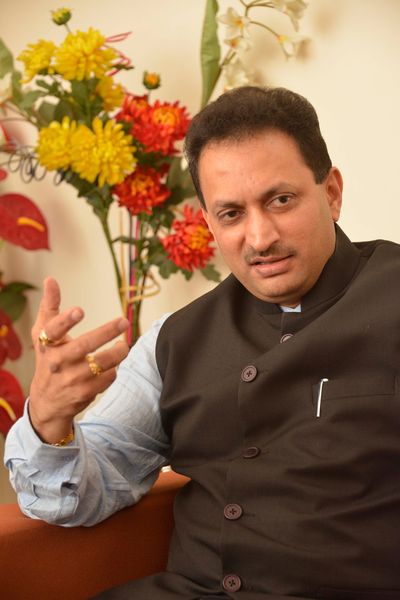 Among the row of houses on Lutyens Delhi's Ferozeshah Road, one official bungalow has a distinct flag fluttering atop its gate, setting it apart from the rest. The flag with Lord Ram's name painted several times has an image of Hanuman carrying the mountain of herbs. For those who know the bungalow's occupant, the flag is a proclamation of not only his faith but also his politics—both entwined with each other. Five-time BJP MP from Karnataka Anantkumar Hegde has been staying here for years, even after he became the Union minister of state for skill development and entrepreneurship last September.
In 1994, Hegde flagged off his political journey by defying a curfew to hoist the tricolour, along with other members of the Hindu Jagarana Vedike, at a disputed Idgah maidan in Hubli. That caught the RSS's eye, and in 1996, he contested the Lok Sabha elections on a BJP ticket from Uttara Kannada. Since then, there has been no looking back, except in 1999 when he lost to the Congress's Margaret Alva.
Knowing that nationalism and hindutva mean the same to him, not many were surprised when Hegde, during a function in his constituency last month, questioned the concept of secularism and said his government was here to change the Constitution. He has always courted controversies with his provocative statements, rarely showing regret. Only, this time he was part of the government. After opposition parties created a ruckus in Parliament, the 49-year-old leader apologised. "My statement was misinterpreted," Hegde told THE WEEK. "I always respected Dr B.R. Ambedkar. Even Atal Bihari Vajpayee used to call him rishi, mahatma [saint]. I also call him so. My statement was politically distorted."
But the apology has not diminished his stature within the BJP. Hegde has emerged as the hindutva face of the party in Karnataka—which will go to the polls this May—with many drawing parallels with Uttar Pradesh Chief Minister Yogi Adityanath. Last October, he wrote to Karnataka Chief Minister Siddaramaiah, saying he would not participate in the state celebrations of Tipu Sultan Jayanti as the Muslim ruler was a "brutal killer, wretched fanatic and mass rapist." The Tae kwon do practitioner has done little to mask his aggression against Islamic fundamentalism. During a press conference in 2016, he said, "As long as there is Islam, there will be no peace in the world."
In Karnataka, politics has been dictated by caste equations, and this election is no different. The numerically significant Lingayats have demanded to be categorised as a separate religious group. Though Lingayat leader B.S. Yeddyurappa has been declared the chief ministerial candidate, BJP leaders like Hegde and first-time MP Pratap Simha have been raising hindutva issues.
Hegde's politics, however, is rooted in the prominence of hindutva over the caste-based politics that has been threatening the BJP. "Look at what happened in [the] Uttar Pradesh [elections]," said Hegde, who also runs an NGO, Kadamba, that works for rural development. "People rose above caste divisions to vote as one [for the BJP]. This is what we call 'Making India'. Caste has been a recent construct. Is there any reference to caste in any vedas or puranas. It crept in late with outside influence."
When asked about the assertion of castes in BJP-ruled states, he said, "When there is samudra manthan [churning in the sea as signified in Hindu religious texts], it is the poison that comes out first. Demons were the first ones to come out. Good things will come, too." Some intellectuals and secularists, he said, were trying to fan caste divisions, as evident in Gujarat and Maharashtra. "Cultural nationalism is our identity," he asserted. "We all are one."
Hegde's Uttara Kannada constituency is part of the coastal region, which has had a history of communal polarisation. In 2017, the region saw communal clashes following the killings of Social Democratic Party of India (SDPI) activist Mohammed Ashraf Kalayi, RSS worker Sharath Madiwala and Bajrang Dal member Deepak Rao. The belt has 19 assembly seats across three districts—Uttara Kannada, Udupi and Dakshina Kannada—which includes Mangaluru and Bhatkal towns. In 2013, the BJP won only three seats, while the Congress cornered 13.
Despite the lack of a significant Brahmin population in Uttara Kannada, Hegde, a Brahmin, has been winning the seat by wooing the OBCs with his strong saffron pitch. A BJP leader said Hegde's stature had surely risen within the party and state after the surprise move by Prime Minister Narendra Modi and BJP president Amit Shah to make him minister. Though Hegde has the political heft to take on Siddaramaiah, the BJP would not like to dilute Yeddyurappa's brand by promoting Hegde over him.
The Congress accused the BJP of playing 'good cop, bad cop', with Yeddyurappa presenting a moderate face and Hegde a hardliner image. "The BJP strategy over the years has been to use the hindutva ideology to foment trouble in the state," said Rajya Sabha member M.V. Rajeev Gowda. "The coastal region had rejected the BJP the last time. Now, they are trying to rake up sentiments again." With respect to Hegde's comment on changing the Constitution, Gowda said, "Even during Vajpayee's time, they had set up a committee to review the Constitution. The BJP wants a Hindu rashtra."
While Hegde has an eye on the coastal belt, his focus has been the skill development ministry. Seven skill development universities are being planned, he said. Also, after getting approval for creating a separate cadre of skill development services, the Union Public Service Commission has been asked to start recruitment. "We also plan to open Indian Institute of Skills in all the states," said Hegde, who, when at leisure, listens to Indian classical music, reads books, does yoga, paints and writes poetry. Clarifying that job creation was never the ministry's aim but skill certification, he said, "We are expanding our technological platform to include data on people who get certificates and take up jobs. After expansion, we will be able to track the jobs they have been employed with."
HEGDE-ROWS
DECEMBER 24, 2017
Anantkumar Hegde, on the Constitution: "The Constitution needs to be changed from time to time and we have come for that."
FEBRUARY 28, 2016
On Islam, at a press conference: "As long as there is Islam in this world, there will be terrorism".
JANUARY 2, 2016
Hegde, a black belt in Tae Kwon Do, assaulted doctors at a private hospital for allegedly not treating his mother.
2014
Alleged that Congress leader R.V. Deshpande had sheltered Indian Mujahideen terrorists in Bhatkal.
2010
Commissioned a documentary about himself, titled 'The Real Hindu', where one of his achievements is the 'ghar wapsi' of 300 Christians.
1994
Dodged prohibitory orders and raised the national flag at the disputed Idgah Maidan in Hubli.