Narendra Modi and Mamata Banerjee remained silent on the issue of starvation deaths till the end of 2015.

The Central government has acquired seven tea gardens which were shut down and is in talks to take over seven more.

About three lakh people live in extreme poverty in this part of West Bengal, whose economy is influenced heavily by the policies of the Central government.

In many households, men stay back at home, while women try to earn some money by breaking stones or even by begging.

Despite repeated requests, the Tea Board of India declined comment on the issue of starvation deaths in the Dooars.
Barun Dorji turned 50 on March 13. But at his home in Hantapara village in West Bengal's Alipurduar district, there were no celebrations as the former taxi driver was on his deathbed, not even responding to his wife Reshmi's calls. Barun died a day later. Reshmi, who once worked at the Hantapara tea garden could not feed her ailing husband for many days. The family had been starving for more than a year, after the plantation was closed down. They started receiving government rations only a fortnight before Barun's death and that, too, because of the assembly elections.
"Once we got the rations, I tried to feed him. But his body could not take food because for a long time he did not eat at all," said Reshmi. After Barun lost his job following an accident, Reshmi was the family's sole breadwinner. But the Hantapara tea garden, owned by the Duncan group, was shut down in February last year, leaving her and 5,000 other workers jobless. The company rations had been stopped a few months before that. It forced Reshmi to take up the job of breaking stones, which fetched her 140 a day. With the meagre amount she earned, Reshmi could feed just her two kids. Starvation hurt Barun badly and a few months later, he was bedridden. When a mobile clinic came to the village, Reshmi tried to take him there, but Barun could not move. So she requested the medical team to come to her place, but they refused. "No doctor came to our house despite repeated requests," said Reshmi.
"Those who are without food could hardly survive beyond three or four weeks, depending on their immune system," said Ranabir Chowdhury, a doctor from Kolkata. "The symptoms of starvation death are: the body would bend, movements will stop and finally there will be no vision," he said. Reshmi said her husband showed all those symptoms.
Hantapara is part of the famous Dooars region in the Himalayan foothills surrounding the India-Bhutan border, which accounts for 35 per cent of India's tea production. The once prosperous region still has many good houses owned by tea companies and many employees continue to live in these houses even though the plantations are being shut down. It could be one of the reasons why the authorities and outsiders do not associate people from the region with poverty and starvation.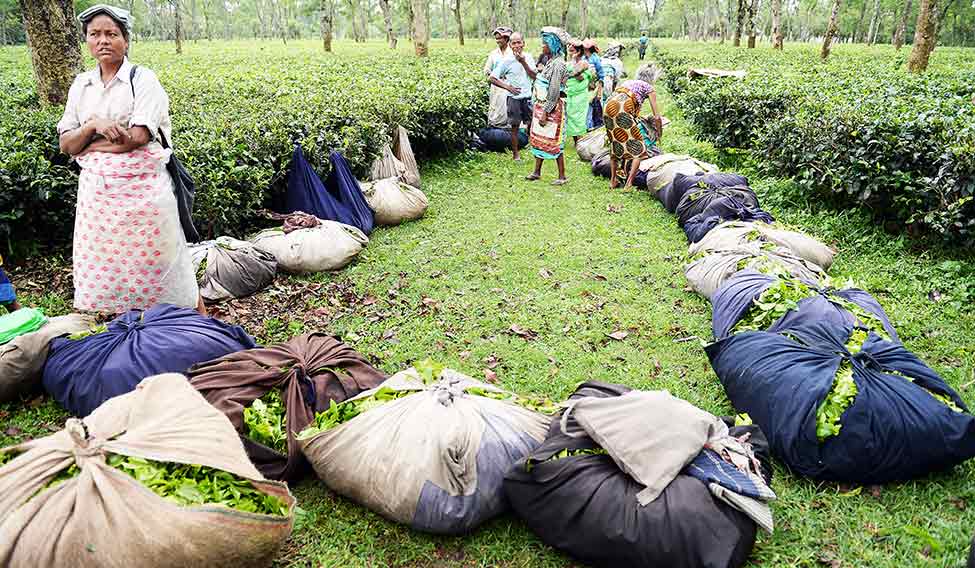 As many as 32 tea gardens in the Dooars have been closed down since February 2015, almost ten months after Narendra Modi came to power in Delhi. It has affected nearly 60,000 employees and their families. About three lakh people live in extreme poverty in this part of West Bengal, whose economy is influenced heavily by the policies of the Central government, as tea cultivation comes under the Central list. Local people hoped for better days when a former tea seller became the country's prime minister. "But the irony is that our cries did not reach our prime minister or Mamatadi, our chief minister," said Reshmi.
Modi and West Bengal Chief Minister Mamata Banerjee remained silent on the issue till the end of 2015. In January this year, the prime minister sent Commerce Minister Nirmala Sitharaman to tour north Bengal and evaluate the crisis. Mamata followed suit and drew up plans to give rations to tea garden workers and announced the decision to do so just days before the assembly elections were notified. But, by then, more than 100 people had lost their lives, turning the Dooars into the death valley of West Bengal.
No postmortem examinations were conducted. Some of the bodies were taken to local primary health centres, where the doctors declared them 'dead on arrival'. In some cases, the local panchayat chiefs issued death certificates. "Deaths were reported almost on a daily basis. Some people did not have the money to take the bodies to hospitals. So we issued death certificates for them as there was no dispute," said Santabir Yonzon, head of the Hantapara-Dhunchipara panchayat.
But according to the rules of the Medical Council of India, the death certificate should mention the cause of death. Yonzon said he was not aware of the stipulation and pleaded ignorance. Puran Sharma, chief medical officer of health of Alipurduar district, said the relatives had no complaints. "So there was no question of postmortem examination." Sharma, in fact, said the deaths were the result of lack of education and awareness and the unique behavioural pattern of the tea garden workers. "I would say that the villagers did not have the health service seeking behaviour. When they were sick, they did not go to hospital or local clinics. Instead, they kept the patients at home, causing death," he said.
With the situation getting out of hand, the Central government has acquired seven tea gardens which were shut down and is in talks to take over seven more. Criminal proceedings have been initiated against erring companies. Yet, the Central and the state governments refuse to admit that the deaths were caused by starvation. "Please ask me questions related to health issues," said Sharma. "I am not supposed to know whether they had food grains or not."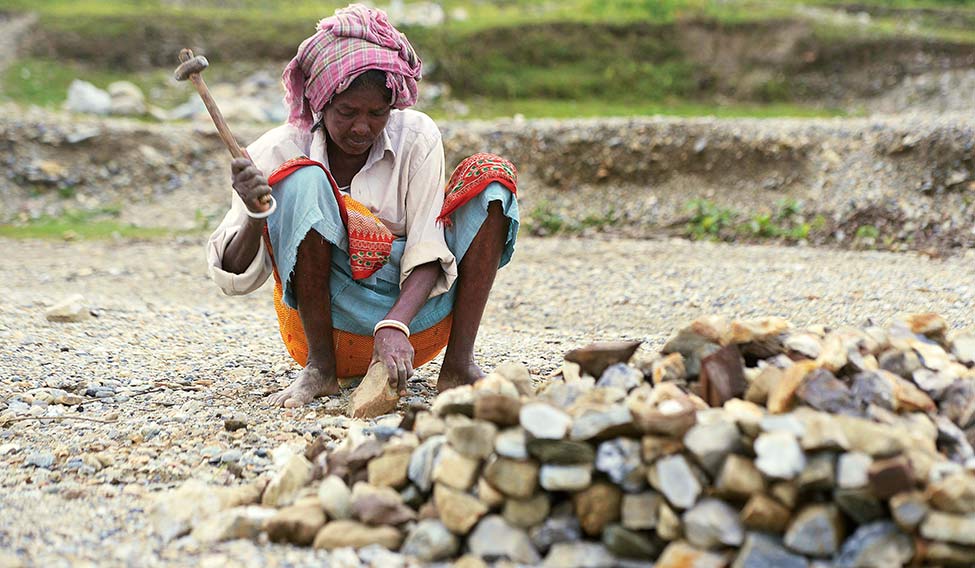 But social workers are clear about the starvation crisis. "Lack of food for months made them crippled and many died of starvation. The rest are suffering from diseases caused by poverty. Even jaundice and tuberculosis are left untreated," said Bishnu Ghatani, senior coordinator of GNESE, an NGO working among tea garden workers. "The Central government's health schemes like the Rashtriya Swasthya Bima Yojna and the rural electrification scheme called Deen Dayal Upadhyaya Gram Jyoti Yojana are not implemented here as tea workers are deemed as industrial workers," said Arijit Raha, secretary of the India Tea Association, a trade association of tea producers.
Dukhini Munda, a tribal woman, was another victim. A mother of three, Dukhini, 35, had a job in a tea garden in Dhunchipara, earning 1130 a day. After her husband deserted her, she was raising her children by herself. Her life turned upside down after she lost her job. She had to pull her children out of school.
"She could not go out and beg as the condition of everyone in the area was pathetic," said Kumari Gupta, a neighbour. "For ten months, she did not have the money to buy food grains." As time went by, Dukhini developed anaemia. She breathed her last on November 22, 2015. Speaking to THE WEEK, Dukhini's relative Hilo Orao was inconsolable. "She died of starvation. Write about her. Her life is a pathetic story," he said. "Her children are suffering from some illness. There is no one to take care of them," said Hilo, who once worked in a tea garden.
Outside the Hantapara tea estate, THE WEEK saw a long queue as workers lined up to collect their weekly rations. The villagers are given 15kg rice and 20kg wheat a month at Rs 2 per kg. Kumar Ale, who was waiting patiently in the queue, lost his cool after seeing the quality of the rice being supplied. He threw his bag at the dealer and said, "I am not ready to accept this even for 12 per kilo. What do you think of us, that we are beggars?" asked Ale. The dealer agreed that the rice was of poor quality and asked him to return the next day.
Ale, who lost his job in a tea garden, now works as a casual labourer. "In this way, I am surviving," he said. "I have decided to move out and work outside. Yes, I have forgotten the art of plucking tea." While Ale managed to find a new job, there are hundreds who failed to do so. In many households, men stay back at home, while women try to earn some money by breaking stones or even by begging. Forty-five-year-old Albert Kharia and his wife, Merry, tried begging on the streets, but gave it up after a while. Suffering from multiple health issues, they are staring at certain death. Being temporary labourers, they are not even eligible for subsidised rations. Albert recently visited a mobile clinic that came to the village, but was told that saving him was beyond its capacity. "It is death that we are waiting for," he said.
Chunu Ghising, president of the Madarihat block panchayat, said many people in the region had died from malnutrition and poverty. "Situation is now under control, but for a long time, we had no means to serve the poor.... The state and the Central government wasted time thinking whose responsibility were these people," he said.
Sankar Meher is another victim who is now on the deathbed. After he lost his job, Sankar found it impossible to take care of his family comprising his wife, Saraswati, their two sons and a daughter from his first marriage. With no food available, the family survived on water, which was polluted, and his son Birendra contracted pulmonary tuberculosis. Sankar did not have the money to take him to Kolkata for advanced treatment and the boy died three months later. "My son died before my eyes. My wife fled from home after that," he said. Saraswati is now in Delhi and occasionally calls up Arti, their neighbour, to ask about the family. "Whenever I ask her what she is doing in Delhi, she cries," said Arti.
Umang Subba lost his mother, Ratna, to gall bladder cancer early this year. Ratna, 50, used to work in a tea garden in Birpara. Despite suffering from cancer, she used to break stones with her son after she lost her job. As the cancer spread, Ratna became bedridden. By then, Umang had contracted tuberculosis. "I did not know who needed treatment first. In the end, my mother died," he said. Umang, a Christian, buried her at one corner of the village with her all medical documents as he felt the government could do nothing to save his mother. His wife, Mamata, now works at a school hostel as a cook and runs the family with her meagre salary. But the treatment of her husband and seven-year-old son Anugraha, who is passing red urine these days, is a major challenge for her.
Mamata blamed the Central government for the crisis. "The Central government did nothing other than acquiring some tea gardens. They should now pay wages to the workers who lost their jobs," she said in June during a visit to the region. Interestingly, the BJP won the Madarihat assembly seat in the last assembly elections despite the controversy.
"It is purely because of the alliance. For the Gorkhas, the issue of Gorkhaland is supreme. So, although the BJP government did nothing here, the alliance with the Gorkha Janmukti Morcha paid off," said Bina Tamang, a social worker.
The Indian Tea Association said the situation in the Dooars was chronic, but refused to elaborate as the deaths happened mostly in tea gardens run by the Duncan group, which was not a member of the association. The spokesperson of the Duncan group declined comment. "The matter is with the High Court as the company went against the decision of the Central government to acquire the tea gardens. It would not be proper to talk on an issue that is sub judice," he said. Despite repeated requests, the Tea Board of India declined comment.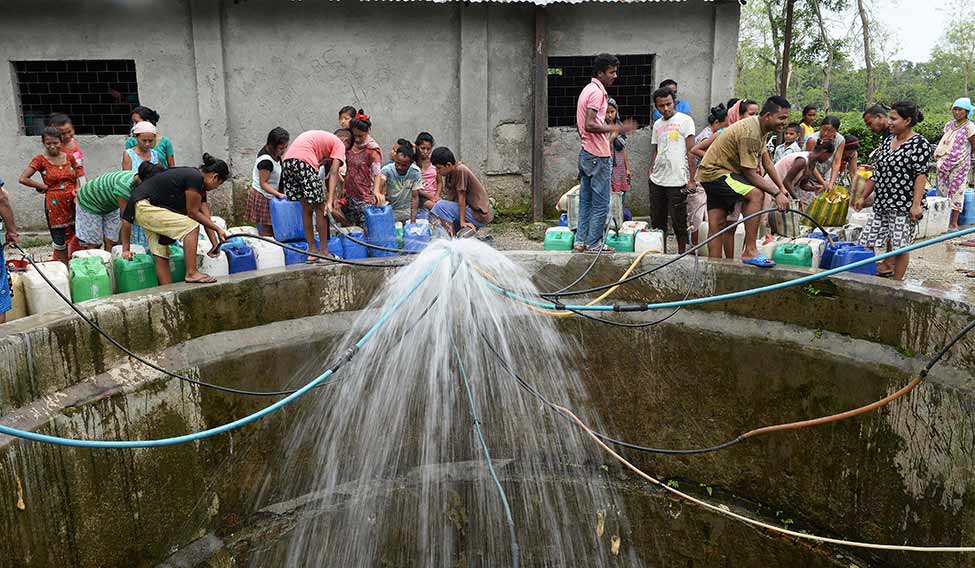 Since independence, tea cultivation in India has gone up by more than 350 per cent and at present, tea is grown in nearly 6 lakh hectares. But tea cultivation involves huge social and financial costs for companies, as they have to provide their labour force and their families with education, housing, and facilities such as drinking water, sanitation and even crèches.
"That is one of the biggest reasons for the crisis the tea companies are facing. They are not in a position to take the burden of the huge social costs," said Raha. A few years ago, a parliamentary committee had looked into the possibility of upgrading tea plantations, and found that it required huge funding. The committee recommended that the state and the Central governments should share the cost and effectively implement labour welfare activities. The Manmohan Singh government, too, had drawn up plans to upgrade tea gardens and the quality of tea.
"But incentives could only be doled out to companies that exported at least 20 per cent of their total produce. None of the companies from the Dooars meet that export obligation. This is one of the main reasons why the gardens are being closed down. There is no upgrade of gardens and the quality of the tea produced in these areas," said Raha. "Now, we are waiting for action by the Central government."