The Grim Reaper has been having a busy time in Mollywood in the new year. Quite a few people in the Malayalam movie world took a bow, including poet and songwriter O.N.V. Kurup, and actors Kalpana and Jishnu. One death continues to hog headlines: that of actor and folk singer Kalabhavan Mani, 45, who died under mysterious circumstances on March 6. His family suspected foul play after a viscera examination found traces of pesticide and other chemicals in his body. With the police still investigating the case, it will take some time for the dust to settle.
Interestingly, even before the assembly elections were announced, Mani's name did the rounds in early February as a possible Left Democratic Front candidate from Kunnathunad in Ernakulam district, a reserved constituency currently held by the Congress. The huge popularity of Mani, who made his mark as a comedian in Malayalam and as a villain in Tamil films, his connect with the public and acts of charity made him an ideal choice. "No formal approach has been made," Mani told a reporter as the news gained currency. "I will take a decision once they approach me."
The invite never happened because of the unexpected death. Mani's political leanings have never been a secret. In the last assembly polls, he had campaigned for CPI(M) central committee member E.P. Jayarajan in Mattannur, Kannur, swaying the audience with his trademark whinnying laugh.
Though Mani could not make it, several others from the film fraternity have thrown their hats in the ring. Some of them, like the villain-turned comedian Bheeman Raghu, who is the BJP candidate in Pathanapuram, in Kollam, have had no real experience in politics. His is most likely to be a peripheral role as the real battle is between three-time MLA K.B. Ganesh Kumar, actor and former minister who is now with the LDF, and his Congress opponent, comedian Jagadeesh.
And the war of words has started. While Jagadeesh made an indirect mention of the controversies surrounding Ganesh's personal life that resulted in his ouster from the United Democratic Front cabinet, Ganesh responded in kind. "I know of a comedian who went for stage programmes in the Gulf to make money as his father lay dead," he said at Kalabhavan Mani's memorial function in Kollam. "When such people comes professing their love, you have to be careful." Jagadeesh will have to contend with unhappy elements in the Congress, who had put up posters against his candidacy.
Protest from within the ranks is what kept the candidature of veteran actor Mukesh, whom the LDF has earmarked for the Kollam seat, in suspense. Though he was not that active in student politics, Mukesh has a Communist background. His father, O. Madhavan, one of the tallest theatre personalities in Kerala, was a CPI leader and was the state secretary of the Students' Federation, which later became the Students' Federation of India. A state award-winning film and theatre actor, he had his own drama company, the Kalidasa Kala Kendram. "I grew up seeing my father balance his politics and his theatre," Mukesh told THE WEEK. "For 18 years he was the president of the Vadakkevila grama panchayat. Throughout the day he would work for the people and nights would be dedicated for the theatre. If my art is my father's legacy, the same holds true for my politics."
At S.N. College, Kollam, and the Kerala Law Academy, Thiruvananthapuram, Mukesh was known more for his histrionics than for his politics. After his father's death in 2005, Mukesh has been actively involved with Kalidasa Kala Kendram.
If the Congress fields actor Siddique in Aroor, Alappuzha, he will be the third actor from the hit comedy film In Harihar Nagar, about four friends, to enter politics, the other two being Jagadeesh and Mukesh. The fourth in the quartet, Asokan, reportedly tried in vain for a CPI ticket from Haripad against Home Minister Ramesh Chennithala. "He approached us," confirmed a CPI source. "We told him that we have some guidelines regarding candidature, and that his name should have been recommended by the concerned district committee."
It is histrionics on the cricket field that made and unmade S. Sreesanth, the gifted former Indian pace bowler. After the betting scandal in the 2013 Indian Premier League, where he was a star bowler for the Rajasthan Royals, Sreesanth was arrested by the Delhi Police on charges of spot fixing and kept in Tihar Jail for months. Though he was exonerated in the case, the Board of Control for Cricket in India is yet to lift the ban imposed on him. Out of cricket, Sreesanth found solace in dance, his other love, and acting. His current calling is saffron politics, and his stage: Thiruvananthapuram. "I want to attract more youth to politics," he told the media in the capital city after he formally became a BJP member. Interestingly, Sreesanth's candidature was cleared by the BJP's central leadership, and the state leaders had absolutely no clue about it till the cricketer himself told journalists that the party had offered him a ticket.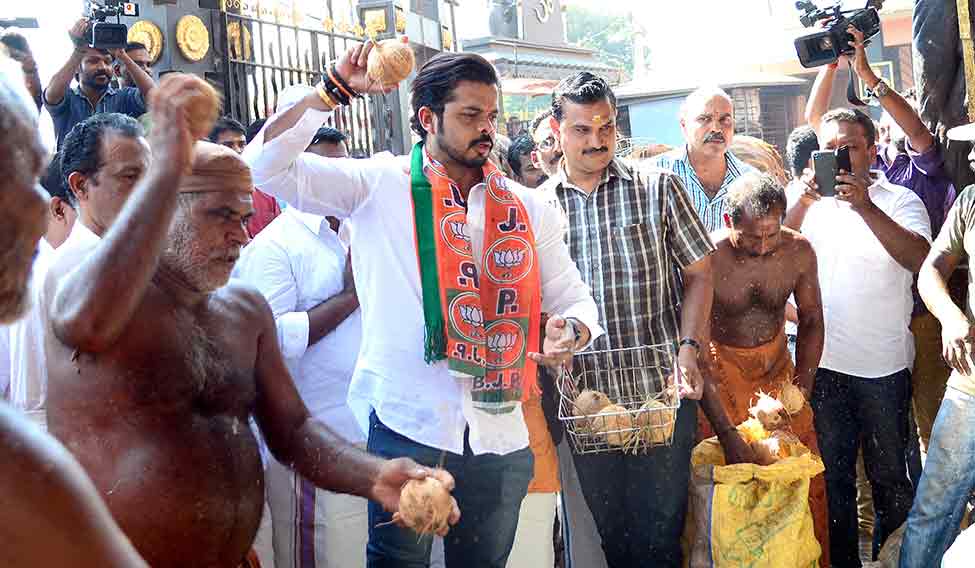 Though Sreesanth reportedly wanted to contest from Tripunithura, in Ernakulam district, where he lives currently, there was stiff opposition from the local BJP leaders, who had already found a candidate in academician and writer Thuravoor Viswambharan. The party then shifted Sreesanth to Thiruvananthapuram, where it was originally planning to field action hero Suresh Gopi. Once close to Congress leader K. Karunakaran, Gopi is now the star campaigner for the BJP.
DIRECTOR AND ACTOR Rajasenan has been nominated by the BJP to contest from Nedumangad, in Thiruvananthapuram, while actor Kollam Thulasi, who was in the original list for Kundara in Kollam, withdrew citing personal reasons.
There was another celebrity retreat as well. The LDF wanted actor KPAC Lalitha—the initials stand for the Kerala People's Arts Club, which promoted the Communist movement in the state through its popular plays—to contest from Wadakkancherry in Thrissur district, which triggered a poster war against her candidature. Ultimately, Lalitha pulled out on health grounds.
Kerala politics' tryst with cinema started in 1965, when director Ramu Kariat, whose film Chemmeen went on to win the president's gold medal the same year, won the assembly election from coastal Nattika, in Thrissur district. Half a century later another film personality made a mark in Kerala politics: actor Innocent trounced Congress heavyweight P.C. Chacko in Chalakudy by close to 14,000 votes in the 2014 Lok Sabha election. In between, director Lenin Rajendran and national award-winning actor Murali fought and lost Lok Sabha elections in LDF ticket.
However, not all are impressed with the glamour quotient. "While I welcome people from the film world entering politics, I am against people doing it only for elections," said actor Devan, who floated his own political outfit, Kerala People's Party, and contested the byelection from Wadakkancherry assembly seat unsuccessfully in 2004. "Like acting, politics also requires total devotion."
Being an MLA is a full-time job requiring constant interaction with the people of the constituency, listening to their problems and working closely with them, said Pannyan Raveendran, former state secretary of the CPI. Whether the celebrities, who have to balance their acting and political careers, have the time for that is the big question. Take Sreesanth, for example. After his political entry, he told the media that he still "dreams of getting back to the game". In the same breath, he said politics was not a stop-gap arrangement for him.
"I love cricket and I have all the admiration for Sachin Tendulkar," said Raveendran, former MP from Thiruvananthapuram. "But what has been his contribution as a Rajya Sabha member?"
What attracts celebrities to politics is the sense of authority an elected representative of the people commands. But the trend is not a good one in the long run, many feel. "The sudden rush of celebrities was the result of the so-called need to field known people," said Raveendran. "Time will prove that it was a wrong assumption. And, it reflects badly on the politicians. It will make people think that politicians are not capable enough to safeguard their interests."
Director as hero
The 1965 assembly elections were closely followed even outside Kerala, thanks to a vertical split in the Congress which led to the formation of the Kerala Congress. The elections threw up a first in state politics: a film personality contesting elections. Ramu Kariat, 38, had already established his name as a bankable director, with four hits under his belt, and his biggest one, Chemmeen, months away from release.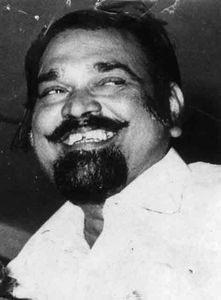 The elections were held in March, while Chemmeen was released in August. So what made Kariat connect with the voters in the Nattika constituency in Thrissur? Kariat had originally planned to shoot Chemmeen on the Purakkad beach in Alappuzha, because he wanted to be as true to the book his movie was based on. But he ran into trouble when the fishermen demanded rent for their boats used in the movie, something unheard of in those times. So, he shifted the shooting to coastal Nattika. Madhu, who played the romantic hero Pareekutty in the film, recalled in 2005 the local people supported the filmmaker by giving their homes and clothes for the shooting. In short, it became a people's movement, perfect to launch a political career. And, Kariat had the support of the Left. "Ours was a Congress family," recalled actor Devan, Kariat's nephew and son-in-law, "where uncle was the only Communist."
When the results came, a hung assembly emerged and the state went into president's rule. In the elections that followed in 1967, Kariat was missing from the scene. "By then his son Soman was detected with cancer and he was shuttling between CMC, Vellore, and Trivandrum Medical college," said Devan. "Soman's death in 1967 shattered him."
Kariat came back to the electoral scene as an independent candidate against the CPI and the CPI(M) in the Thrissur Lok Sabha constituency in 1971. He came fourth, polling 6,364 votes. "There was this meeting at Thrissur's Thekkinkad Maidan," recalled Devan. "Almost all the big stars of the time, including Prem Nazir and Sheela, had come to campaign for uncle. Seeing the massive crowd, people said Kariat would win by a mile, but look at what happened!"