Sixty-five-year-old Laxmibai Gije looked after Sachin for 11 years as both his parents were working. "He was a wonderful child, very mischievous and extremely restless. He would take a box and play the dhol (drum) and sing loudly like a joker."
Even as a toddler Sachin was attracted to cricket. "When he was two and a half years old he used to insist that I throw the ball at him. It was a plastic ball and he batted with a dhoka (washing stick)," says Laxmibai. "We used to go to the terrace and play. I was the first bowler he faced in his life. His first cricket bat was gifted to him on a birthday."
The nanny enjoyed his pranks. "After coming from school, he used to have his milk very reluctantly on the staircase. At times he would give the milk to Ramesh, his childhood friend who is now his secretary. I used to feed him while he played," says Laxmibai.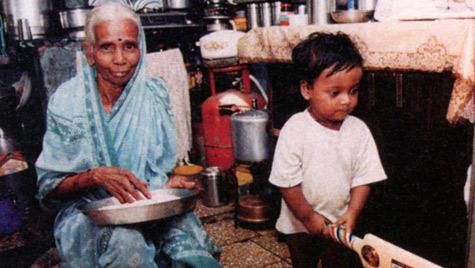 Sachin always insisted on two plates–one for him and another for Ramesh, whose father was a watchman. At times the boys ate from one plate. Sachin loves fish besides mutton chops with egg and pav. "At times I used to buy fish with my own money and cook for him and his brothers," says Laxmibai. "Sachin and his brothers would say that they would hang my photograph in their house after my death."
Sachin used to visit her house at Khar Danda to watch the sea. "Once he came for my granddaughter's birthday. He chased the hens around the house," she says.
He was so close to her that he used to leave his mother to sleep next to Laxmibai. "I used to remove the dhristi." She warded off evil with mustard and salt.
Sachin's nanny was a special invitee to his wedding. His brother Ajit and close friend Sunil Harshe went to pick her up in their car. "Both Sachin and his wife Anjali touched my feet. I was moved. I bless him even when I watch his matches on TV," she says with tears in her eyes.
She keeps in touch with Sachin's family. "Whenever he sees me on the road near Sahitya Sahawas– the colony where Sachin lives–he stops the car and comes to me. He places his hand over my head and pats my cheeks," she says. "My Sachin has not changed. He is still like my son."