It is a sultry afternoon in Gir National Park, Gujarat. All animals at the rescue centre here are lazing around, except for a three-year-old leopard which was rescued from a dry well recently. He anxiously paces around in his cage and growls. He is waiting for his caretaker and playmate.
A petite woman dressed in a khaki salwar kameez walks up to the cage and taps on it. Her whistles calm the leopard down. A lioness in the neighbouring cage looks up and roars, as if to acknowledge the presence of this "lion queen"—forester Jayshree, 29.
"We really love the name lion queen [ given by Discovery Channel]," she says. "It is a matter of pride that we are the only female brigade protecting wild animals, probably across the world."
Part of a 20-woman team, Jayshree guards about 1,400sqkm of the Gir forest. She has rescued at least 200 animals in the past nine years of service.
Recruitment of women as wildlife rescuers began in 2007, when chief minister Narendra Modi announced 33 per cent reservation for women. While authorities thought of accommodating women in desk jobs, the lion queens heeded to the call of the jungle instead.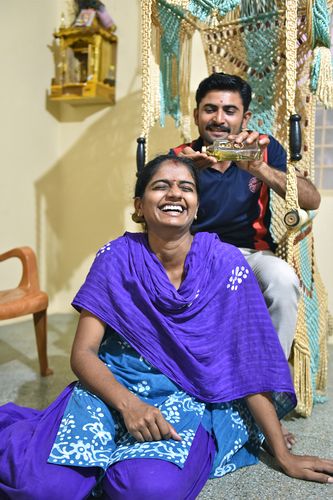 "My father was a forest ranger, so being in the forest and seeing animals, especially lions, were part of daily life," says Geeta, 32. "I had learnt to ride motorcycles, and zipping through the forest near my village used to be a big thrill. So, I knew my future lay here in the wild. I opted for fieldwork and have spent a decade in the jungle. The most thrilling and gratifying aspect of the job is rescuing animals in distress."
It is no easy job. Work includes treating wounded lions, tending to pregnant lionesses, fostering abandoned cubs, releasing mugger crocodiles trapped in mud, rescuing leopards from wells, relocating wayward pythons, tranquillising rogue animals, and placating irate villagers.
Once a hunting ground of the nawabs of Junagadh, Gir is the only home to the majestic Asiatic lion. In the nineties, when Gir was declared protected area, it had just 20 lions. Thanks to sustained conservation efforts, the number has risen to 523. The sanctuary has a substantial population of leopards, deer, langurs, snakes, hyenas, jungle cats and crocodiles, too.
Every year, more and more women have been undergoing intensive training to be part of the 'lion queens' brigade. For many of them, like Geeta, it is about passion. For some others like forest guard Rozeena, it is about redemption. Rozeena, 24, belongs to the backward Afro-Asian Siddi community. She was the first Siddi woman to join the forest department.
"Poverty and illiteracy plague us," she says, flashing two multicoloured silver bangles which she recently bought for her wedding engagement. "I used to watch these women officers frequenting our village. Once, one of them asked me to give the job a try, and I did so. Today, I am like a celebrity and my family has a comfortable house and I am able to provide them proper food. Now I try to motivate girls from my community to join this brigade. I don't know what we mean to jungle, but this job means the world to me."
There are times when these women have to stay in the woods for two to three days, or rush out of their homes at wee hours for rescue missions.
"At times, one has to be alone at one's post for days, with nothing but chirping birds and the buzzing walkie-talkie for company," says Jayshree. "Once we had to sleep on the ground, just a few metres away from an ailing lion, waiting for the medical team to arrive. We drink water from streams and eat forest fruits. One also gets calls after midnight about animals falling into wells or straying into farms."
Jayshree is three months pregnant. Sometimes riding the motorcycle or the lack of cold water makes her uneasy, but she feels proud that "my child will be born tough".
"Like any other working woman, we have to balance work and home. We have to take care of not just our kids but also hundreds of cubs here. The animals, too, are our family, so we have to manage two families. It does get physically and mentally exhausting at times, but the moment one enters the jungle, all tensions vanish."
As the brigade sits chatting, a walkie-talkie crackles with information about a pride of five lions heading to nearby watering hole. The excited women rush to the spot on motorcycles.
"Every time you spot a lion, you will be enchanted. We tell ourselves that, while people pay for jungle safaris and adventure trips, we are lucky to have such a thrilling job," says Geeta.
The passion of our women's brigade is commendable, says deputy conservator of forest R.R. Nala. "They shatter all stereotypical notions about women. They work shoulder-to-shoulder with men to preserve this jungle," he notes. "The brigade is an asset to our department."
Nala insists that we visit their homes, to understand the familial support that keeps them going. Scenes such as Jayshree's husband giving her a head massage or Geeta's husband helping with dinner testify his words.