As a filmmaker, Meghna Gulzar has always tried to come up with offbeat stories. While most directors walk the conventional path, Meghna, with her first film itself, made it clear that she wasn't going to follow the tried-and-tested formula to achieve success. Daughter of lyricist Gulzar and actor Rakhee, Meghna dealt with the issue of surrogacy in her first film, Filhaal, which came out in 2002.
Despite having two strong actors, Sushmita Sen and Tabu, in the lead, the film got a lukewarm response at the box office. However, Meghna was lauded for dealing with a subject that was considered taboo. In 2007, she released her second film, Just Married, which again was a dud. The same year, she took part in an ambitious project, in which six directors came together to make a film that had ten short films in it. Her short film, Pooranmasi, about a mother and a daughter, got rave reviews.
Meghna took a sabbatical from filmmaking after the birth of her son, Samay, in 2010. However, she is back with a bang with her latest film Talvar, which is based on the 2008 double murder of Delhi teenager Aarushi Talwar and her family's domestic help, Hemraj. The film, starring Irrfan Khan, Konkona Sen Sharma and Neeraj Kabi in the lead, has garnered positive response not only from the critics, but also from audiences in India and abroad.
The film had its world premiere at the Toronto Film Festival in September and it hit the Indian screens on October 2. Did Meghna expect the overwhelming response it received? "As a filmmaker, I knew that we were trying to do good work. After that, what happens and how people react to the film is something you can't anticipate, predict or plan," she says.
For Meghna, the decision to make Talvar was a spontaneous one. "There was no trigger point as such which compelled me to make Talvar," she says. "I was following the case when it happened because obviously it was hard to ignore. In fact, the whole nation was following it back then. So, when a discussion about my plans to make a comeback took place, many ideas and subjects made their way into the conversation and this [murder case] was one of them. The case intrigued me. So, it was a very organic kind of a decision, very spontaneous. It wasn't planned nor was there a defining moment."
Since the murder case is emotionally so discomforting, were there times when Meghna had to struggle to keep her emotions in check? "No. One thing which was very clear was that there was no place for personal emotions while making this film, especially when you are going to show all sides of the story," she says.
The film had to be neutral, that Meghna was sure of. "If you let your emotions come in, one side of the story will definitely show that slant and then your film will start tilting in one direction and you don't want that as a filmmaker if you want to make a neutral film," she says. "You want the audience to come to their own conclusion after you have placed all the material. So, for me, the challenge every day was to approach the shoot with the knowledge that it is my script, these are the characters and I have to break it into shots, and that is it. Of course, once in a while, it would hit me that this is a real story and these people are alive. I think that is where the fatigue came from. It was more of an emotional exhaustion because you are constantly fighting your conscious mind."
So, what really was the purpose of making the film? "I don't think everybody knew everything about this story. Based on my conversations and the reactions that I got, I came to know that a lot of people knew something about the case. But they didn't know everything about it or remembered it," says Meghna. "Also, a lot of people knew what was hammered into them most aggressively, which may not necessarily have been supported by facts. So, what this film does is, it brings out all the aspects of the case as humanely as possible. It lays out everything evenly and equally in a very simple manner, so that the audience can understand it, and it also engages them as a film."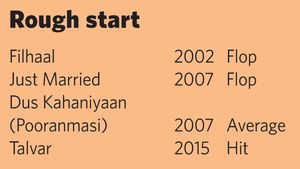 Meghna did research for a year and a half to ensure that all the aspects of the case were presented in the film. "In fact, the research went on even while the film was being shot because a lot of times, things change on the set or a scene changes spontaneously while shooting," she says. "And, you want to know if you are on the right track. So, you double check the facts and back it up. In the process, you may learn something new about the case. So it was an ongoing process. Also, I met all the people who were closely associated with the case. Part of my team also met Aarushi's parents."
The hard work has paid off. The film has revived the debate on whether justice was served in the case—the parents, Nupur and Rajesh Talwar, were sentenced to life in prison by a CBI special court in November 2013.
Meghna gives credit to actor Irrfan Khan for the film's success. "Irrfan is as layered as this case is," she says. "Till today I don't know which side he believes in. I don't know if he actually believes in a particular side. But that doesn't show in his performance. I never knew when he did all the research on his own. That is the thing with him. His homework doesn't show. Also, I don't think this film could have been made without him."
Apart from Irrfan, another person who believed in Meghna's vision was director Vishal Bhardwaj, who produced the film. "He [Bhardwaj] hardly came to the sets, but that was very magnanimous of him because he wanted me to know that he had faith in me. It makes you want to do your job that much better because you want to live up to that faith, especially of a person whom you admire as a filmmaker. So that was wonderful."
Did he share any tips? "The few times that he was on the sets, he would suggest something and I would know that it would work like magic," says Meghna. "I would take his suggestions. Because if it makes the film better, why not?"