"That spirit of adventure, that spirit of 'I want to be able to escape', the freedom that we can deliver it, plays to all of our customers" - Marc McAllister, vice president and managing director, Harley-Davidson, Asia Pacific
For the latest and most fashionable eyewear, turn to the French Open, and for the latest and most fashionable leather gear, head to the National H.O.G. (Harley Owners Group) Rally at the India Bike Week, Goa. Hordes of Harleys descend on Goa every year for the Harley Owners Group (H.O.G.) Rally—this time in February—and being a 'leather snob' takes on a whole new meaning. However, that's just an aside, because we all know the real reason everybody is at the French Open—to see their favourite tennis stars on clay courts, just as the real reason everybody is in Goa is to hear their favourite Harley models roar together during the parade.
The Dabolim airport itself is buzzing with hundreds of biker dudes and biker babes. A massive Harley-Davidson billboard, just outside the airport with the words Welcome Home Riders, greets not only those riding their bikes into Goa but also those who have sent their bikes ahead by truck and flown in. Marc McAllister, vice president and managing director, Harley-Davidson, Asia Pacific, who was in Goa for the first national H.O.G. rally in 2013 and is here again this year, says: "We have four times the number of people now than we had the first time around.... So basically, every year it has grown, which is a fantastic thing."
Vikram Pawah, managing director, Harley-Davidson India, is proud that Harley-Davidson was the first entrant in the leisure riding segment, and is happy to see it flourishing in India. "The spirit of Harley-Davidson is all about personal freedom, and the Harley-Davidson customer cuts across all demographics," he says. "For us, it is all about the culture of riding. It is a mindset; it is a lifestyle. It is not about a particular person, a particular age group, a particular income level; everyone's part of our community."
The evening sees the Harley-Davidson riders arriving at the venue one by one, and the parking starts to fill up with motorcycles covered in the dust and dirt of days of riding to Goa. The riders, ranging from grey-bearded men in their 60s to long-legged lasses in their 20s, make a beeline for the bike washing area, where women (all foreigners) offer to be photographed while washing the grime off the bikes. Meanwhile, on the grounds, male bonding and camaraderie are on full display with man hugs and knuckle bumps, as the tired riders quench their thirst with chilled beer. Soon enough, the air fills up with the smell of beer, barbecued meat, tobacco and petrol, and riders in all shapes and sizes—from burly men with leather vests, tattooed biceps and bandanas and petite girls with leather chokers, bracelets and boots with glasses in their hands—walk around meeting their riding buddies from other chapters across India. Parikrama, the rock-and-roll band from Delhi, mesmerise audiences with some high-octane numbers, and Ehsaan Noorani—of Shankar, Ehsaan, Loy fame—jams with them as the riders cool down with their drinks under the starry Goa sky.
Next morning, all the bikers are out in their finery with their bikes gleaming in the Goa sun, and it is ready, set, roar from the venue.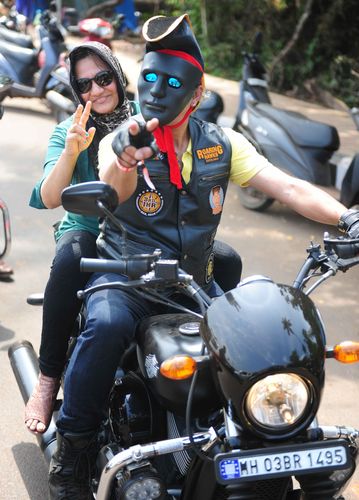 For Dev Prabhu and Melanie Joseph, it is their second time at the India Bike Week. Dev covered a distance of 1,500km (up and down) from Bengaluru to be in Goa as part of the Tusker H.O.G., the official Bengaluru chapter that had 45 bikers riding together. Melanie, his wife, flew down for the event to save time and be back home soon with the kids. Dev, who heads enterprise marketing for a multinational software company, says: "We always weave our calendar around this event because it is such a fantastic experience." Dev rides a 1600cc Harley-Davidson Fat Bob, which weighs 400kg. "It sits really well on the road and it is capable of doing 250-260kmph. Riding is all about discipline, coordination and the right riding gear—protect yourself as much as you can," he says. "It is also about maintaining an average speed of 100-110kmph, stopping when one rider stops, looking out for the rider in front of you and the one behind you—the one for all and all for one spirit—besides, of course, respecting the Indian roads and following single-lane discipline… no twin riding and stuff."
Melanie, who rode bikes in college, is passionate about Harley-Davidson. "It is about passion and a very different kind of thrill," she says. "It is not just about the money that goes into an event like this but also the effort and, most importantly, it is about not having any regrets." What made this ride really special for her was that the Bangalore Tuskers won the coveted shield—the Harley-Davidson Chapter of the Year 2015.
Bunty Tanwar from the Dunes Chapter, Rajasthan, has been coming to the H.O.G. rally since its inception. This time, 16 Harley-Davidson bikes from Jaipur and 12 from Jodhpur participated in the event. "We meet all our brothers at the parade, and frankly the sound of 1,800 Harleys roaring together is music to my ears," he says. However, he suffered a glitch while riding his Fat Bob from Jaipur to Goa, a distance of almost 1,900km with pit stops at Nasirabad, Dhule, Malegaon, Pune, Kolhapur and Sawantwadi. "My bike broke down at Malegaon and I was stuck on the road for four to five hours," he says. "But then, Harley-Davidson's roadside assistance arrived, took the bike to their Pune dealership and fixed it. So, instead of two days, it took me three days to get here, that's all."
While some riders rode in with stock bikes, there were many who had spent a tidy sum to customise their bikes. Rahul Satpude, a businessman, belonging to the Two Rivers Chapter, Pune, created quite a stir with his customised Harley-Davidson that had the theme of Shivaji Maharaj running through it. The words—Mryutula Awhan Tu/ Sanskriticha Maan Tu/ Amcha Samaan Tu/ Jagdambe [You challenge death/ You are the epitome of our culture/ You are our pride/ Goddess Jagdamba]—adorned the fuel tank of his Superlow 883. The bike came fitted with a special sword, and Satpude was dressed as a Maratha warrior.
Chandan Kumar, employed with a telecom company, always wanted a bike like Arnold Schwarzenegger's, and after he bought his Superlow 883, he did 23,000km in eight months flat and that too only by riding it over the weekends. "Riding for eight to nine hours is always fun, whether it is going to eat biryani in Hyderabad or for night rides to Mumbai," says Chandan, who came to Goa with 150 H.O.G. riders from Pune.
Vencio Lopes, who lives in south Goa, works in Abu Dhabi for 28 days on a rig and gets 28 days off. So, his Harley-Davidson Breakout sports the number plate 2828. Lopes says this is his eighth model; his previous Harley was a Superlow 883. "But then it became too small for me, so I bought Breakout, which is a 1700cc bike, and I really enjoy zooming on it because it is easier to twist and turn," he says. Lopes has been a regular at H.O.G. events, and this was his second time in Goa. "I enjoyed riding the bike in Goa this time, but it is just that Goa roads are too narrow and it was really hot," he says.
Jose E.P., director of Spice Coast chapter, Kerala, used to be an IT guy. Now, he enjoys riding his Harley-Davidson Fat Boy, especially to H.O.G. events in Goa, where he gets to meet the entire riding group of Harley from Kashmir to Kanyakumari. "There are at least three to five riding events every year and it is the best time to meet people and party. Goa, as a location, is very attractive," says Jose, who is in Goa for the third time. He rode there with 75 riders from the Spice Coast chapter.
Twelve bikers from Thane, who call themselves HOT [Harley Owners of Thane], rode all the way to Goa. "It was a wonderful ride," says Amit Chandorkar, who rides a '48'. "It took us ten hours to get to Goa, and we stopped in between for refreshments. But the whole purpose was pleasure riding and not racing. In Goa, the biggest attractions for me were the stalls at India Bike Week, which always have not only the latest biking gear and merchandise but also safety gear."
Safety wouldn't be a priority for people in India, thought Pawah when he came back from Australia and joined Harley. "But when I look at our riders and our whole community and the way they ride… I have seen they have kicked out people for not wearing the right protective gear. So, they are not allowed to ride that day," he says. "That is the kind of seriousness and the culture that they are able to create in India. You see them riding on the road, you know they are following the rules, looking after each other and that's the community and brotherhood that we talk about as a culture. And, when I saw that, I said, 'Well, India is different!'"
McAllister says it is all about the journey. "And that works no matter where you are in the world," he says. "That spirit of adventure, that spirit of 'I want to be able to escape', the freedom that we can deliver it, plays to all of our customers. We can see that coursing through their veins when they want to be out on the road."
Like they say at Harley-Davidson: Screw it, let's ride.