"Finding craftsmen who could work in lime and carve in stone as well as create state-of-the-art facilities was most interesting" - Siddhant Goel, owner of Dharampura Haveli
Amid the bustling, traffic-snarled streets crammed with tiny shops in Delhi's oldest shopping locality of Chandni Chowk, lies an acre of land with a sprawling building from another era. Chunnamal Haveli, built 160 years ago, is home to businessman Anil Preshad and family. 
"My great-great-grandfather, Rai Chunnamal, built the haveli in 1850," says Preshad, who is the sixth generation of his family to live here. "This grand property has 126 rooms. I intend to restore it to its original form." The restoration work, which began in 1999, is still on.
"Pillars began to crack, ceilings were falling off, floor tiles were drifting apart and the entire house needed fresh varnishing," says Anil's wife, Nandini. Restoring the property was especially challenging in view of the small commercial establishments that border the property. "The shops that run along the base of the house were part of our property; my great-grandfather used that portion as a godown," says Anil. "In 1971, however, it was sold and partitioned into small commercial establishments. The owners constantly engaged in expansions and it affected parts of our drawing room. The roof eventually collapsed and its interiors and arched windows were damaged." 
To restore it successfully, the Preshads took the help of the renowned architect Aishwarya Tipnis, whose expertise lies in contemporary interventions in historic buildings. "Renovation projects have been challenging since we have to set precedents in almost every aspect from planning to implementation," says Tipnis. "The biggest challenges we faced were finding the appropriate materials for the restoration work and the craftsmen to implement it." The intricate carvings, interiors and arched windows have now been meticulously restored.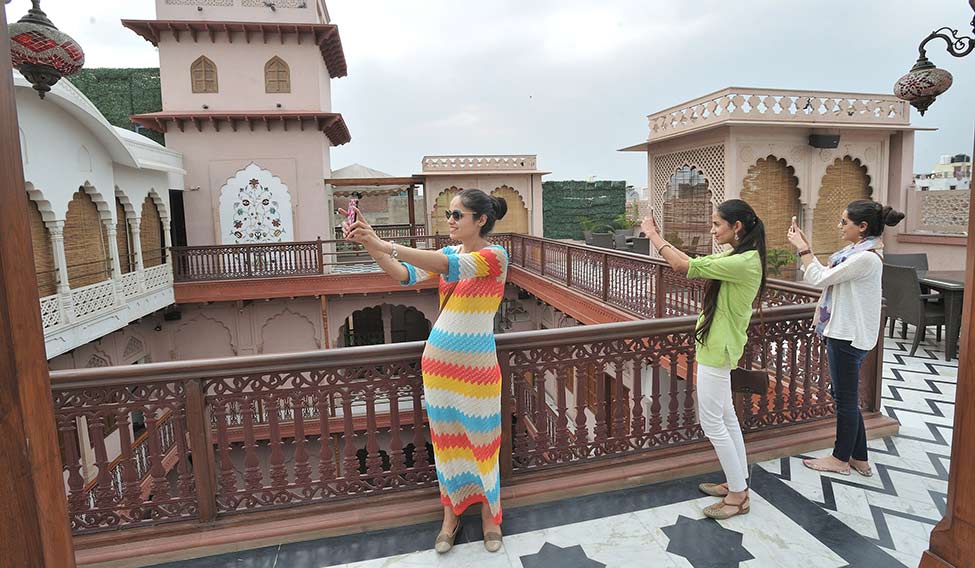 Chandni Chowk boasts another ancient haveli that has become a tourist attraction after its immaculate restoration. Dating back to 1887, Haveli Dharampura is a three-storey Mughal-style haveli owned by Union Minister Vijay Goel. It had a large courtyard, wooden joist ceilings, limestone flooring, stone brackets, jharokhas, multi-foliated arches, carved sandstone elements and secret pathways. Over the years, however, the marvellous structure was altered many times and it soon began to fall apart. 
"The structure was overloaded with several inappropriate additions on every floor," says Goel's son, Siddhant. "Reinforced cement concrete chajjas [balconies] were made inside rooms to provide storage areas; rooms were badly organised and divided into smaller rooms to accommodate toilets and kitchens; service connections included open pipes and hanging wires; doors and windows were blocked; the walls had large patches of dampness, wooden parts had deteriorated beyond repair; and the balconies were severely damaged and precarious. There were long vertical cracks in the walls, original arched openings were filled up with bricks or wooden partitions, and the roof of the upper floor collapsed. It was extremely painful to see the extent of deterioration to one of the grand havelis of Dharampura." 
The Goels were keen on restoring this once-magnificent structure, but were aware it was a herculean task. "We were absolutely clueless on how and where to start the restoration as there was no precedent of such work being done at havelis in Shahjahanabad or elsewhere in Delhi. We had nothing to refer to," says Siddhant.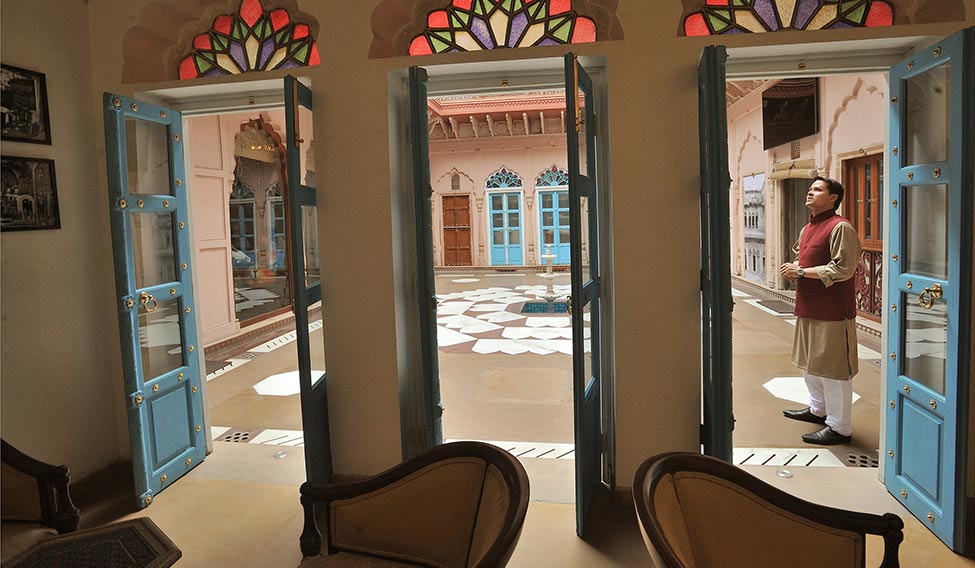 As it began to crumble further because of heavy rains, they began work. As the duo were committed to retaining the aesthetic value of the haveli, they preserved and restored as much as they could of the existing furniture, doors and windows. Under their watchful eye, the restoration was completed in six years. "Finding craftsmen who could work in lime and carve in stone as well as create state-of-the-art facilities," says Siddhant "was most interesting." The original spatial configuration was restored by removing all partition walls and platforms. In the process, the structure was also relieved of additional load. Blocked windows were opened for ventilation, and broken and collapsed walls and roofs were rebuilt. Broken or missing glass panes were replicated as per the original design to recapture the look and feel of the courtyard.
"The cracked walls have been reconstructed with lime mortar and small kiln-fired 'Lakhori' brick," says Siddhant. "All sandstone brackets were strengthened and retained. The cast-iron railing is a replica of Shahjahani design. With the walls freshly painted, wooden doors polished, and broken glass panes renewed, the haveli now stands completely restored and reinstates the belief that where there is a will, there is a way!" Haveli Dharampura is a fine example of a well-planned and painstakingly executed restoration project. 
The Goels managed to resurrect their ancestral property, and inject it with new life and modern amenities, without compromising its original identity. Restoring a heritage property, however, is an extremely taxing and gruelling task, and more often than not, a never-ending one.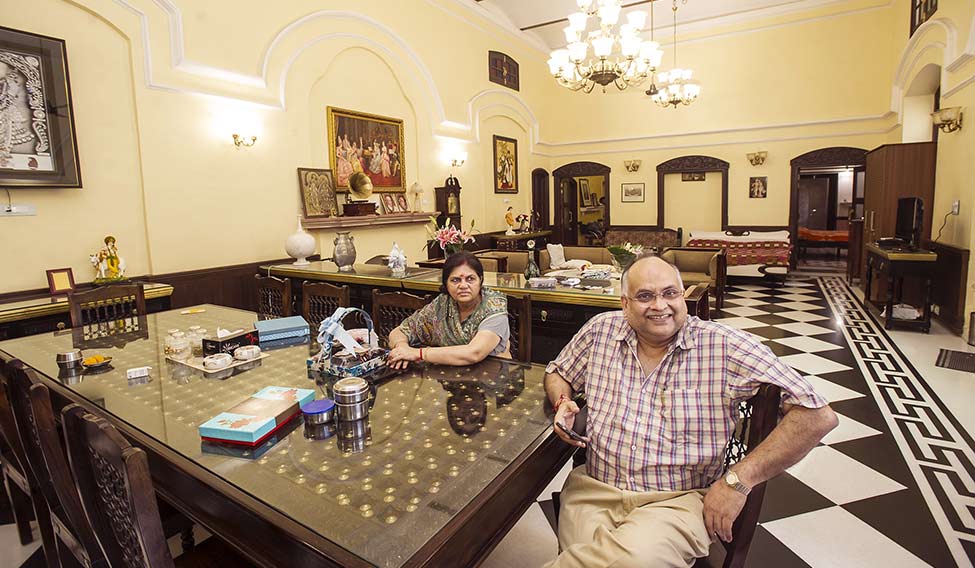 Seth Ram Lal Khemka Haveli in Chhota Bazaar, Kashmere Gate, is in the midst of a lengthy restoration. The 175-year-old property is home to Devki Nandan Bagla, his wife and three sons; the fifth generation of the family to reside in this Mughal-style residence that was built in 1850 and acquired by the Baglas in 1905. Surrounded by wholesale stainless steel stores, it is the only property in the locality that is not a commercial establishment, and stands out with its massive skylights, arched windows and ancient steel door. At the entrance is a map of the property and a historical script about its previous inhabitants.
A stainless steel exporter, Bagla realised that the structure of his home was giving way, and was keen on replacing it with practical, modern materials. "We began restoring the property in 2012, as there were cracks in the building and dampness in its walls," says Bagla. "Since the area is large, we prepared a blueprint of the house and undertook a methodological approach and conservation plan." Secret pathways were discovered during this process.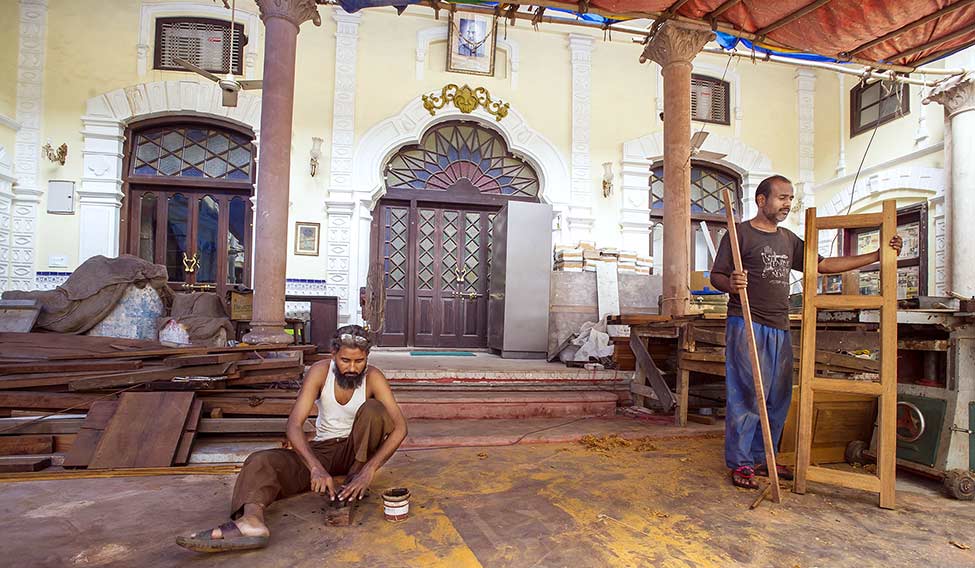 Like the Preshads, the Baglas, too, sought the expertise of Tipnis, who undertook the restoration work from 2010 to 2012. "She noted down all the designs and copied them to give the haveli a fresh avatar," says Bagla. He says he could not restore it to its original form because of the high cost of construction materials. He also installed modern amenities. 
"For the project, we understood the structure, accessed its vulnerability and then developed a design solution for its integration," says Tipnis. "Measured drawings, fabric assessment drawings, development of a conservation management plan, and an integrated design proposal for the reuse of the historic building into a modern residential dwelling were made." 
The interiors, too, have been given a contemporary feel. "The jharokhas have been converted to windows," says Bagla. "In the olden days, they were used by the women of the house—who would sit apart from the men—to watch performances taking place on the ground floor."