Just like corporate culture, corporate dressing, too, is continuously evolving. And, the latest buzzword in corporate attire is athleisure—an amalgamation of athletic and leisure wear. It is all about dressing down, being innovative, comfortable and sporty.
A crop top with a pair of leggings and flip flops. That is Priyanka Gupta for you. No, she is not on a grocery store run. She is heading to work. Employed in a Gurgaon-based multinational company, the 28-year-old has embraced athleisure and given linen trousers and crisp cotton shirts a miss.
Priyanka is not an isolated example. Employees in several companies are adding spunk to their attire, and it has nothing to do with Friday dressing. Priyanka's colleague, graphic designer Shreya Suri, 33, said, "One does not have to wear formal wear to look professional. It's the skills that count. A pair of trousers, salwar-kameez and sari may be the ideal dress code in many offices. However, ours is not fussy about the professional look. I add variety to my attire by mixing athleisure wear with [formal] blazers and trousers."
Many companies have gone easy on the office wear protocol and this encourages professionals to experiment. "As long as we are dressed up with sophistication and do not wear anything revealing, we are not in the bad eye for how we chose to dress," said magazine journalist Spardha Pandey, 24.
As athleisure takes workout gear beyond the gym, the trend suits millennials who are constantly on the go. Nikita Upadhyay, 24, said the sporty look makes her feel more active and confident. Her office gear is also her gym outfit. "I used to work out after office," she said. "Carrying a separate outfit every day for workout was tedious. I explored comfort and fashion forwardness in three quarter pants—my workout-cum-office wear. Spandex pants are extremely comfortable as they are skin-fitted. They look trendy and are perfect for workout sessions. Wear them with a cool T-shirt and there's nothing more I require to feel active and chic."
Besides the active and fitness aspect, the fad is also gaining momentum among corporates willing to explore alternate fashion. Work days can be gruelling, and professionals want to look good without compromising on comfort. Meenal Singh, 30, a media professional, gives athleisure a thumbs up because collared shirts, heavy blazers and pencil skirts do nothing to brighten her long working hours.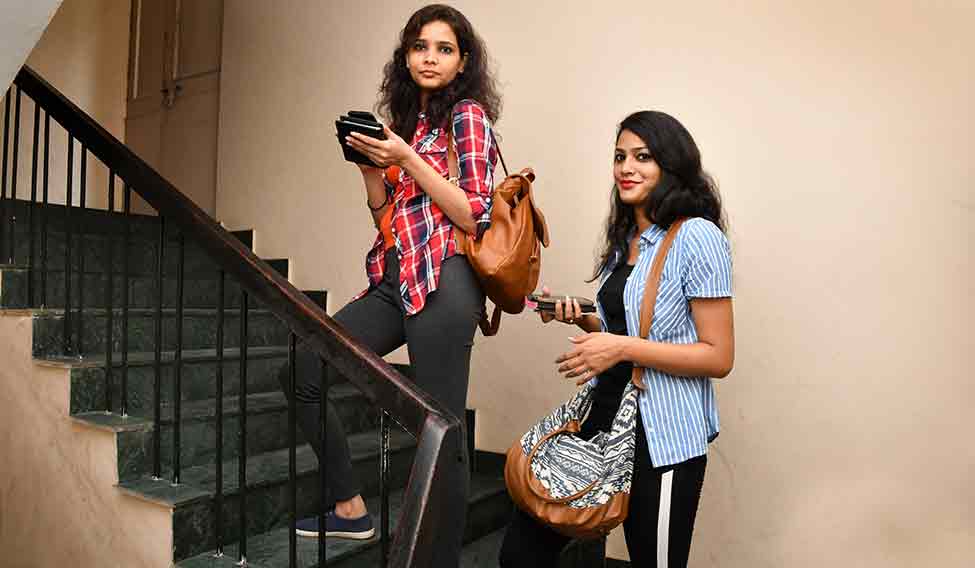 "Athleisure is all about comfort and that is what I need while working," she said. "While looking good is essential, I cannot compromise on being comfortable. Yoga pants make me feel comfortable and confident, when paired cleverly. They go well with shirts and hoodies. I usually pair them with a short kurti or a fitted shirt. Hoodies are no longer restricted to winter wear. They are perfect companions during sweltering summers, too—to beat the chilling cold in office. Besides this, leggings and ballerinas are must-haves in my wardrobe."
Professionals who travel a lot have embraced athleisure. Vaishali Singh, 27, said: "My job demands a lot of travelling. Trousers and a pair of high heels do not allow me to be in my comfort zone. Flowy kurtas with leggings succeed in my challenging job. Leggings breathe and do not get soiled during the rains, unlike denims or salwars."
Instead of replicating the sporty look from top to toe, some professionals are adding hints to their wardrobe. Said Spardha, "Top-to-toe athleisure wear is not my style. My style is more about innovation. My professional look gets completed by pairing a pair of sneakers or white shoes with my favourite professional dress. While going out for a meeting, I often team a shirt and professional blazer with gym pants. A pair of leather boat shoes or loafers completes my look. This way, I innovate and add substance to my look."
Three rules
* A cozy sweatshirt is just the right thing to beat the office air-conditioner.
* Go for bright, skin-fit leggings. They are your anytime, anywhere look.
* Shirt, yoga pants and ballerinas, they are your ideal office-wear look.
Ace the look
* Athleisure is all about finding an elegant balance. You should not look like you just got out of bed.
* Avoid wearing loud prints. Don't go ultra casual—shorts, tennis skirts or cargo pants.
* The track suit look does not work for professionals. Not even on Fridays.
* It is important to stick to fitted pieces that go in sync with your body type. Oversized outfits are a big no-no!
* Too many colours spoil the look. Don't look like a rainbow!
* Voluptuous women should avoid skin-tight leggings. Hide the bulges; flaunt the curves.