My first glimpse of Siachen glacier was on March 20, 2000. I had taken over 3 Infantry Division on March 15 and, after four days of acclimatisation at Karu, the divisional headquarters, I flew to the base camp at the snout of the glacier, at 12,000 feet. The base camp serves as the logistics, training and acclimatisation hub for the glacier. The Army's High Altitude Warfare School conducts a six-week training session at the Siachen Battle School here, for all troops being inducted at the glacier.
The 76km-long Siachen glacier starts from Indira Col in the north and terminates at the base camp. Saltoro Ridge, which forms the western wall of the glacier, has three important passes—Sia La in the north, Bilafond La in the centre and Gyong La in the south. Indian posts at Saltoro Ridge dominate the Pakistani posts, which are at lower heights. The ridge originates from the famous NJ9842, the point where the Line of Control, demarcated in 1972, terminates. The LoC was not demarcated beyond NJ9842 because it was felt that no one could live in the icy wilderness. A vague sentence in the ceasefire document—that the Line of Control will run northwards to the glacier—led to the Siachen dispute. Pakistan claims that, from point NJ9842, the Line of Actual Control runs northeastwards to Karakoram Pass, while India claims that it runs northeastwards along Saltoro Ridge to Indira Col. Hence, our claim on the glacier.
While being flown to Sia La, I was shown various landmarks and posts on the Saltoro Ridge line. What struck me was that while the glacier and the ridge were completely covered in snow, the mountains in the east, which are part of the Karakoram range, had very little snow. In fact, a couple of lakes in the region had not even frozen. A marvel of nature.
We landed at Sia La and saw how troops lived. Apart from fibreglass huts, they had constructed snow caves that could trap the little heat they got from gas stoves. The inside walls were plastered with chocolates, which were part of their rations, but which they did not feel like eating.
My next visit to Sia La was a month later and I was struck by the amount of garbage lying around the posts—wasted snow tents, parachutes, jerry cans and empty tins. While supplies are brought to the posts by helicopters, nothing is taken out. I made up my mind to do something to clean the glacier and laid down a standard operating procedure. On my way back to the base camp, I flew over an artillery battery. The guns and ammunition had been airdropped and the location was littered with empty cartridges.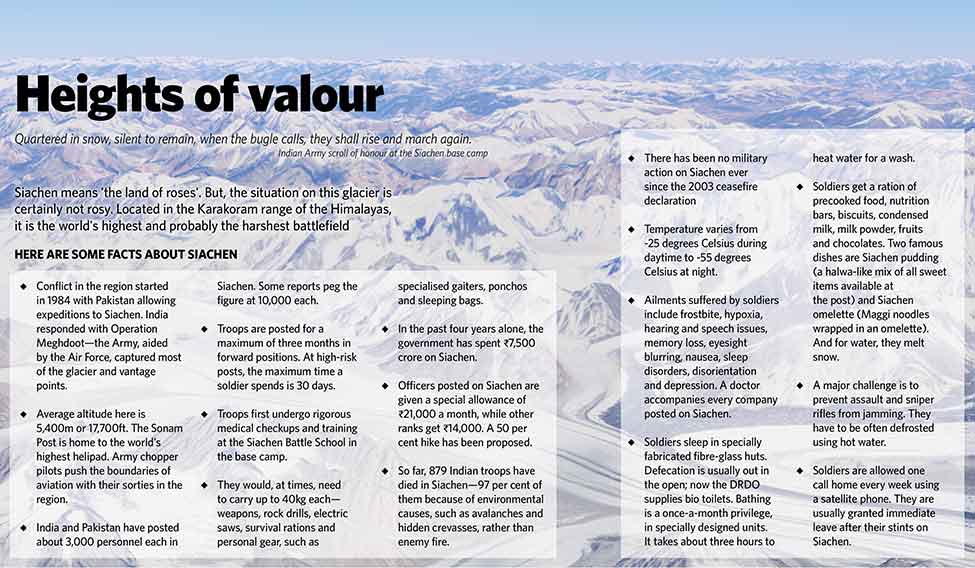 From 1984, when India occupied Siachen, to 2003, when ceasefire came into force, there were daily artillery duels and Pakistan made several attempts to occupy Saltoro Ridge. The most famous attempt was in 1987, when Pakistan managed to establish a post overlooking Bilafond La Pass and named it Quaid Post. From there, the Pakistanis could easily direct artillery fire at our other posts and induction route along the glacier. It was, therefore, necessary to eliminate this post. And though this was easier said than done, troops of 8 Jammu and Kashmir Light Infantry led by Subedar (later honorary captain) Bana Singh recaptured this post in an operation. It was thereafter named Bana Post, and Bana Singh was awarded the Param Vir Chakra.
The tenure of troops is three months in the northern glacier, six months in the central glacier and three months to a year in the southern glacier. All posts have a nursing assistant, all companies have a doctor and every post has a HAPO (high-altitude pulmonary oedema) bag. Most posts have a VSAT phone for troops to call home.
As I said earlier, I was determined to do my bit to clean the glacier. I made a standard operating procedure, whereby all returning helicopters and troops had to bring back some items, especially parachutes and jerry cans, which could be recycled. All battalions were to send me a daily situation report, about what was brought back from the glacier, which I sent on a weekly basis to corps HQ, command HQ and Army HQ.
On de-induction, troops are brought to a place called Sasoma, where there are hot springs, in which the troops bathe and wash their clothes before returning them to the depot. From here, a track leads to Saser La and then on to Daulat Beg Oldi sector in Aksai Chin.
I was lucky that during my command of 3 Infantry Division, I did not have any casualty because of blizzards or avalanches, which are daily hazards in Siachen. A tenure in Siachen is considered a badge of honour in the Army. Only an Indian Army soldier can live and operate in Siachen with temperatures falling to –50 celsius. Hats off to the jawans, officers and junior commissioned officers who take on their Siachen tenure with courage.