For aspiring performers talent hunts are the equivalent of a magical trampoline. A platform which, if they position themselves right, can launch them into that heady stratosphere of fame and recognition. Perhaps, Pragaash, an all-girl Kashmiri rock band, did not even have such grand ambitions when they participated in Battle of the Bands in Srinagar. Sure, a win would have been exciting for the girls, perhaps even a validation. But, instead of an endorsement of their musical prowess, their success became the albatross around their neck. Today, several death threats, a hate mail and a fatwa later, they have disbanded and all that is left are the debris of young dreams and innocence.
"I felt very bad when I heard that they had disbanded. I wish I could have reached out to them," says 23-year-old Arzu Begum. Arzu is a drummer herself and a key member of the Band of Hurricane Gals from Assam, who have been making music since 2011. The fate of Pragaash has turned the spotlight on other girl bands, who are struggling to gain a foothold. The going has always been tough for bands playing English music, and dabbling in genres which are not mainstream. "The biggest challenge to establishing yourself as a band is audience acceptance," says Karen Donaghue of Afflatus, a Shillong-based band which was formed in 2008. "That does not depend on gender."
The growth process is organic enough. A group of friends who enjoy jamming get together and form a band. At some point of time their ambitions outgrow the limited scope of college and university festivals and soon they are contemplating a career in music, as a band. "We really enjoyed playing together, and forming a band seemed like a logical step," says Donaghue. The other members of Afflatus are Grace Miller, Sharon Zadeng and Mercy Miller.
For Band of Hurricane Gals, it was the single-minded determination of their lead singer Mamoni Kalita which led to the band being formed. "It was very difficult to rope in other members when we first floated the idea, as girls are naturally more inclined to singing than playing an instrument," says Arzu.
Talk about girl bands, and the first name to pop up, at least in the minds of those from a certain generation, is Viva! The band was a result of a talent hunt organised by a music channel and did not last beyond two albums, the influence of which was clearly pop. The girl bands in the current scene cite rock and indie as their genre of choice.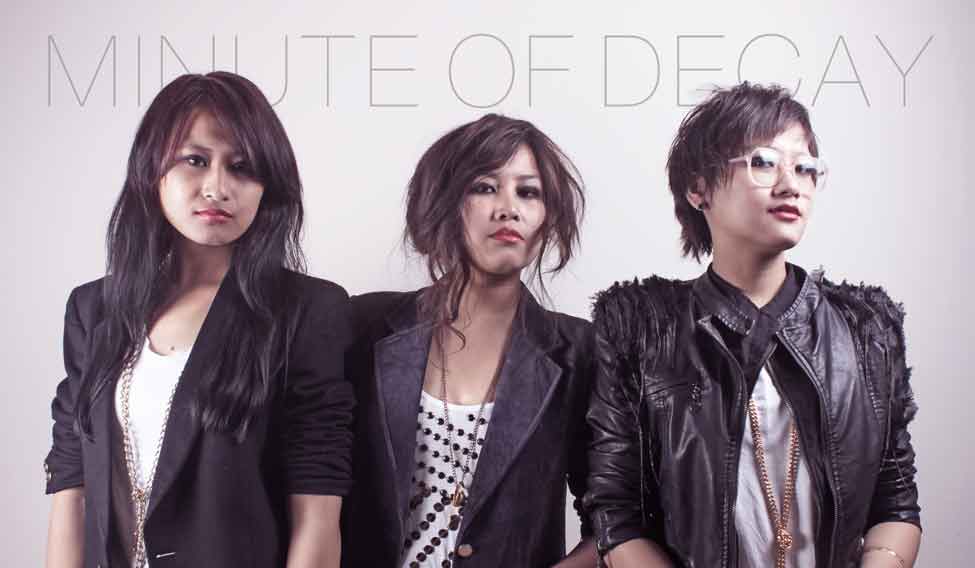 "My musical influences while growing up were Led Zeppelin, Beatles and Janis Joplin, so it was but natural that as a performer I was drawn to their music," explains Singchon Muivah of Minute of Decay (MoD). A Delhi-based band of three sisters, MoD was formed in 2011, "in a language of classic rock punctuated by… contemporary vocals," according to their Facebook page. Rock covers are slowly, but surely, giving way to original writings, and the band now finds itself being invited for concerts and gigs. "The music scene has really improved these days and more and more bands are getting opportunities," says their manager C'sam Muivah. "We also did a lot to spread the word about MoD by sending across YouTube links to their performances and songs."
Singchon admits that she never thought there would come a time when music would be their bread-earner, but the going has been smooth for them. "We took a loan of 04 lakh to buy instruments in the Bihu season, put up flyers, sent out feelers, but not one gig came our way," recalls Arzu. But, after a local channel interviewed the group, they found themselves inundated with offers. "Today we travel quite extensively for performances. We have come out with an album titled Vibrations, which is completely original." These bands charge anywhere between 030,000 to 075,000 and even upwards for performances and gigs.
For bands, the inspiration for original material comes from anything and everything around them. Afflatus has composed songs about heartbreak, love and domestic abuse, while Delhi-based The Vinyl Record looks at feminism and life lessons for inspiration. "Our performances are a mix of both covers and original compositions," says Mithy Tapak of the band.
At any point of time, have they felt that the audience is biased towards them because of their gender? "For the audience it is a novelty for the first five minutes or so to see an all-girl band," admits Donaghue, who has toured to Bhutan, Bangalore, Mumbai and Delhi with her band. The music takes over soon enough, she says.
Tapak agrees with Donaghue, but says that the group has sometimes run into people who are disapproving of "singing in clubs" late at night. Does it bother the band? As it turns out, the answer is "far from it". Arzu recalls receiving threats and hate mail when her band first came into the limelight, but she refuses to be cowed down. "I have the support of my family, and for all those who say Islam is against music, I simply ask, why is the azaan called out in a tune?" she asks.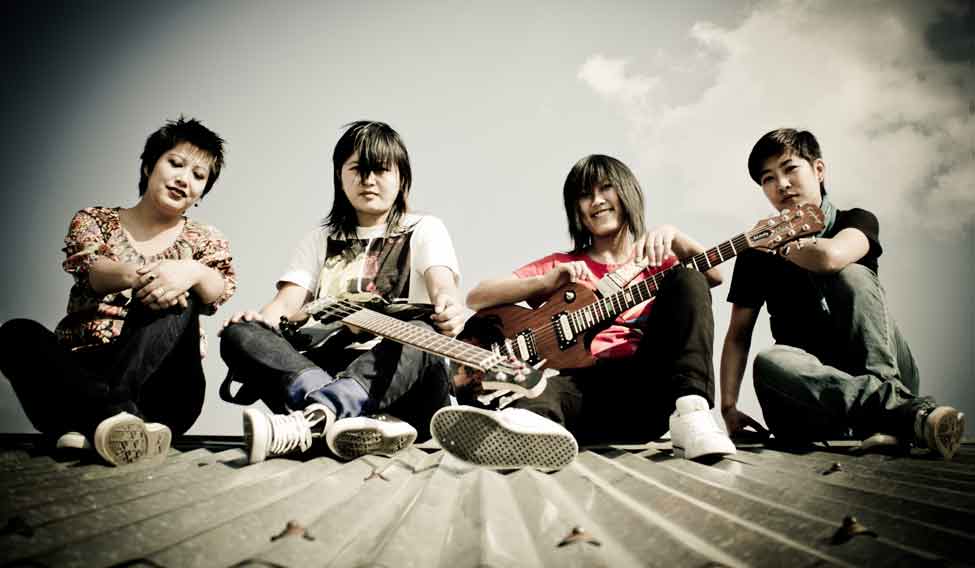 "Right now there is a lot of focus on girl bands because of the Pragaash controversy. But it is very sad that an incident like this brings the limelight on us. Music transcends gender," says Donaghue. Arzu, however, does feel that being a girl band does give them more opportunities that other young bands have to struggle for. "I have a male friend who is a much better drummer than me. He, too, is part of a band. But they have not been able to bag many gigs," she says. "In an ideal world only talent will be a barometer, but it does not work that way."
Most of the band members have known each other for years and this makes the creative process easier. "There is a comfort level which reflects in our music," says Singchon, whose band mates are her two sisters. "We are attuned to each others moods and we share the same taste in music. So when we sit down to compose, the process becomes seamless," says Tapak.
The girls of Pragaash have been silenced, but the other bands are determined that they will make a mark. Most of these bands are not aware of the others because of being far apart. But those like MoD and The Vinyl Record have jammed together. "There are many girl bands in other parts of the country. All that is needed is the right platform," says Tapak. And, they are determined to find one for themselves.