Cave in to cravings
Imagine having a meal with a giant spider and an owl right over your head, or having bats and snakes for company. Eerie, right? Gufha, a cave restaurant in Jayanagar, Bengaluru, is not for the lily-livered!
The restaurant has a den, a private dining room, inside the cave. "We can accommodate 10-12 people there,'' says Bhaskar K., food and beverages manager at Gufha, which is part of The President Hotel.
With a well-stocked bar, the restaurant offers Indian and North West Frontier cuisine. The signature dishes include Tandoori Prawns, Murg Peshawari, Dum Ka Murg, Tandoori Kabab, naan, rotis and Dal Makhani.
Quite popular among families, Gufha is equipped with amenities to conduct corporate meetings, too. It, however, looks like a perfect hideout for couples. Bhaskar says though they don't mind couples coming in, he intervenes if they take undue advantage of the privacy. "We have surveillance cameras all over the restaurant. But there are couples who just don't care about surveillance and try to get intimate. Then I send one of my waiters to the next table. He will keep on cleaning the table until they get the message and leave," he says. "That said, we have a reserved table for couples."
– Mini P. Thomas
Served hot
Situated in Connaught Place, a uniquely-themed and named restaurant Garam Dharam is a tribute to legendary actor Dharmendra. The concept marries the mass appeal of the yesteryear star, perhaps best known for the cult film Sholay, with the popularity of north Indian cuisine served in dhabas. The décor is 'rural-meets-urban', with village huts, posters of his popular films and dialogues, done up in warm colours, resonating with the actor's charming persona. The crockery is mostly steel plates and big glasses. The most amusing prop is the replica of the bike from Sholay on which Jai and Veeru sang the famous 'yeh dosti' song.
The menu has items such as Mai Balwaan Family Naan (a big-size version of the Indian bread), Mere Humdum Mere Gosht (turnip-infused mutton dish) on the Dharamji Special page or a house special Pyare Mohan Masala Nimbu (lemonade with an almond flavour) to which you can ask the server to add a 'Patiala Peg' of your preferred spirit.
The 80-year-old actor visited the restaurant in September 2015 when it was launched by owners Umang Tiwari and Mickey Mehta. He reportedly revealed that he prefers enjoying a dhaba-style meal instead of fancy fine-dining and liked the tribute to him that brought a dhaba and theka generally seen on the highways to the heart of New Delhi. "Etiquettes make me uncomfortable. Some years ago, I was invited at a five-star restaurant but I didn't enjoy their dishes much," said Dharmendra at the launch. The owners say the actor loved everything about the place, which "is not fine dining or casual dining; it is your everyday go-to place because we can cater to all ages and have kept the pricing reasonable," they say.
– Shalini Singh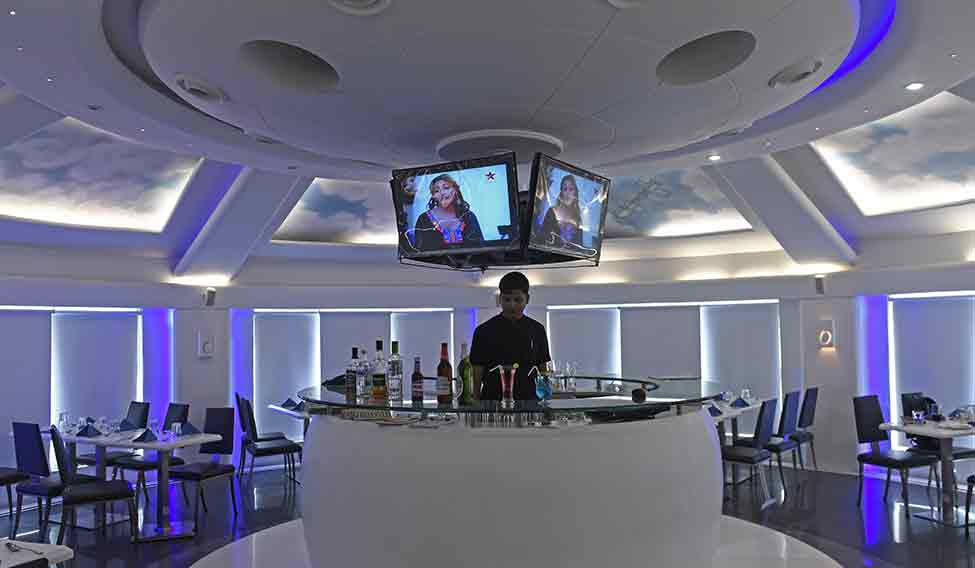 Beam me up, Scotty
It wouldn't be incredibly hard to fathom if UFO Revolving Restaurant, located in Kandivali (east), has taken inspiration from Mumbai's iconic hotel The Ambassador at Marine Drive, which boasted a revolving restaurant (now defunct) back in the 1970s. Both happen to be bulbous structures from the outside, sitting atop buildings, and both revolved at a rather slow pace.
From the outside, frankly, there is nothing 'unidentifiable' about the UFO. You wouldn't miss it in a hurry, thanks to the bright yellow paint on the outside. It is the all-white and grey interiors that truly resemble a UFO, in its saucer-shaped avatar. With the blue sky painted overhead, complete with fluffy clouds, the décor also boasts of big spaceship-sized lights, which create the impression of a drifting spaceship, whereas, in reality, it is actually the revolving disc that makes the seating area go around.
"UFO, which was started five years ago by Jimmy Chadha, specialises in not just Indian cuisine but also continental and oriental," says Rajendra Tambe, manager, UFO. All those who are into UFOs and ETs may want to try The Veg Flying Saucer Platter—an assorted kebab platter.
The bar, located right at the centre of the 'spaceship', with its colourful mocktails and cocktails, adds a dash of colour to the white and grey décor of this revolving restaurant, which seats 54, as do the blue and purple LED lights that lend a mysterious hue to the restaurant.
So, if you find yourself in this part of Mumbai and want to dine at an unusual place, maybe you will want to remember that iconic line from Star Trek, "Beam me up, Scotty", which might just work as a mnemonic peg to teleport you to UFO.
– Rachna Tyagi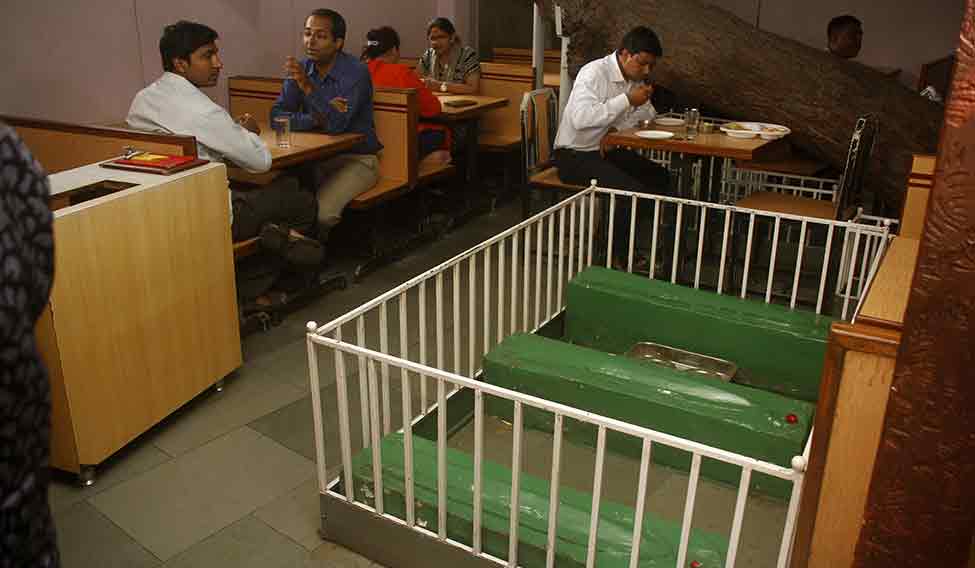 Coffee with coffins
If you are craving for a maska bun in Ahmedabad, you would probably not find a better place than New Lucky Restaurant. But the restaurant near Lal Darwaza has a 'grave' secret—it is built on an old cemetery plot.
In the 1950s, K.H. Mohammad from Kozhikode and his Hindu friend started the restaurant. But instead of digging up the graves—more than 15 of them, reportedly belonging to the period of a 16th century Sufi saint—they railed them off. Today, the restaurant is run by the third generation. Manager Siddique Ansari's daily morning ritual involves placing flowers and lighting candles or diyas next to the graves.
Since no one took the secret to their graves, the restaurant is quite famous. Painter M.F. Husain was a regular visitor here and had gifted one of his works to the restaurant. As the BJP office is close to the restaurant, leaders like L.K. Advani and Prime Minister Narendra Modi, too, have dropped in for a cuppa or a bite.
Rajiv Nair, whose father was Mohammad's friend, says the restaurant has been lucky for him. Graves are a blessing, he says.
–Nandini Oza