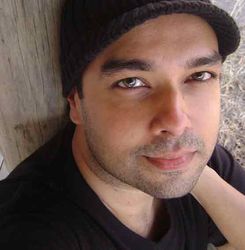 Do pardon the rather cliché-ridden header, but for seasoned hacks of a certain vintage like me, the simple act of "going to a bar" to get tanked up on one's favourite libation has entered a whole other stratosphere. The metamorphosis of the humble, old, and dare-we-say de rigueur, bar into the 'gastropub', 'restobar', 'microbrewery' and other similar fancy iterations ('gastrobar'?), is something that was simply waiting to happen and is truly a zeitgeist of the gastro-revolution that we in India are finding ourselves in the midst of. And no one's complaining!
From drinks that you inhale, to the 'small plates' concept of downsizing traditional pub grub, to the drinking out of downright wacky tipple dispensers, and a whole lot more in between, the 'bar nouveau' of 2016 is pulling out all the stops. Thereby taking the new age drinker on a multi sensory trip, one shot (pun intended!) at a time.
Speaking of trips, the latest drink craze these days is the vapshot, which is a fun way to enjoy a 'drink'. Basically a cocktail in a vaporised form, it is alcohol-laced fumes inhaled via a straw, promising instant gratification. The guys at the Hoppipola chain of gastropubs in Mumbai, Pune, Chennai, Bengaluru and Kolkata where vapshots are served, insist that the process brings out the true flavour of the liquor, making it an aromatic and pleasant experience.
Making us forget that there ever was a time when we sipped our favourite cocktail from the ubiquitous highball, the vertiginous Tom Collins glass and other pedestrian drink dispensers, gastropubs all over the country seem to be in a competition of sorts to see who can come up with the most bizarre specimens. If Trip On a Drip, at Church Street Social in Bengaluru, served in a plastic pouch seems wacky, you have got to get your hands on Esoterica at PDT, Mumbai, that is served in a plastic syringe, or sip on your thandai, cognac, dark rum and kathaa cocktail served in a brass lota, aptly named Banaras To Bombay at Dishkiyaoon, Mumbai.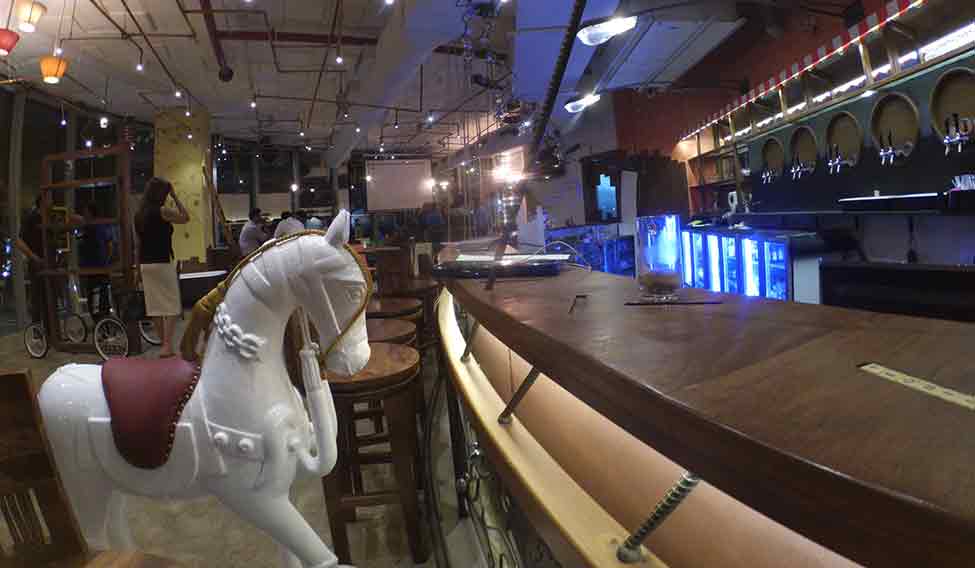 Interestingly, even the food served alongside drinks at such restobars has undergone a change and moves miles away from the 'unholy' trinity of chakna-peanuts-dal moth bar snacks of yore. Enter the small plate concept with Spanish tapas leading the way. In fact, Mumbai's newest restobar Farzi Café (with an identical menu at its two Delhi branches) showcases a range of tapas style dishes and nano plates that range from mini raj kachoris and tempura fried prawns with nimboo mirchaire to tiny galouti sliders that sit pretty alongside drinks like the smoky Chai Pani. In Bengaluru, Monkey Bar's sorpotel jam pot is another micro dish that's perfectly edited to go with the gastropub's penchant for serving innovative cocktails like the brilliant tamarind-redolent Shazia Imli!
Not content with simply having you chug down a pint of your favourite craft beer, gastropubs and microbreweries now want you to eat it, too! Confused? Well, I am talking about 'grub' that truly meets the 'pub', where everything from the commonplace beer-battered onion rings and a beer-saturated fondue at the Irish House in Mumbai and Pune rubs shoulders with more exotic boozed-up edible preparations like the Beer and Cheese Lamb Burger at New Delhi's Smoke House Deli and even a craft beer popsicle to slurp on at Mumbai's White Owl Brewery.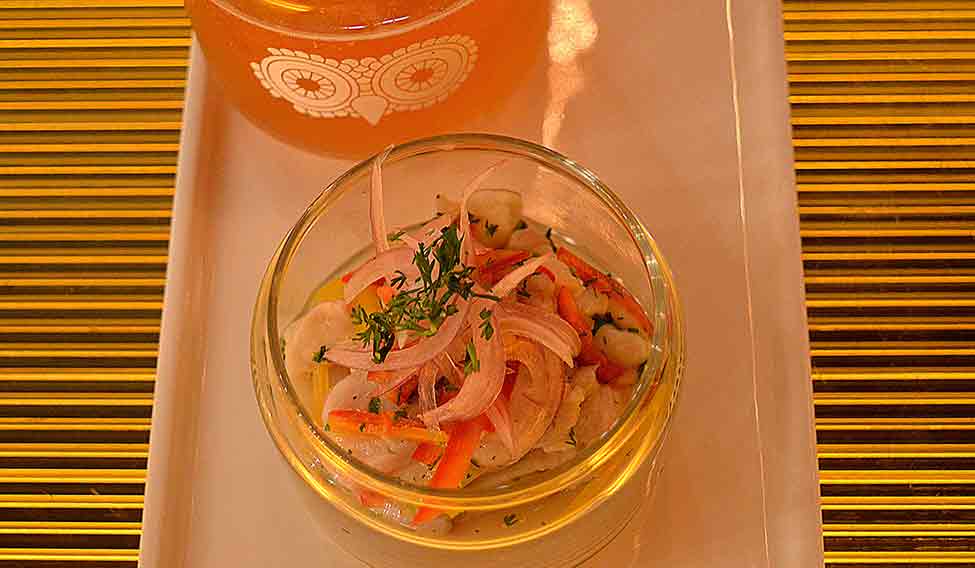 Cashing in on the whole 'we brew our own beer onsite' spiel, microbreweries like Doolally in Pune and Mumbai, Gurgaon's 7 Degrees Brauhaus and The Bier Club in Bengaluru now prefer to incorporate the entire beer-making process—heavy duty beer-making equipment et al—into their décor, having you enjoy your pint while watching the brewmaster do his thing a few feet away.
Vintage coupled with a prohibition era speak-easy vibe seems to be another theme that's attracting punters to restobars like New Delhi's PCO, Bengaluru's Toast and Tonic and Chennai's The Flying Elephant that pay homage to the jazz era, be it in their concept, presentation or even drink ingredients. Once a popular flavouring agent for cordials and cakes of the Victorian era, dating back even to the Roman era, elderflower shows off its vintage appeal as a main ingredient in cocktails like T&T No. 5 Flower Power Tonic at Toast and Tonic and in Elderflower Day (gin, elderflower liqueur, and finished off with tonic water) at District Lounge, one of Mumbai's many newly opened, jazz era-inspired lounge bars.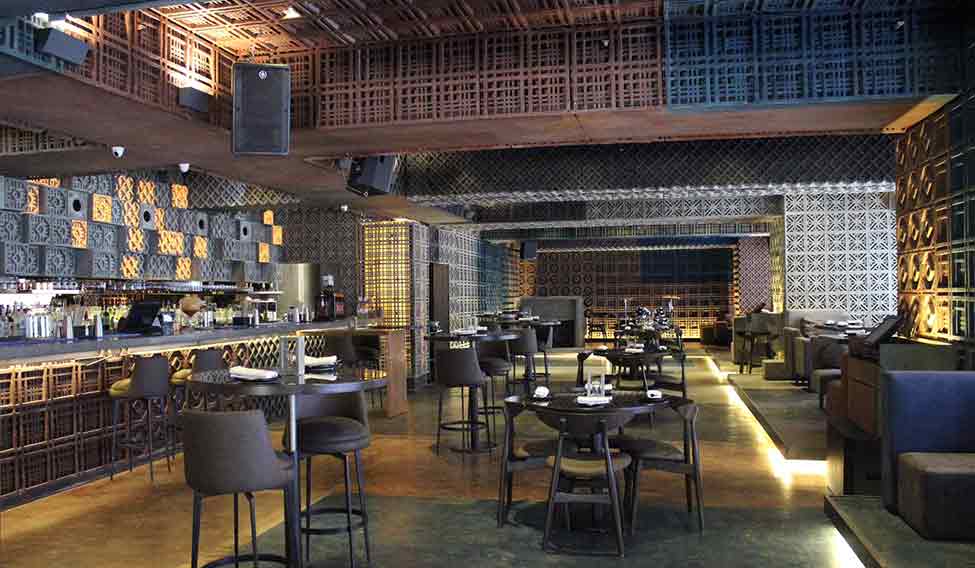 As one of Mumbai's newest gastrobars, Chemistry 101 sings a lusty paean to two very antipodal ideas, where both nostalgia and molecular mixology find a place on its drinks' menu. So, while on one hand you have the coconut Malgudi Days cocktail that comes with a mustard seed and curry leaf tadka, on the other, you grapple with The Guardians of the Galaxy, a vodka-based slushy cocktail that comes with its own pair of AR (augmented reality) goggles that one needs to wear to make the trip last even longer. Enough said. Period.
Dias is a food and drink writer.