Pere al Vino Rosso e Gorgonzola. Yes, that's a mouthful, and the delicious Italian dish will blow you with its uncomplicated plainness. Then there is Stracciatella alla Romana, a Roman style egg-drop soup with fresh herbs and extra virgin olive oil, and Involtini alla Barese, the classic Sunday meal cooked in every household in southeastern Italy. Prego by Chef Alessandro Bechini at Taj Coromandel in Chennai is not just an Italian restaurant that makes you stuff your stomach, but a place to savour some fine dishes. It is as if Bechini has brought a slice of Italy with him.
Welcome to the world of India's expat restaurants. They have been seasoning India, especially the metros, with international flavours for years now. The watchword here is authentic. "We wanted to offer Chennai something simple and classic, which people would enjoy," says Prateek Kalra, director of food and beverages at Taj Coromandel. Chef Bechini created a menu for Chennai. "It is a fusion of foods and flavours," he says. "We present a taste of the Italian cuisine with a little bit of the Tuscany, with kebabs, souvlakis, gyros, aubergines, cheeses and olive oil."
Prego presents a medley of desserts with innovative items like Crema di Formaggio al Limone (limoncello flavoured cream cheese mousse with homemade biscuits); Tiramisù Senza Uova (eggless tiramisu); Cannoli Siciliana (sweet ricotta cheese with chocolate chips and candy fruit in crispy shell); Delizia al Cioccolato (steamed chocolate pudding, chocolate berry ganache); Salted Caramel Crème Brulèe; and Gelato Della Casa (homemade ice cream or sorbet).
Though there were doubts if the Chennai palate was ready for an Italian fare, Prego has managed to attract a steady stream of diners. Its success has a lot to do with the interactive kitchen. As guests soak in the aroma, the chef brings professional etiquette to the platter. Bechini and Sujan Mukherjee, executive chef at Taj Coromandel, engage the diners and create a comfort zone before throwing open the menu. The result: the conservative Chennai has surrendered to the passionate Italian flavours.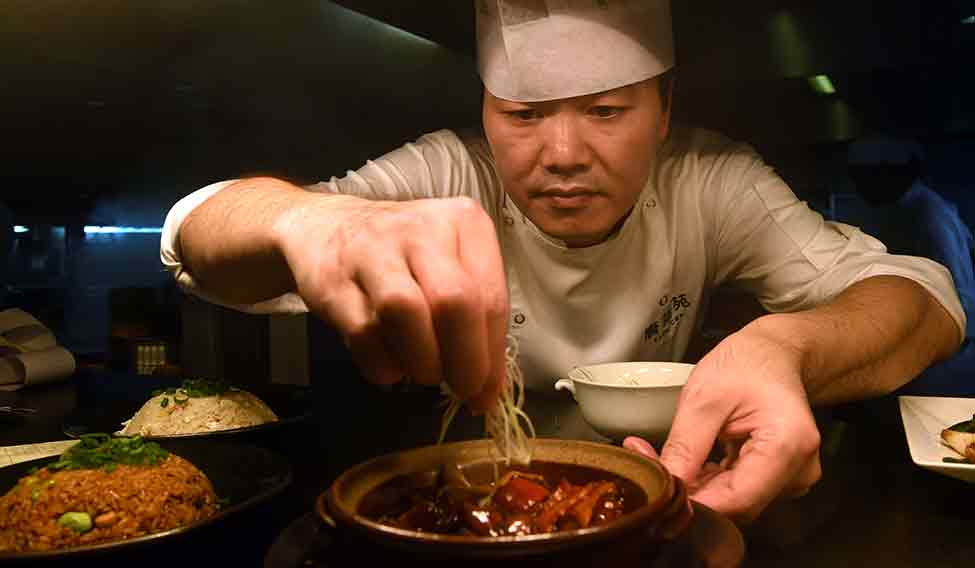 THE 'POSH' CANTONESE
Bollywood superstars and Forbes A-listers often descend to a not-so-busy corner in the otherwise bustling Bandra-Kurla Complex, one of Mumbai's finest business addresses. Their landing place is Yauatcha, a dim sum and tea house with the special honour of being a Michelin-starred restaurant.
Wang Yixuan, head chef, Yauatcha India, has built quite a reputation as a dim sum expert with a flair for modern Cantonese cuisine. He has been tasked with the job of conceptualising a cuisine that caters to the discerning palates of Indians. Though the menu contains numerous wok items, Yauatcha is mainly known for its dim sums. "We serve 45 types of dim sums—steamed, pan-fried, poached, baked or fried," says Nelson Nair, general manager, Yauatcha, Mumbai.
Yauatcha imports 95 per cent of the ingredients it uses. It also offers an exclusively curated, four-course menu, with some of its signature dishes on it.
Easily one of the biggest restaurants in Mumbai, Yauatcha can accommodate up to 250 guests, and it flaunts an open kitchen design. There are very few Chinese elements in this contemporary dim sum and tea house, such as the little Chinese designs on the back of the chairs and the fish tanks. Otherwise, from the marble-top tables and the silk upholstery in the dining rooms to the champagne buckets placed beside the tables and the Made in Japan white crockery, everything screams posh!
Yauatcha has one of the best bars in the city, where the bartenders (Men in Black) serve some fine cocktails with not just fresh fruits and herbs, but also influences of tea.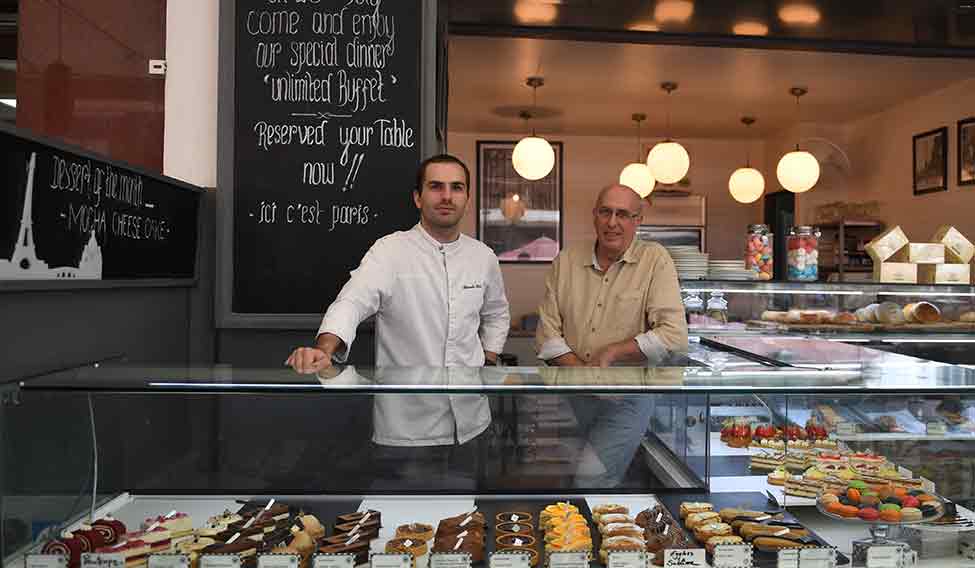 THE FRENCH AFFAIR
Café Noir means black coffee. The French love black coffee. Unsurprisingly, different varieties of black coffee adorn the menu of Café Noir, a French restaurant and bar at UB City in Bengaluru. Having a pleasant ambience which eschews the fine dining set up, it serves authentic French food to the IT city's young visitors.
Whether you prefer a Cappuccino or the Coorg coffee, the restaurant won't disappoint you. "We try our best to cater to our Indian customers. The French cuisine is predominantly non-vegetarian, with an elaborate lunch and a three-course dinner. However, at Café Noir, one can have an array of vegetarian dishes as well," says Thierry Jasserand, the owner of the restaurant. After moving to India seven years ago, he started his life all over again.
Jasserand's biggest headache is sourcing the ingredients. "There are stuff you can't find in India. For instance, there are dishes that require fresh or smoked salmon. We often have them imported from New Zealand. A lot of our ingredients are sourced from local suppliers," he says.
Café Noir has five outlets in Bengaluru, and an interesting tea menu that includes Japanese, Darjeeling and flowering teas, and cookies, pastries and cakes. The place offers excellent tomato and mozzarella salads and pastas as well.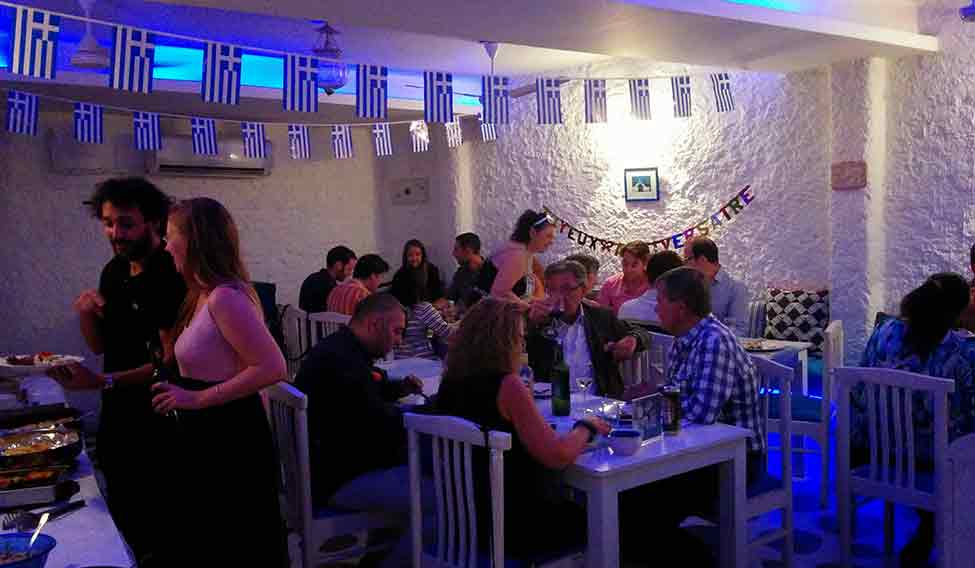 IT IS GREEK TO US
Thessaloniki is the second largest city in Greece, and is known as its cultural capital. It was named after Thessalonike of Macedon, the half sister of Alexander the Great. The region has retained some of its historical tastes, like the frappe coffee. You can trawl through the internet for nuggets like these while sipping on the popular Greek summer drink at Mykonos, a small restaurant in south Delhi's Shahpur Jat.
Started in 2014 by Anastasia Poultidou, who hails from Thessaloniki, and Indian restaurateur Santosh Jindal, Mykonos offers a selection of Greek and Mediterranean dishes. "Contrary to popular perception, Greek food is similar to Indian in terms of variety. They use a lot of vegetables and make it healthy using olive oil. One of our most popular items is the Greek salad, which we make using imported Feta cheese. The others are Chicken Souvlaki, chunks of chicken grilled using Greek herbs; Moussaka, a brinjal and mince meat layered dish; and the Greek national dessert called Galaktoboureko, which they eat regularly the way we eat, say, gulab jamun." The popular beverage here is the Greek frappe, a cold coffee made with a thick base and strong flavour.
Jindal says their target customers are mostly the expats in Delhi, people from the embassy looking for a familiar taste and the well-travelled Indians open to experimenting with food, even curious housewives dropping in occasionally. No alcohol is served so the focus remains on food, projecting it as a novelty. "The perception is of a home-cooked, small countryside 30-seater place. Guests have to call us before they come so we keep their choice of dishes ready. It is informal and interactive. Sometimes Anastasia tells guests not to over-order so they don't overeat and save something for another time!" he says.
It is not easy preparing these special meals, though. Procuring dry mint or Greek oregano, which is different from the Italian or Spanish versions, is tough and it has to be imported. Even the olive oil is different with a more greenish persona. And, Anastasia's style of working helps retain the freshness of the ingredients and leaves nothing to chance.

FROM PERSIA TO KOREA
Chennai's love for foreign cuisine goes beyond Chinese and Italian. Nasrin Karimi's Shiraz Art Cafe in Neelankarai offers authentic Iranian cuisine. When she came to the city, Nasrin started cooking for her friends. Now her art cafe is a hit. Apart from Iranian, she offers some special Indian dishes.
Seo Jae Gul came to Chennai knowing that the city had a demand for East Asian cuisine owing to the expanding Korean community. He started In Seoul in Alwarpet in 2002, and it continues to be a hotspot of authentic Korean cuisine. Kimchi Bok-kkum-bap, the Korean fried rice, and Kimchi Jji-Gae, the Korean soup, are the items that should not be missed when at In Seoul. It also offers Japanese and Continental cuisines.
All theses expat chefs have brought new skill-sets to India, other than the usual cherry tomatoes, broccoli, garlic, mushrooms and basil, which have become common in Indian restaurants. And, what they offer is a real taste of the world.