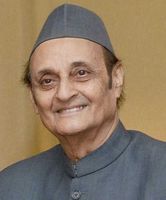 JAWAHARLAL Nehru passed away on May 27, 1964. His death was a traumatic event. Zakir Hussain, Indira Gandhi, Padmaja Naidu, myself and some others who were close to Nehru wondered what memorial we should build for him.
[Lal Bahadur] Shastriji had refused to move into Teen Murti House. We felt that the Teen Murti complex could be a national memorial to Nehru. It was decided that the Teen Murti House would become a museum of not only Nehru, but also the freedom movement. And we built a library which would become a centre of research into the movement. Over the years, it has become a dynamic place.
As director of Nehru Memorial Museum and Library, Mridula Mukherjee had to leave under a cloud of controversy. So we looked for a younger person who would be the ideal director of the institution. We advertised. Mahesh Rangarajan, a well-known historian with Delhi University, was chosen.
I feel very bad for him. Mahesh has suffered because of this whole issue. He had severed his links with Delhi University, even though he could have kept his liaison. But he said he was happy at NMML and that if the executive board offered to integrate him into the service, he was prepared for it.
We wrote to the vice chancellor of Delhi University, saying, "Please release him". They do not let their people go so easily. On our request, the vice chancellor freed him and we integrated him into NMML.
The new government took over. For one year, there was no trouble. Mahesh was doing well. There were lectures, seminars and roundtables. We were able to get grants from the Union government. The institution was financially well established. We were beginning to fill vacancies. And then, suddenly, the minister [for culture] came out with a statement, saying the appointment was illegal and immoral.
We did not do anything illegal; we went by procedure. And I do not know why it is immoral. We tried to get a very good man for the job, and we got a very good man. We just formally appointed him during election time. We did not choose him then. He had been working with us for two years when the elections happened. What we did during election time was to severe his liaison with the university and make him a permanent employee. What we did was procedurally correct. We got clearance from the ministry, and the executive committee did it. I was the one who signed the letter.
The minister's statement was unfair. Had there been some problem, he could have talked to us and acted in a more graceful manner. After all, this is a national memorial to Nehru. No organisation should be treated like this.
Mahesh did not have to resign. But, being a sensitive man and a genuine intellectual, he did. He felt that if the minister is saying that his appointment is illegal and immoral, how could he stay on?
I agree that historians should reassess Nehru. Some reassessments may be favourable, while others may not be so. We are not trying to deify Nehru. But, he was an outstanding figure, and any deliberate attempt to denigrate him or an institution in his name should not happen.
And how can you make NMML a "museum of governance"? It is a museum of the freedom movement, with a special emphasis on Nehru. You can have emphasis on other leaders who you feel have been neglected by historians. You can study Syama Prasad Mookerjee and Deendayal Upadhyaya. They are all patriotic people. We have published the selected works of Jayaprakash Narayan, who opposed Indira Gandhi. If there is a feeling that there is an overemphasis on Nehru, a fine-tuning can be done without wrecking the institution. But to make it a 'museum of governance' does not make any sense.
Setting up an institution takes half a century; destabilising it takes half a day. We can see what is happening at the Film and Television Institute of India. I do not want that to happen to NMML.
Singh is a Congress leader and former Union minister. As told to Soni Mishra.