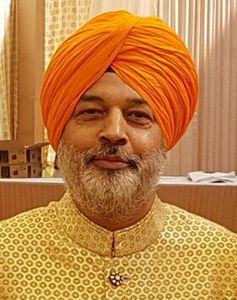 I grew up in a magical world with a storied past. Tales of valour and victories, passion for the finer, fashionable things in life and the art of appreciating exceptional craftsmanship are all part of my family's legacy. As a child, I was privileged to have been brought up at two gorgeous palaces in Kapurthala and Mussoorie, deeply influenced by my two heroes—our founding ancestor Nawab Jassa Singh Ahluwalia and my great grandfather Maharaja Jagatjit Singh.
The greatest Sikh warrior, Nawab Jassa Singh spent his lifetime on the battlefield. He defeated Nadir Shah in 1739 and fought Ahmed Shah Abdali nine times. He rebuilt the Harmandir Sahib (Golden Temple) destroyed by Abdali in 1762. He was the real Sikh, brought up by Guru Gobind Singh's widow, Mata Sundari ji, in Delhi. He dedicated his life to the service of the panth (community), which fondly called him the 'Sultan-ul-Quam' and 'Guru ka lal'.
His devotion earned him the great honour of getting cremated in the grounds of the Harmandir Sahib, which is very rare. His samadhi is still there and I maintain it myself. Sadly, not many people remember him today but he is an inspiration for me. Every year, on May 3, I host a beautiful kirtan samellan in Kapurthala in his honour. I have been doing it for the last 30 years and more than 50,000 people attend it. This is an important custom to maintain and it is really interesting to see how spiritual the younger generation is; they all look forward to spiritual guidance.
I grew up with these wonderful stories of a gallant past and lessons on sophistication; they have shaped my life the way it is. My other hero, Maharaja Jagatjit Singh, was a larger-than-life figure, a reformer with extremely modern views and a global traveller far ahead of his time. A perfectionist, he wanted the best for his people, be it education, architecture or entertainment. His council of ministers were all educated in Cambridge or Oxford and even his waiters were impeccably dressed.
A testimony to old world glamour and luxury, Kapurthala was at its zenith under the rule of Maharaja Jagatjit Singh. He went on to adapt the French architecture and culture as his own. Inspired by the Chateau Versailles of France, the maharaja's palace in Kapurthala was a sight to behold. Our family's style and sophistication was absolutely unmatched. My great grandfather was one of the biggest customers of French luxury brands like Cartier, Louis Vuitton and Van Cleef & Arpels. In fact, we still have the diamond and emerald necklace designed by Van Cleef & Arpels.
Maharaja Jagatjit Singh was very close to the French government and supported them in the two World Wars. He was given the highest civilian award—the Legion d'Honneur—by the French Republic for his outstanding service. I consider myself extremely honoured to have been conferred with the same award last year. After all, I imbibed my understanding of the French culture from the maharaja and his legacy.
The princely privileges were withdrawn in 1972 and it was a wakeup call for the erstwhile royalty. Times had changed. My maternal grandmother wanted me to think ahead and find something worthwhile to do. I started out as a banker in New York and then moved to the luxury business, which was a no-brainer. I knew more about these brands than they did.
In 1992, I met Yves Carcelle, the president of Louis Vuitton at a party and we got along very well. He was curious about my background. One thing led to another and over the years, he made me his global adviser. India was the last frontier for Louis Vuitton, nobody had cracked the market here. Yves was really intrigued and wanted to know how to run a business successfully in India, which is still a challenge for every CEO in the country.
I couldn't have asked for a better mentor. Yves was passionate about India and visited the country at least five times every year. We travelled the world together and did some incredible events. I was part of his core team, which was a huge learning experience for me. I spent 16 years with him, those were the best years for me. Sadly, Yves passed away three years ago. I still continue to advise Louis Vuitton and other luxury brands.
Life has been good and I have enjoyed every bit of it. I am an avid traveller and I tend to go to a lot of places my great grandfather had visited. I find his beautiful photographs everywhere—from the finest hotels to the greatest museums and palaces, he had friends everywhere. He used to book the entire Ritz hotel in Paris, the Dorchester in London and he also had a little chateau in France. He went to Harvard in 1893 and came back all inspired to educate the people in Punjab. He made education for girls compulsory and brought new industries into Kapurthala. All his incredible travel stories were recorded in a diary called My Travels in Europe and America.
There is a new world order and I am no longer a maharaja. However, I still retain the best from the past. This country has a very fine heritage but somewhere down the line, we seem to have lost it. It is important to maintain one's heritage, costumes and rituals. That's one of the biggest lessons I learnt from Europe—one must preserve, restore and promote heritage, and pass it on to the next generation. They have done it beautifully. Paris alone gets 70 million tourists every year.
I have been telling the government of India that the biggest economic game-changer for the country is tourism. It provides maximum work opportunities, which we haven't really bothered about. We need to create 50 million jobs a year. There is so much more to see in India besides Kerala and Rajasthan. We need to focus on states like Punjab, Madhya Pradesh and Gujarat, which have fascinating havelis and great histories waiting to be explored. These are things I have learnt from travel.
We are now modern Indians and we need to look at our shared heritage, rather than restrict ourselves to regional blocks. I am amazed with the Aga Khan Foundation's path-breaking work with Humayun's Tomb in Delhi and the Qutub Shahi tombs in Hyderabad. My family and Aga Khan's family go back a hundred years; our grandfathers were contemporaries. I would like to tap them for their help in reviving Kapurthala's heritage. The city was neglected after partition but now there is a younger generation that is keen on protecting some outstanding buildings and great architecture of the city.
There is a lot of work going on in the temples, mosques, gurudwaras and darbar halls. I'm also trying to convince the government to take the Sainik school out of the palace and convert it into a nice resort. Kapurthala is just an hour's drive from Amritsar and if we create the right opportunities, I see no reason why tourists won't want to come to this city with a glorious past.
Singh is the scion of Kapurthala's Ahluwalia dynasty.
As told to Neha S. Bajpai