Two things strike you as you enter the main lobby of the office of Delhi and District Cricket Association at Feroz Shah Kotla stadium in Delhi. One is the palpable air of tension. The other is the activity around the office of Chetan Chauhan, DDCA's working president and former Test cricketer.
Chauhan is settling bills related to the recently concluded India-South Africa Test match at Feroz Shah Kotla: all of them checked and rechecked by the team of retired judge Mukul Mudgal, who was appointed by the Delhi High Court to supervise the conduct of the match, and cleared by I.P. Singh, former deputy comptroller and auditor general. It is a rare instance of DDCA settling bills of vendors and professionals so soon after a match. The accounts are being cleared so that Mudgal can present his final report to the High Court.
The air of apprehension emanates from the office of vice president C.K. Khanna, where a handful of DDCA officials sit worrying about their future. The bar and restaurant are shut, the air smelling musty as you open the door. An old-timer points to the card room and groans: "See how dead the place is. Nothing is happening here." A few others are busy watching the goings-on in the lobby, talking in hushed tones about what lies ahead for DDCA.
The uneasy calm belies the fact that the ticking time bomb of corruption at DDCA has finally gone off. The public has finally recognised DDCA for what it really is: a cricket association more (in)famous for its taash patte activities than its cricketing ones. DDCA officials, who had for long been unperturbed by the shadow of infamy, are now squirming in their seats because the allegations of corruption have thrust their institution bang into the middle of national politics.
They have good reason to worry: Union Finance Minister Arun Jaitley, the man who had been shielding them from such charges for the past decade and a half, is now on the defensive. Jaitley, who was DDCA president from 1999 to 2013, has been accused of institutionalising graft in the association and protecting its corrupt officials (see graphics on page 38). Detractors are playing up a video clip of Jaitley at DDCA's annual general meeting in 2012, where he is seen asserting that he is "duty-bound to defend" officials against whom complaints had been filed.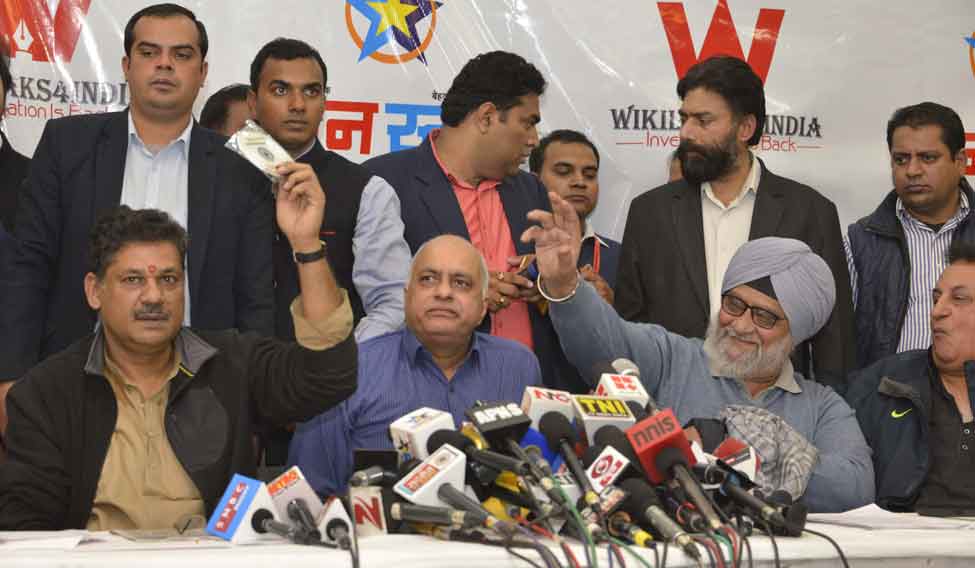 On December 20, members of the National Capital Territory (NCT) Cricket Association, a trust founded by former India skipper Bishan Singh Bedi that is spearheading the fight against corruption in DDCA, held a press conference that was packed to the rafters with political reporters heavily outnumbering cricket writers. The reason: Kirti Azad, BJP MP, member of NCT and former cricketer, was set to "expose" Jaitley's role in the DDCA mess. "Jaitley has conveniently avoided answering more than 200 letters and 500 messages about wrongdoing and swindling of DDCA money throughout his 14 years as president," said Azad.
His main charge against Jaitley related to the alleged financial bungling in the reconstruction of the Feroz Shah Kotla, especially after the first phase of work ended in 2008. "In AGMs [annual general meetings], Jaitley brushed aside complaints and simply pushed the agenda of passing accounts, reappointing the same [tainted] auditor and pushing items through proxies allegedly registered in his name," said Azad.
Citing documents in his possession, he alleged that funds and contracts were given to fraudulent companies. Azad wanted the frauds to be investigated, the money trail tracked and culprits booked. "If the companies to which money was siphoned off are fake, then so are their bank accounts," he said.
For his part, Jaitley has denied allegations of financial bungling. "There are fake allegations such as escalation of the cost of construction of the stadium," he wrote on his blog. "When work expands, cost escalations are integral. A brand new 42,000 capacity world-class stadium was constructed by EPIL [Engineering Projects India Ltd], a public sector body, at a total cost of around Rs 114 crore. At the same time, the UPA government renovated two stadiums. The Jawaharlal Nehru Stadium was renovated at a cost of over Rs 900 crore and Dhyan Chand Stadium… at a cost of over Rs 600 crore."
But, despite Jaitley's best efforts, the Feroz Shah Kotla is anything but state-of-the-art. A team from Board of Control for Cricket in India that inspected the stadium ten days after it hosted the India-South Africa Test match was horrified at the state of amenities there. "It didn't look like it was a stadium that had hosted an international match," said a member. It does not even have an electronic scoreboard. An old-style iron scoreboard is made each time an international match takes place.
"Much of the stadium was constructed without tenders, as has been confirmed by DDCA ex-treasurer to SFIO [Serious Fraud Investigation Office]," said Azad. "A contract given to EPIL was subcontracted to the relatives or companies related to DDCA office-bearers, which can be traced through inter-related directorships. From Rs 24 crore, the cost escalated to Rs 141 crore on March 31, 2015. And the stadium is yet to get completion certificate."
According to documents provided by Azad, Rs 4 crore was spent on four toilets. "I went to that washroom, and had to run back for my life immediately," said a DDCA regular.
Azad said he had documents showing how S.P. Bansal, who was general secretary when Jaitley was DDCA president, siphoned off Rs 1.55 crore to companies allegedly owned by him. "Kaushnik Buildcast Pvt Ltd was receiving several crores not just from DDCA, but also from some of its office-bearers [and] through Ratan Industries Ltd, allegedly owned by Bansal himself," said Azad. Bansal succeeded Jaitley as DDCA president. Last year, the DDCA executive committee stripped him of all powers on embezzlement charges. According to Azad, DDCA showed a "web of transactions among several sham companies operating from nonexistent addresses for imaginary work". "Crores of rupees from DDCA has been siphoned off. Worse, many of these companies were allegedly fronted by relatives and friends of DDCA's office bearers," said Azad.
He has accused Jaitley and one of his close aides in DDCA, Narindra Kumar Batra (who is president of Hockey India), of pushing to reappoint tainted auditors who are under the scanner of the government and the Institute of Chartered Accountants. According to Azad, Jaitley passed accounts despite serious financial indiscretions and opposition from DDCA members.
Responding to the allegations, Jaitley wrote: "Even though I am not concerned with cricket administration since 2013, a member of Parliament has been writing to various governmental bodies with regard to Delhi's cricket affairs. The UPA Government seized upon the opportunity and referred the complaints to the SFIO, which investigated all his complaints… and submitted a detailed report on March 21, 2013. The Report concluded… [that] "there are certain irregularities/non-compliance or technical violations, but no fraud [was] noticed as alleged."
Adding fuel to the fire, Indian Hockey Federation president K.P.S. Gill wrote to Delhi Chief Minister Arvind Kejriwal that Jaitley used his position as advisory member of Hockey India League to make his daughter Sonali Jaitley one of the lawyers of HI. Gill demanded that the Delhi government launch an inquiry into Jaitley's conflict of interest in HI.
Batra denied Gill's charges, though he admitted that Sonali had fought a case on HI's behalf. "We had 22 cases to fight in different places in the country," he said. "So we hired a lot of lawyers and law firms. The firm of Jaitley & Bakshi was one of them. So I don't know where the conflict of interest comes from."
A three-member committee appointed by the Delhi government recently recommended that DDCA be suspended after it found "gross mismanagement of funds". According to the committee's report, DDCA accounts were in complete disarray and the action against Bansal was allegedly a "play by DDCA to shield him from punishment". It was based on this report that Kejriwal ordered a one-man judicial commission to investigate DDCA affairs.
The Union government has questioned the jurisdiction of the Delhi government as regards the investigation. But Rahul Mehra, legal adviser to the Delhi government, maintained that Kejriwal was well within his jurisdiction as "sports is a state subject, as per a PIL filed by me in the Delhi Hight Court under entry 33 of list 2 [of the seventh schedule of the Constitution]."
Interestingly, it all started with Azad's question in Parliament in July 2015, regarding an investigation into DDCA affairs. The question was referred to the parliamentary affairs ministry, which sent it to the ministry of home affairs, which, in turn, forwarded it to the sports ministry. Usually, the sports ministry does not refer matters related to cricket to any government organisation, as it does not recognise BCCI as a sports federation. Since the query came from the home ministry, it was forwarded to the Delhi government, which was asked to take appropriate action. This gave the legal grounds for the Delhi government to investigate DDCA.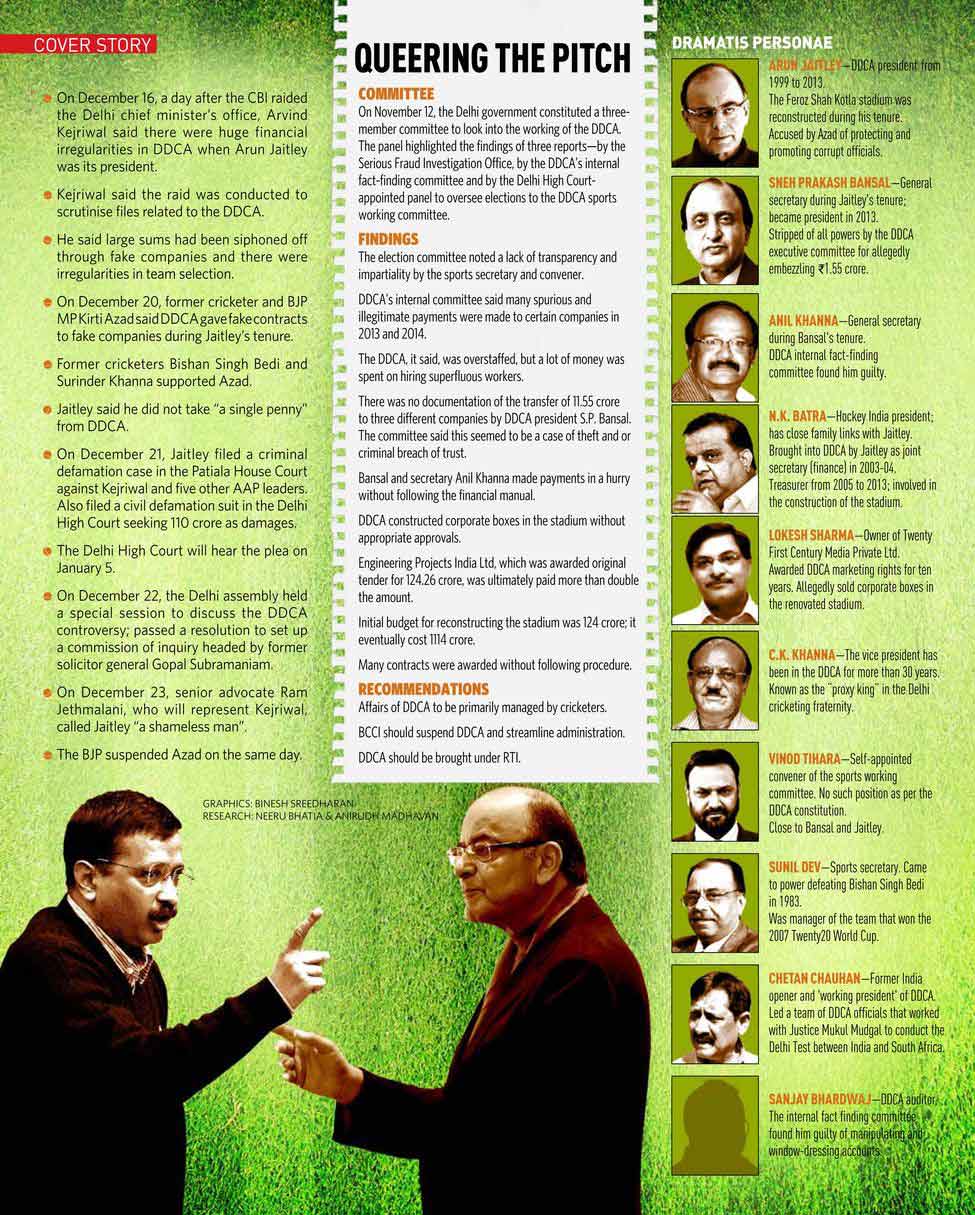 DDCA is also facing a CBI inquiry. The CBI first sent a preliminary enquiry (PE) letter on November 26 regarding questions related to DDCA's internal auditing. Since DDCA did not respond, a reminder was sent on December 14. Another PE letter was sent on December 18, a day after the CBI raided the office of Rajendra Kumar, Kejriwal's principal secretary. The last letter asked DDCA to furnish documents related to its revenue and capital expenditure, minutes of meetings of its board and managing committee, agreements with consultants, vendors and caterers and so on. BCCI, too, was asked to provide documents related to DDCA, and it complied. Sources said DDCA was "taking its time" to submit relevant documents to the CBI.
Sources who were part of the team that supervised the recent Test match at the Feroz Shah Kotla said they were horrified to find that DDCA had no list of tenders or vendors. The matter was also pointed out in the report of the three-member committee of the Delhi government.
There is no doubt that things in the faction-ridden DDCA have taken a turn for the worse after Jaitley's tenure as president. "We are not criticising Jaitley, but the system he presided over," said Sameer Bahadur, secretary of NCT. "His word was final. There is no doubt that Jaitley has enormous clout in DDCA and BCCI despite not being an office-bearer. He never got groups to sort out issues. He just found compromise formulas or short-term solutions. If cricketers complained, he would badmouth the others. He injected politics into the system. And now, administration has collapsed."
What has hurt Delhi cricketers most is the undermining of the club and the league system under Jaitley's tenure. Cricketers who are part of NCT say he never addressed issues concerning cricketers in a constructive manner. But, interestingly, Jaitley has found support among influential Delhi cricketers. Test captain Virat Kohli, former India opener Virender Sehwag and Delhi skipper Gautam Gambhir have come out in Jaitley's support.
There are startling facts that point to the poor management in DDCA over the years. Consider this: The India-South Africa Test match held under the supervision of Mudgal has turned in profits despite DDCA giving away free tickets to schoolchildren and providing food for spectators at subsidised rates. Officials say this is just the second time that a match has been profitable for the association. The first time was in 1982, when a BCCI ad hoc panel took charge of Delhi cricket. Said DDCA treasurer Ravinder Manchanda: "For the first time, we are actually claiming a refund on entertainment tax over unsold tickets."
Azad, however, said DDCA had underpriced the tickets. "Saving entertainment tax was a great ploy to keep everyone happy, even if it meant cheating the exchequer," he said. "DDCA did not deem it proper to do a fair price analysis. The best seats in the stadium were priced at Rs 100, whereas lesser seats were priced at Rs 5,000 and above."
Mudgal and his team reportedly had a tough time dealing with DDCA officials, some of whom tried to put as many roadblocks as they could in their way. Apparently, some officials even wanted Mudgal to be removed. But Anurag Thakur, BCCI secretary and Jaitley's protege, warned them that the match would be held in Delhi only if Mudgal supervised it. In fact, Delhi got to host the Test match only because of Jaitley's continuing influence in BCCI.
DDCA has for long been a renegade affiliate of BCCI. No board president, past or present, could sort the mess DDCA was in. In fact, many of them rather tried their best to stay out of its affairs. Sources say BCCI is in a "state of non-action" as regards DDCA. "The board is just not reacting," said a BCCI member. "They don't know what to do."
It is certain that the DDCA crisis will have a massive impact on BCCI and its affiliates. On January 4, the Justice R.M. Lodha panel will submit its report on the manner of functioning of BCCI. "There is absolutely no doubt there will be repercussions," said a senior BCCI functionary. "Things are much worse than DDCA in many other states. This could not have come at a worse time for [BCCI president] Shashank Manohar."
On December 23, the BJP suspended Azad for targeting Jaitley. The same day, NCT announced that it would be filing a writ petition in the Supreme Court on January 4, the day the Lodha panel would submit its report. "We fear that no fair probe is possible, with Jaitley being the finance minister and minister of corporate affairs," said a press release issued by NCT. "To ensure a fair probe by government agencies, we have decided to file a writ petition seeking a court-monitored inquiry into the massive corruption in DDCA over the last 15 years."
Despite all the allegations, cricket continues to take a back seat at the DDCA office. Officials sit idle and recount merrily how two members decided to take a toss on who would slap one of the senior-most office-bearers of the association. The winner, apparently, actually carried out the dare. This incident took place a few years ago, when Jaitley was at the helm. That's DDCA for you.