I was around 13 when my mother and I started clashing over shopping. I was trying to break out of her idea of what I should wear and establish my own identity. Mom always wanted me in pastels and light colours, but I wanted to look edgy. Black would be my identity, I decided.
The thing with letting colours out of your life is that you tend to become austere. There are only these many black shirts you can pair with blue jeans. So, I led a pretty austere life when my peers were busy trying out their own styles.
At 16, I would grimace at the thought of overspending. I remember a shopping trip with mom where she wanted me to try out some pink or green T-shirt. I balked at her idea of spending a considerable amount of money on a lamp shade. Primarily because we did not have a lamp stand and there was no space for more junk in the house. "But it is so pretty, we can get a lamp stand for it," she said. Ten years later, while looking for some important documents, I came across that lamp shade, serves to say, it has not stood on anything yet.
Thanks to my thrift—I would carry a lunch dabba to college, walk wherever possible, only go to cheap restaurants, scour roadside vendors for my books and party only on women's nights—I was relatively rich through college, and oddly disciplined for my age.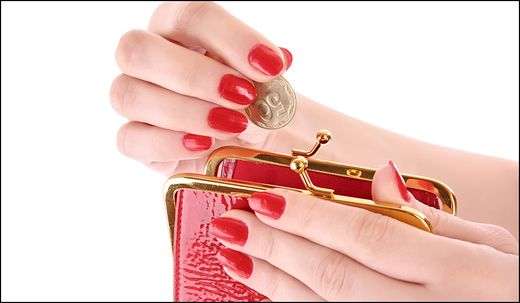 Even when I spent a year in hostel, I went by a simple rule—it should be cheap and nice. I was usually the girl who looked at the price tag first and then decided what clothes she liked. I soon realised I hated shopping, much to the horror of my mother.
I was happily ensconced in my tight-fisted world. But, then in mid-2012, something changed. Flipkart.com came into my consciousness. Jabong.com followed closely on its heels and I fell in love with shopping.
In the past two years, I have seen myself transform. Every week, an advertisement on Facebook would lead me to some e-retail site and I would be hooked. What can you do if you are a cheapskate online shopaholic? Every week, I spent Rs1,000 on maybe two pieces of clothing. Now, online shopping is a bit like Russian roulette, sometimes the outfit looks really good on you, sometimes what you wanted may make you look like a potato.
Unfortunately, today, when I get down to calculating my fashion hits and misses, I am sure I have spent upwards of Rs20,000 on things neither I nor anyone else will want to wear. The realisation hit me when my household help pointed to a Rs1,000 kurta I picked on discount and asked me if I was going for a costume party. My propensity for online style was making me unfashionable and was burning a hole into my pocket.
It has been two months since the realisation hit me and I am now a recovering online shopping addict. I do catch myself looking at yet another dark blue kurta—I have four—from time to time. But, I will try to tread the middle path now. The lesson I learnt: cheap is not necessarily always nice.