Trailblazer, workaholic, busy yet approachable, one who lives life king-size—these are some of the qualities that define Rahul Sharma, 35, cofounder and chief executive officer of Micromax, which recently beat Samsung to become the largest smartphone maker in India, according to a Canalys report.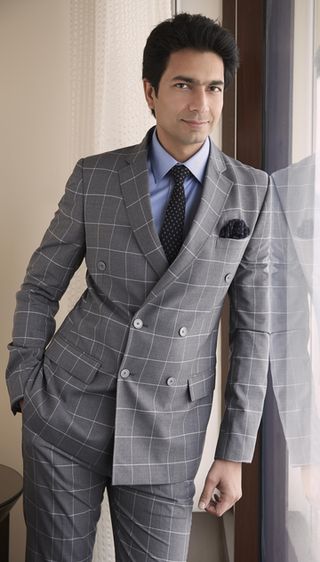 Sharma, who trained as an engineer, has been the driving force behind this feat. One of the most successful entrepreneurs under 40, Sharma is truly the poster boy of affordable smartphones in the country. His company democratised technology by producing budget smartphones at less than half the price of its foreign peers.
Despite the fame and fortune under his feet, Sharma is unassuming. As a first-generation entrepreneur who had a middle-class upbringing, he vividly remembers the time when he made his first million. It was in 2003, when Micromax, in its earlier avatar, used to supply equipment for companies like Bharti Airtel to support their network of pay phones. "We were doing good business and seeing a million for the first time was a great booster shot. I went to see a property for a friend, but ended up buying it for myself. It was my first real estate purchase," says Sharma.
It was during his visit to a village in rural West Bengal that the idea of Micromax, or, specifically, a phone with longer battery life, was born. "There was a pay phone and the booth operator would travel several miles to get the battery charged, because there was no electricity in that village. I came back and started thinking about a phone whose battery would last longer than normal phones," he says. That is how Micromax's first phone with 30-day battery backup was born.
In spite of having earned so much at such a young age, Sharma values money. Even more than that, he values the passion and zeal to create something new. "Money is a byproduct that will eventually come if you keep chasing your dreams," he says. Listening to customers is his mantra. Most of Micromax's product innovations have come through customers.
Sharma lives life to the fullest and splurges on things he loves. "My passion is cars and watches," he says. Sharma's first ride was a Yamaha RX100. Thanks to the success of Micromax, he moved on to faster and fancier machines. He is now the proud owner of a limited edition Bentley Continental Supersports Coupe. The car can go from 0 to 100kmph in 3.7 seconds. It gets more adrenaline pumping than a Ferrari 599, says Sharma. These days, he is smitten by his latest possession—a Rolls-Royce Ghost. Proof that he has finally arrived.
His passion for cars is not limited to owning them. The sports car aficionado loves watching Formula One: he does not like being disturbed while watching a race. He has been to almost all major Formula One tracks. Right now, he is excited about the Monaco Grand Prix, due in May.
His fascination with sports reflects in his choice of watches, too. Sharma has a vintage collection of various brands in his stable, including the Franck Muller Skeleton Limited Edition. A Hublot and a Richard Mille have pride of place in his collection.
Having made it big from a modest background, he understands the importance of investing. Though he trusts his fund manager, Sharma is quite finance-savvy himself. "I used to take keen interest in stock markets earlier and even recommended companies to my wealth manager," he says.
These days, however, he is bitten by the 'start-up bug'. Micromax itself started small but made wealth for its investors: TA Associates, Sequoia Capital, Sandstone Capital and Madison India Capital. With several start-ups such as Flipkart, Snapdeal and Paytm having turned valuable over time, start-up investing has caught up in a big way. Investors are typically those who themselves made it big in their start-up journey and now want to participate in the success story of another start-up. The association goes beyond money, as the investor also mentors the new entrepreneur.
As an angel investor, Sharma likes incubating companies. One of his investments is in Truecaller, a phone number search company that started off as an app to identify unknown numbers and block spam calls. As someone who understands technology, companies from that sector appeal to him more.
He has also invested in Yu Televentures, a Micromax subsidiary that sells phones only through online platforms. Yu Televentures has been selling its Yureka brand of mobile phones exclusively on Amazon.
Real estate, the preferred asset class of the rich and famous, is not a favourite of Sharma's. "It is not something that I closely follow. I like incubating new companies," he says. Sharma has also invested in enhancing himself: he has enrolled in the three-year owner/president management programme at the Harvard Business School.
Travelling being an intrinsic part of his job, he has developed a liking for beautiful locations such as Santorini in Greece and Venice in Italy. He goes on two family vacations every year. The last one was a New Year trip to Bali. He also splurges on luxury clothing brands like Tom Ford, Armani, Dior and D&G.
His desire to live the high life has not diluted his values. As someone who believes in giving back to society, Sharma has made philanthropy part of his life. When floods ravaged Jammu and Kashmir last year, Micromax set up a relief camp to help victims. Sharma has also been contributing towards bettering sports infrastructure in the country.
What he treasures more than anything is spending time with his family. "What gives you peace is [the state of being] grounded," he says. "I still relish the middle-class simplicity and being with my parents."