France beat Spain 2-1 in the UEFA Nation's League final with forwards Kylian Mbappe and Karim Benzema's goals cancelling out Mikel Oyarzabal's opener for Spain.

Though Spain controlled a large share of the ball possession, the reigning world champions came from behind as they did against Belgium in the semifinal.
Oyarzabal scored in the 64th minute after gathering a long pass from Sergio Busquets and France responded almost immediately as in-form Benzema curled the ball into the far corner of the goal to draw level.
Kylian Mbappe got the winner for France in the 80th minute displaying his pace and finishing ability in a counter attack.
There was controversy around Mbappe's goal as he was in an offside position when left back Theo Hernandez passed the ball to him, but Spain's Eric Garcia had touched the ball in the process in an effort to clear it, hence the goal stood.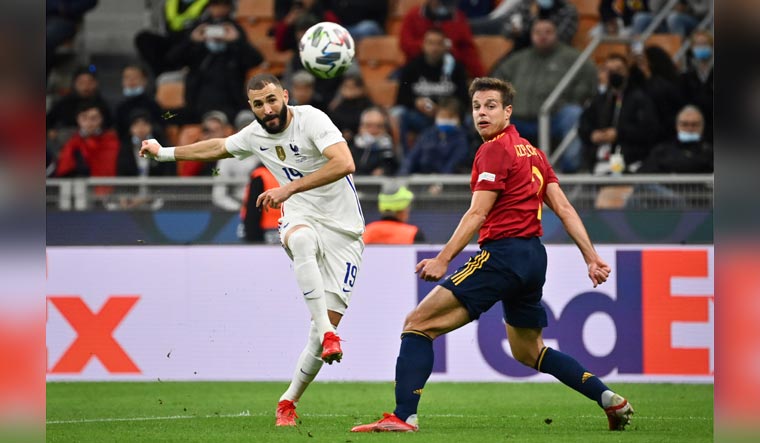 French keeper Hugo Lloris was called into action late in the game to make two stunning saves to maintain his team's lead and see them through to the final whistle.
For the young Spanish side, it is looking like a period of revival under coach Luis Enrique.
Since the highs of the 2008-2012 Golden Generation, the Spanish national team had gone through several lows, including the 2014 World Cup group stage exit and the loss to Russia at the 2018 World Cup.
But an impressive run to the 2020 Euro semifinal and to the Nations League final this year, banking on the youngsters in the team, is a sign of brighter days on the horizon for Sapin.
In the French side, it was a sweet victory for Benzema in particular, who was frozen out of the team by head coach Didier Deschamps as France went on to win the World Cup in 2018.
He was welcomed back to the team before the Euro 2020 as his phenomenal season for Real Madrid was hard to ignore.
"I really wanted to win a trophy with France, and now it's done," Benzema told a French TV channel after the match.
France are the second winners of the UEFA Nations League, after Portugal won it in 2019.
The tournament was started in 2018 to give European teams incentive to play the international friendlies, which culminate in the Nations League Finals held biennially.