Described as " the safest, easiest, lightest, most manoeuvrable personal aviation system ever created", the Flyboard Air is a gas-turbine powered example of what people in the 1950s thought life would be like in the 2000s.
On July 14, Bastille Day, inventor Frank Zapata demonstrated his device above the crowds at the Champs-Elysee, soaring high into the air on what looks like a futuristic hoverboard. A former jet-skiing champion, Zapata operated the device by leaning forward as if on a Segway.
As part of his display, he flew to and fro before stopping gracefully in midair while holding an unloaded rifle — making the military applications of his invention evident. His audience included French President Emmanuel Macron as well as German Chancellor Angela Merkel and British Prime Minister Theresa May. 
Speaking on the France Inter radio, the French Armed Forces Minister Florence Parly said that the Flyboard could be used  as a "flying logistical platform or, indeed, as an assault platform."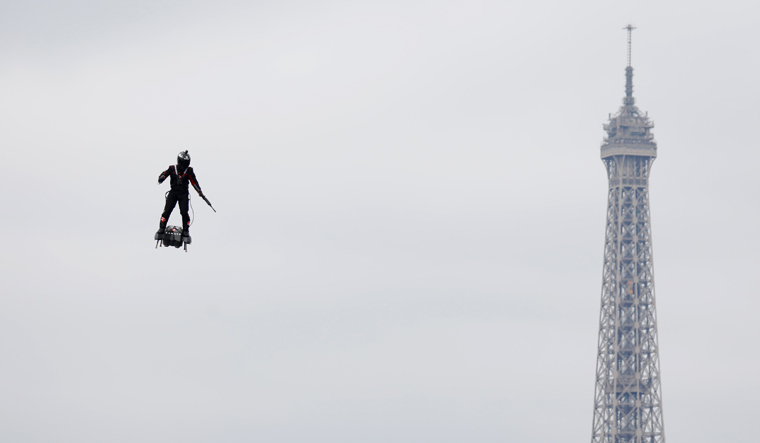 Zapata had demonstrated the Flyboard earlier. In 2016, he set a Guinness World Record for the farthest continuous flight on a hoverboard, covering 2,252 metres — ten times the distance set by the last record holder.
Zapata claims that the Flyboard can reach a top speed of 190 km/h, with a predicted top speed of 200 km/h. According to his website, it can fly up to 150 metres for ten minutes, carrying a maximum load of 100 kg. The predicted limits are even higher — the Flyboard has a max altitude of 3,000 metres, a maximum flight time of 30 minutes and a maximum carrying capacity of 200 kg.
It features "quick release boots" that allow the pilot to "quickly let go of the Flyboard Air in case of an emergency water landing."
Zapata's next display will be an ambitious one — On July 25, he plans to cross the English Channel on his device, a task that will require mid-air refuelling. He chose that date as it is the 110th anniversary of Louis Blériot's historic flight across the Channel, the first-ever in a heavier-than-air aircraft.