Prime Minister Narendra Modi paid floral tributes late singer Lata Mangeshkar at the open ground in Mumbai's Shivaji Park, where her final rites are being held in the presence of family members and a dignitaries. People started arriving at the park since 1 pm to witness the final rites.
Several celebrities, including Ranbir Kapoor, Amir Khan, Shah Rukh Khan, Javed Akhtar and Ashutosh Gowariker, paid last respects to the late singer at the cremation ground.
The PM's office announced a two-day mourning period on the singer's passing and declared that the flag would fly at half-mast.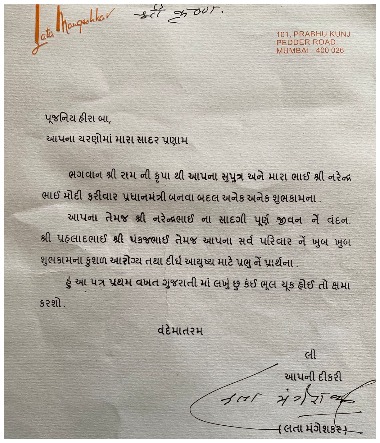 Lata Mangeshkar had sent a letter to Heeraben, mother of Prime Minister Narendra Modi in 2019.
In the letter dated June 5, 2019, in which she wrote, "blessings on the occasion of your son and my brother Narendrabhai Modi becoming prime minister for the second time."
She saluted what she described as Heeraben and Narendrabhai's simplicity. 
Lata wished Modi's brothers Prahladbhai and Pankajbhai and wished good health in the letter typed in Gujarati. 
In the last paragraph, she also mentioned that she was writing this letter for the first time in Gujarati and sought pardon if there was any mistake in it. 
She ended the letter with Vandemataram and signed off as your daughter Lata Mangeshkar.