In the midst of all the doom and gloom in the world, the heavy adrenalin-filled Rajinimania, and Bhai's big bucks, here comes a little respite in the form of a Bengali singer-composer through her ballad of Machher Jhol. Yes, we are talking about the ubiquitous fish stew on the Bengali platter. Move over, Vikas Khanna. Later, Sanjeev Kapoor. Sawan Dutta is in the building, and she is what all the food channels need right now.
In Kolkata, where fish is second to none, the jhol (curry) is the most popular way of making fish. And the machher jhol, akin to the standard Provençal fish stew called the Bouillabaisse, is a spicy, tangy, mustard-y stew of fish and vegetables (often potatoes) and is a classic often paired with rice. Trust a bowl of machher jhol to warm your insides on a winter evening. Ever heard, 'the machher jhol to my bhaat?' That's 'fish curry to my rice', for Bengalis. A fish called Rohu, also known as Rui, is usually used in the making of this light and soulful delicacy. Mustard oil provides the robust flavour, while tomatoes are also added in to the stew for richness and colour. The jhol, or gravy, is a motley of flavours, headed by the quintessential five-spice mix of Panch phoron (black cumin, black mustard, fenugreek, fennel and cumin seed). If this hasn't made your mouth water yet, wait till you hear Sawan Dutta's rendition of the whole recipe—her late grandmother's—taking the Bengali's undisputed love affair with fish a notch higher. "Today our goal is to make machher jhol", and in her true Bengali aunty avatar, big bindi and all that, she croons,

"Enjoy with rice, or straight from the bowl
Machher jhol, machher jhol.
Good for your tummy, and good for your soul
Machher jhol, machher jhol."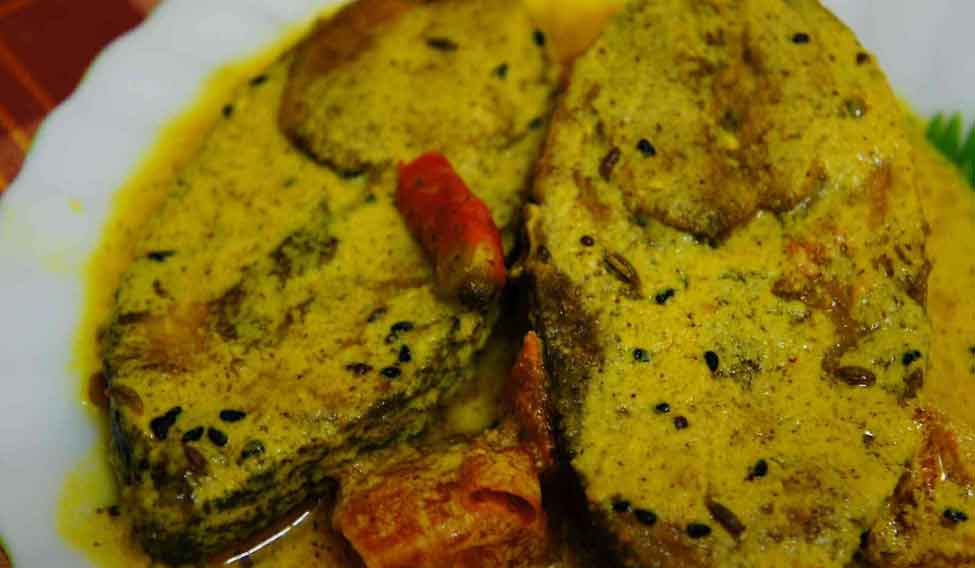 Sawan is a real delight to listen to, with the ballad falling like soft rain drops on your window sill, as the fish curry boils in the pan, evoking a sense of monsoonal nostalgia. She takes on a distinguishable Bengali accent, throughout the sublime, hummable melody, describing the method of preparation. Sawan also warns how you could get your machher jhol terribly wrong—by not turning the potatoes fast enough, you could end up with a pan of burnt potatoes! The tune itself is so soothing, it is sure to get rid of any 'ombol' (acidity) you may have, without even having to dig into the dish.
Sawan Dutta's Metronome is a video blog that has been around for an unbelievable eight years, with most of her videos getting average views. A relatively unknown fact, she also brought an Indian twist to the theme music of Who Wants To Be A Millionaire, for Kaun Banega Crorepati. It wasn't until a few months ago, when she put out a song called Boroline, ode to an antiseptic ointment that Bengalis hold so dear, that she started getting recognised. The views came flowing in, and Sawan came out with Winter is Coming, echoing the Bengali's constant lament of the cold, featuring the inevitable monkey cap. As she mentions in her videos, what Sawan basically does is "sing about anything and everything", and is inspired by the eccentric Phoebe Buffay of F.R.I.E.N.D.S. Calling this Bengali songstress the desi Phoebe might be stretching it too far, but her knack to create music out of the ordinary—like a tube of Boroline—is pure genius.
So, confused about dinner tonight? How about some home-made machher jhol with bhaat? Head over to The Metronome, and let Sawan Dutta sing to you. Hum it, loop it, and cook it up!