Basically everyone thought the Great British Bake Off (GBBO) would end up like one of the soufflés on the show. But not only did GBBO rise, it also went on to scale bigger heights, becoming a massive hit, all set to turn up the ovens for a 7th season. In the show, which has now been moved from BBC Two to BBC One, home bakers battle it out throughout episodes of different baked goods, each divided into three rounds: signature bake, technical bake, and showstopper.
Millions tuned in last year to watch the 2015 Bake Off finale, where Nadiya Jamir Hussain took home a cake stand. Yes, the winner, in unlike other cooking reality shows does not get a cash prize, but a rather dull looking cake stand made of glass.
Exactly what goes against television reality shows is the main soul of GBBO. Instead of cold, steely kitchens, there is a white tent in a picturesque British estate. In place of foul-mouthed and nitpicking judges is the suave, blue-eyed king of breads, Paul Hollywood, and the mother figure and culinary writer, the very demure Mary Berry. Comic duo Sue Perkins and Mel Giedroyc bring in the humour filled with puns, innuendoes and double entendre. The closest GBBO has come to seeing a controversial moment in the show is in the episode "Bingate", when Iain Watters threw his Baked Alaska down the garbage bin and when another contestant took his ice-cream based dish out of the freezer. There is no immunity, and the 'star baker' of the week gets a... badge.
WATCH IT FOR
1. Paul and Mary: Their inimitable low-key and elegant style is only complemented by their knack to see each contestant as a school kid, mildly correcting them through their tasks. They are tough, but if tough was dipped in honey. They also do not seem to agree, respectfully, on many occasions while judging. Paul's harsh critiques range from "The middle of that cake–the carrot is dry," to "There's been hardly any egg-wash on this at all—if any". Mary's "Oh dear!" is really the voice of impending doom. The Great British Bake Off has also seen Mary Berry's style transform from boring pastel cardigans to glamorous designer floral jackets.
2. Mel and Sue: They are the best part about the bake off, what with their real-life friendship (of 27 years) and camaraderie, and their incredible comic timing to put out a perfect pun. They are as funny as funny gets, and have been equally shocking and amusing to viewers with their smutty one-liners ("Grease your muffin tray and grab your jugs"). Plus, how can you not love their melodic "Get, set, bake!"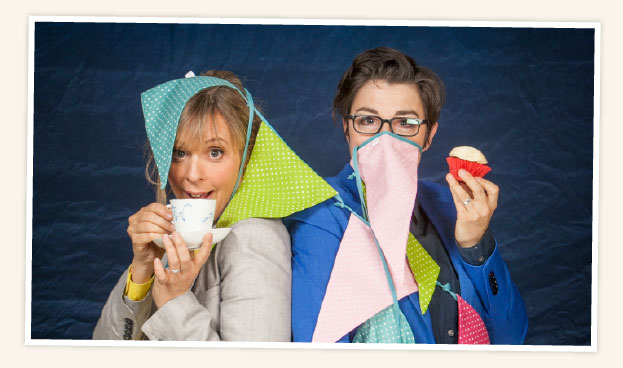 3. The bakes: We have seen everything, from Charlotte Russes to Petite Fours, shortbread houses, to Croquembouche, from a baker creating a lion-shaped bread, to another contestant using exotic hemp—made from cannabis plants—in flour form in one of his bakes. Did you know that a Baumkuchen literally means 'tree cake'? Or that a Kouign Amann even existed? Watching the GBBO also doubles as a lesson in baking.
4. The gorgeous illustrations: What is more mouthwatering than the baked masterpieces on the show, are illustrations of the creations by Tom Hovey. They are a treat to watch.
The Great British Bake Off may sound a tad tame for those who are only familiar with the 'Hell's Kitchen' class of cooking shows, but warm up to it and you will never go back.
The Great British Bake Off is returning to BBC One on August 24.