While economic pundits are busy debating slowdown, GST and note ban fall-outs, and grim outlook of job market, the IPO market is in a totally opposite state and enjoying its best boom ever.
Several mega IPOs that tapped the capital markets were oversubscribed, mopped up targeted fund mobilisation and also offer handsome returns on investment to the IPO subscribers, posting handsome returns. The recent IPOs of Godrej Agrovet and MAS Financial Services attracted approximately Rs 1.17 lakh crore.
In addition, General Insurance Corporation of India (GIC Re), with an issue size of around Rs 11,000 crore, is slated to open as the biggest insurance IPO on Friday. The IPO boom that started in 2016 is now a full-blown bull market and investor's ecstasy is a mixed bag. It has given promoters an opportunity to raise capital for new projects or retire high-cost debt, while venture capitalist and angel investors, and PE investors find an opportunity to divest and pocket their profit.
IPO rediscovers its mojo
After years of dormancy, the IPO market has rediscovered its mojo. IPO boom usually starts when secondary market is in a matured or saturation stage of a bull market. A vibrant secondary market and an early stage of IPO bull market is an ideal state. However, a saturated secondary market and euphoric bull market in IPO is a sign of pre-bubble stage. During the last few months, several mega IPOs tapped the capital markets and almost all mega IPOs of mid-size gave above average returns.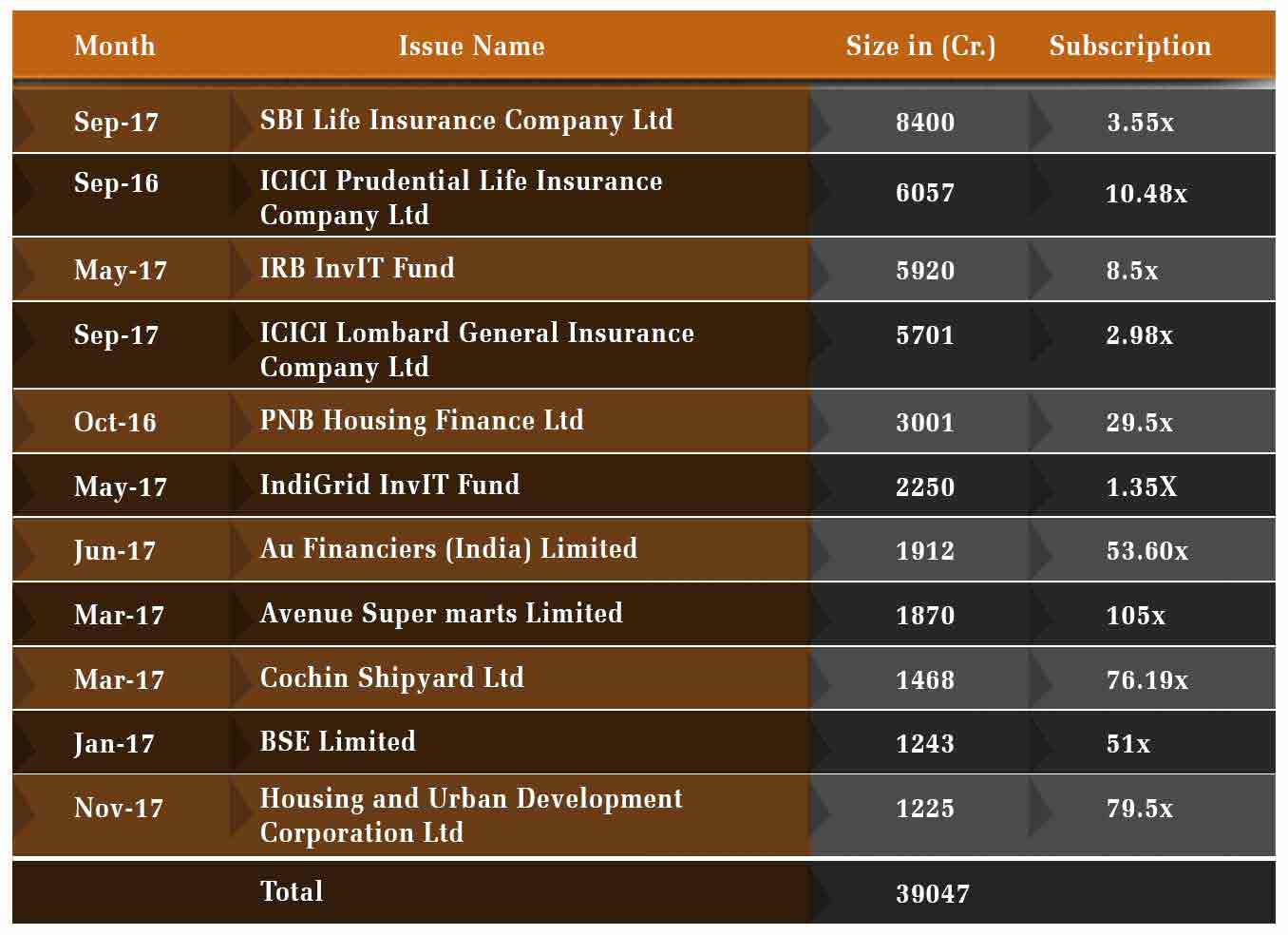 Several mega IPOs succefully mopped up sizable amount and despite their mammoth sizes, offered decent returns as well. 2017 seems to be a landmark year for IPOs and fundraising from IPOs would be highest ever.
Flow, fancy and fundamentals
Flow, fancy and fundamentals are three pillars that are chief propellants for any markets to remain vibrant. Harmony among these three drivers produces a virtuous cycle, or a positive feedback loop.
Flow or a liquidity boom, thanks to meteoric rise in money supply in the aftermath of demonetization created a super mammoth liquidity monster. Approximately Rs 15 lakh crore dumped in to official economy. Available asset classes such as real estate or gold were not able to absorb this massive fund flow. Like water, capital also finds its own level.
Moreover, demonetisation was a shock and awe type of experience that had dramatically boosted risk appetite of certain investors, including high net worth investors and domestic institutional investors (DII). Foreign institutional investors were already active buyers since the past two years. DII inflows gave the additional push and spurred buying from mutual funds as well.
As secondary market started witnessing a boom, many popular blue chip companies' valuations look stretched. Those who missed investment opportunities in the secondary market often finds IPO an alternative and relatively less risky tool to join the party.
Fancy is often powered by the frenzy in secondary markets, aggressive campaigns and marketing by promoters and fund houses. Value lies in the eye of the beholder. Fancy, too, works on such relativity. Markets run on maths and stories. The math is provided by promoters and research houses while the story is provided by funds, speculators, brokerage houses and social or conventional media.
Fundamentals, the third pillar, is the basic foundation and sustainability of any market eventually depend upon the underlying fundamentals such as GDP, output, consumption and investment cycle. Fundamentals is a lagging indicator. It often signals when party is already over. The key indicator to gauge primary market health is IPO devolvement and when more IPO listing start below offer prices. Those are the confirmatory signs for the stakeholders to exit the party.
(The author is CEO of Paradigm Commodity Advisors, a research boutique which provides risk management solutions and strategic consulting in major markets)