Nidhhi Agerwal was 11 when she came up with her first business model—a DVD rental enterprise. "I got a person who worked at my father's company to get a billing book printed with my photo, name and address; I labelled all the DVDs I had at home and went to every flat in my building to market my new venture," she recalls. It could have been a profitable model, but it was short-lived. The moment she got back home after her door-to-door marketing run, Nidhhi's mother gave her an earful. The movie rental business died an instant death, but not the passion for moving images. Many years later, she became part of the showbiz that she once tried to milk.

As a child, Nidhhi adored the 'Khans' of the Bollywood. And those DVDs with all the hits of the 90s and the first decade of the new millennium stoked a passion for acting inside her. "I have always wanted to become an actor. Always. I used to play dress up and try to imitate the actors and practise dialogues in front of my mirror," says the 25-year-old Bengaluru girl. Though Nidhhi had the will, she did not know which way to go at that time. "I did not know how to get into the industry; I did not have any contacts either. People who knew me suggested that I take up modelling. And that is exactly what I did. And before long, I won the Yamaha Fascino Miss Diva contest in 2014. It was a fluke and I did not have an idea as to what I was doing," she says. Call it luck or fluke, the title definitely got her some attention and it also gave her clarity on the profession she aspired for.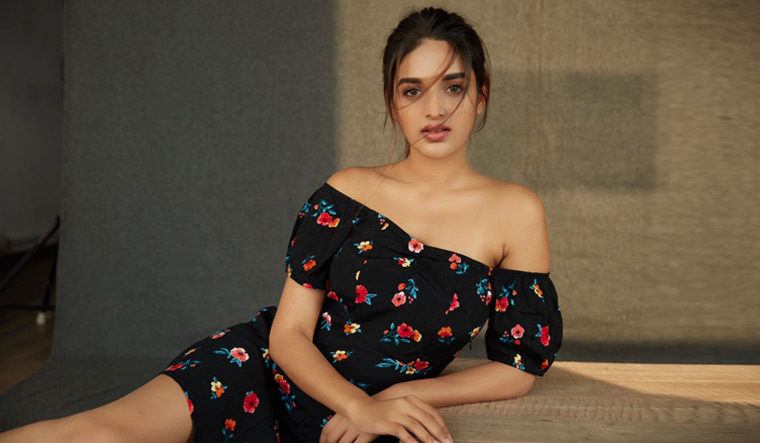 According to Nidhhi, there have been many incidents and signs that made her feel like acting is her calling. "Once, when I went to Mumbai with my family to visit the famous Ganapati temple there, I was surrounded by a group of girls who wanted to click a picture with me like I was some celebrity. The interesting bit is that this happened even before I started modelling. I was so confused at that point. But I took it as a sign that I should probably get into acting. Since this happened on temple grounds, I felt it was God pointing me to that direction," she recalls.

While most people around her thought the desire to be an actor was just a phase in her life, Nidhhi could feel the calling get louder and louder. And it reached a point where she decided to pack her bags and head to 'the city of dreams'—Mumbai. "My parents were sceptical about my decision but they gave me a year to figure out things and then return home if it didn't work out," she says.

There were a lot of uncertainties and setbacks initially but she kept swimming against the current and made her acting debut in the 2017 film Munna Michael alongside Tiger Shroff. Though the dance-action movie did not do well at the box office, Nidhhi definitely got noticed in the glitterati circle for her drop-dead gorgeous looks and dancing skills. She also bagged the Zee Cine Award for Best Female Debut in 2017. "I absolutely love dancing. I think it is my forte. Growing up, I trained for ballet, kathak and hip-hop. It is amazing how Munna Michael is a blend of two of my favourite things—acting and dancing," she says. And it is not just dancing that our girl is good at, she is also into gymnastics. She has been working with Shroff's team of trainers to improve her flexibility and strength. "I feel stronger now. I hope someone casts me in a super intense action role soon," she says.

After her debut in Bollywood, she made an entry into the Telugu film industry with Savyasachi, in which she shared screen space with Akkineni Naga Chaitanya. "My mother is from Hyderabad and I have about 500 relatives there. So, doing a movie in Telugu meant a lot to me," she says. Probably one of the reasons why she took up more projects in Tollywood. Her role in the 2019 release iSmart Shankar, which was helmed by Puri Jagannadh, garnered a lot of praise; the film was a super-hit at the box office as well. "Puri sir was so patient with me. I used to keep asking a lot of doubts and he kept telling me to be calm and not overthink. My father always wanted me to be a scientist or a doctor. So, he was quite happy to see me play the role of a neuroscientist in iSmart Shankar," she says.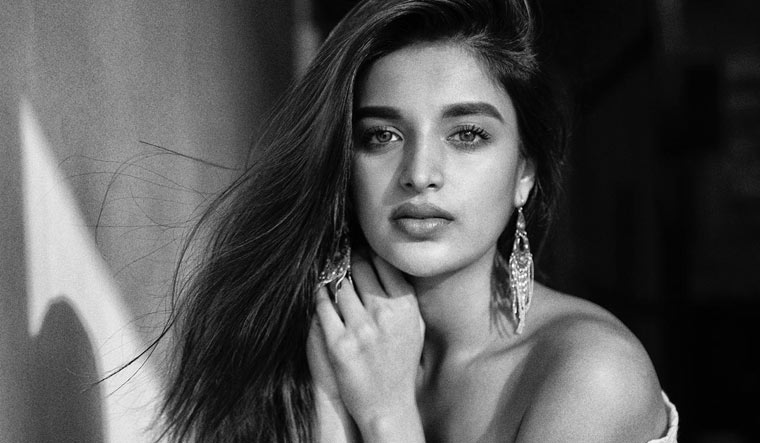 But everything was not always peachy for Nidhhi. She says that there were days when she questioned her dreams and aspirations. She used to keep fretting about one thing or the other. "One of my films had not done well and it felt worse than a heartbreak. People's opinions constantly change with time and it is mostly based on one's last performance. I think it is about time we rise above it. Everything is a journey. It is never about the destination, so just enjoy your journey," she says.
Nidhhi believes that with time one learns to adapt to putdowns and setbacks. Something that tags along with fame is criticism. "I have had a lot of people troll me. I don't react to it a lot. At the end of the day I know that there are many idiots in the world who have fingers to type nonsensical stuff," she says.

Recently, the actor has been busy clearing the air on rumours about dating cricketer K.L. Rahul. "He is a really good friend of mine. We both are from Bengaluru and our friendship started much before he became a cricketer and I became an actor. We just happened to meet up in Mumbai for some coffee and the media linked us," she says.

Having said all that, the fashionista loves social media. Her Instagram page recently hit five million followers. Besides giving her fans a glimpse into her workout routine and personal life, Nidhhi is a regular when it comes to posting pictures from her photoshoots. "When I go through the comments on my Instagram posts, I find a lot of pick-up lines—both good and bad. One of the really weird statements that I distinctly remember is 'so hot, sis'; he was calling me his sister and also calling me hot," she laughs.

These comments might seem funny to her now, but as a child, she used to get angry quite fast. She calls her younger self a rowdy. "I have slapped so many boys and girls during my school days. I remember the first time a boy told me that he likes me. We were in the school bus on our way back home. I was eating an apple and he was sitting in the seat behind mine. He said something like, 'hey, you are very beautiful! I like you a lot'. I threw the half-bitten apple at his face," she says. Roses, chocolate boxes and other cheesy gifts that screamed 'I love you Nidhhi' also found its way into the trash. "I was one hyper child. But I have evolved a lot in the recent past," she says.

Currently, Nidhhi is in Bengaluru with her family and is making the most of the lockdown. She is busy learning online—an acting course from the prestigious New York Film Academy and a script writing course from an American online education platform.

"I don't want to be just content; I want super stardom. And I want to work for multilingual projects," she says. It may seem a tad too ambitious but the actor is definitely working towards it. Besides Hindi, Kannada and Telugu, Nidhhi picked up some Tamil for her recent project Bhoomi, which marks her debut in Kollywood. The action-drama starring Jayam Ravi was supposed to be released on May 1, but has now been postponed due to the lockdown. According to her, Bhoomi is one of the best projects she has worked on. "I play a fun role in the movie. I have always played sober characters but Bhoomi is the closest to who I really am as a person. I am a very crazy person and this movie lets me bring out the best in me. I can confidently say that this has been my best performance so far and I can't wait for people to watch it," she says.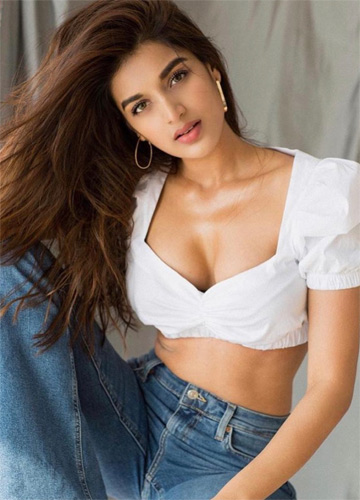 She also dreams of entering the Malayalam film industry. "I think they have some amazing stories and excellent cinematographers. Picking up Tamil was a little difficult, which means Malayalam will be even more challenging, but I am ready. I will never let language limit my potential," she says. Well, as they say, sky is the limit.
At a glance
A hobby that you once had but not anymore.
Playing the piano. I took classes for about five years. I have a grand piano at my home in Mumbai.
Your favourite sportsperson.
Virat Kohli.
A show you binge-watched.
I recently watched this series called You on Netflix. It is super creepy.
Midnight indulgence.
Belgian chocolate ice cream
Your biggest strength.
My positivity. I am a very optimistic person and I think it is mainly because of my immense faith in God.
Your nightmare.
I have scary dreams every now and then. I recently had one where a pigeon attacked me.
Genie's granted you three wishes. Your pick.
I want to wish for uncountable wishes. My second wish would be to keep me and my family safe. And third one will be to grant me super stardom.
Your most prized possession.
A watch my mother gifted me.
A lie you told your parents that you distinctly remember.
I have told a couple of lies to my parents in my teenage years. Just small things like where I am going or whom I am meeting. I don't lie anymore because it gives me a lot of anxiety.
Suppose you have only a day to live. What would you do? Where would you go?
I would stay at home, spend time with my family and donate all my wealth.
If you were given a billion dollars what would you do?
I love the thought of it. I would buy a big farm and build a lovely bungalow there. I would also set up an NGO to rescue street dogs and help people get their medical treatments done. I would also probably take a shopping trip and save whatever is left.
Suppose your house is on fire, what are the three things that you'd take with you?
My phone, my dog and my shoes. I have the most amazing collection of shoes. I would probably take them first and run away.
One memorable fan moment.
A fan got my name tattooed. I had just become an actor and I was super shocked to see it; I was very moved.
A celebrity crush.
There are many but if I had to tell one name, it would be Ryan Gosling.
If someone dead were to reincarnate, who would you want it to be?
Michael Jackson. I think he is a true legend. I love people who can sing and dance.
An interesting troll that you thought was creative.
There are many but right now I can't remember any. Sometimes the trolls seem like a compliment; it is confusing.
Horror movies or romcoms? Why?
Definitely not horror movies; I am super scared of the dark. I love romcoms. Everything about comedy fascinates me. I love thrillers.
Your take on nepotism.
Nepotism is a reality. But there is no point complaining about it. My father has a tyre business and if I was part of the tyre industry, I would have been the 'tyre queen'. If your parents are in a field, they would do everything to help you. I would do it for my kids.
If not an actor, then?
Nothing. I only wanted to be an actor.

My fitness regime
As a child, I was chubby. But, I grew up to be a skinny teenager. Just like how people make fun of fat children, they make fun of the skinny ones, too. I was a victim of that. That is when I decided to hit the gym and work on my weight and also my muscles. Now I am happy with my body and how much muscle I have gained as a result of working out.
I mostly do weight training, which includes heavy weights and high-intensity functional exercises, for five days a week. I also do cardio-dancing three days a week. On the sets of Munna Michael, I got in touch with Tiger Shroff's fitness training team. I also picked up some gymnastics. I am fit now to do some action roles now; I hope someone casts me for an intense action movie.

My skincare hacks
I am very careful when it comes to my skin. It is a very sensitive part of the human body and you need to be patient when it comes to taking care of it. I don't use face wash in the morning.
Before makeup: I apply Dior moisturiser and La Shield sun block.
At night: Dermatologist-recommended face wash and an under eye cream from Clarins.
DIY face packs:
Mix some curd, turmeric powder, honey and lemon and apply it on your face. Leave it for about 10-15 minutes before washing it off with water.
Combine some fresh aloe vera gel, turmeric powder and coffee powder. Apply it on your face and let it rest for some time. Scrub gently while washing it off with cold water.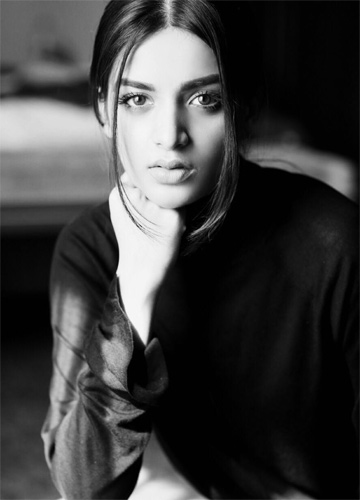 Nothing down about lockdown
One hobby you picked up during the lockdown.
Mopping. I mop my house every day now; it is a great exercise and it keeps my house clean.
Once everything is back to normal, what is the first thing in your list of things to do?
I want to go for a shoot; I miss the sets. Last year, I took 163 flights as part of my work. This year, I don't think I will take even half of that.
One dish that you whipped up during this period.
I baked a chocolate cake under the supervision of my younger sister. Since we both are into healthy eating, we used maple syrup instead of sugar. It was absolutely tasty. I am not someone who craves for sweet stuff but lately, I have developed a sweet tooth.
You're given a minute to pick out groceries.
What are the five items that you would pick up?
Organic eggs, yoghurt, gluten-free bread, avocado and lemon. It would make a great breakfast. Did I mention that I love drinking lemon water?
Lockdown reading list.
Autobiography Of A Yogi by Paramahansa Yogananda, The Secret by Rhonda Byrne, Ikigai by Albert Liebermann and Hector Garcia. I read a lot of self-help books and I also listen to a lot of motivational speakers.
Movies that you watch over and over again.
Yeh Jawaani Hai Deewani, The Wolf of Wall Street, Lion King.
Series that keep you awake.
F.R.I.E.N.D.S, The Big Bang Theory, Gossip Girl.