In times of social ferment, the arts can either be at the forefront or on the backburner. Today, it's more likely to be the latter. With rising intolerance, groups are now wary of what they should put up, although it hasn't stopped younger groups from experimenting with techniques and styles. How far removed are we from the times when theatre flourished in the country, and ideologies and innovations wove an enticing web of creativity that ensnared the audience?
Somebody had the bright idea of introducing the new generation of theatre practitioners to the brilliant minds that started the revolution in Delhi, more than half a century ago. This creative spell lasted till the early nineties. The practitioners faced an uphill task in that they had to make a dent in a bureaucratic city; for them, performing arts meant only classical music or dance, which they willingly patronised. The theatre movement was entirely voluntary and sometimes paid blood money to remain afloat, which it did, very successfully.
An organisation called Natrang Pratishthan, with former National School of Drama Director Kirti Jain as its moving force, has been archiving the works of theatre groups and personalities of the country. In its Rang Samvad series, it organised dialogues with several theatre personalities over the years. Through their new event, Rang Smaran, it brought out the memories and contributions of some of the iconic theatre groups of Delhi. The series began last year with four pioneering theatre groups: Delhi Art Theatre, Abhiyan, Dishantar & Yatrik. This year they took up four more significant Delhi groups—Three Arts Club, Sambhav, Prayog & Theatre Action Group—in a seminar which was held at the India International Centre, on February 13 and 14. The event was a rich feast of significant, humorous memories of a time when Delhi had a robust theatre movement.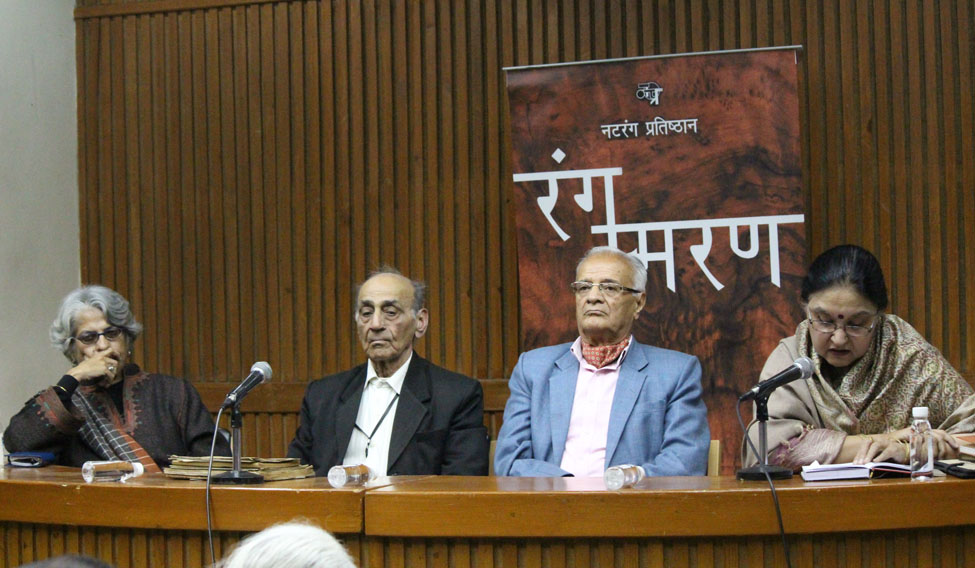 These groups have produced stalwarts like D.R. Ankur, Suresh Bhardwaj, D.V. Nanda, Anuradha Kapur, Amitabh Srivastava, Seema Pahwa, M.K. Raina, Anis Azmi, Barry John, Siddhartha Basu, Rajiv Mehrotra, Shah Rukh Khan, Lilette Dubey, Manoj Bajpai, Ashish Vidyarthi and Deepa Sahi, amongst others.
They also have many firsts to their credit. For example, the Three Arts Club, which commenced in 1943, had distinguished people like presidents, prime ministers and film stars in their audience. Some of the silver screen stars also worked with them. It was also the first group to have women play female roles, which were normally portrayed by men… a revolutionary step in itself. Their main playwright was Ramesh Mehta, who wrote most of their plays, which were satirical in nature.
Both Three Arts Club and Sambhav (which started in 1984) combined entertainment with issue based theatre, that projected the socio-political and economic problems of post-Independence India.
Theatre Action Group was started by Barry John, also known as Shah Rukh Khan's acting guru. TAG, which worked in English, produced plays that were reflective of the socio political turmoil of the 20th century. The group was dynamic and experimental and produced plays that were cutting edge.