Textile artist Shelly Jyoti revisits Gandhian philosophies of Swadharma by showcasing her exhibition 'The Khadi March: Just Five Meters' at Visual Arts Gallery, India Habitat Centre in New Delhi, from October 20-26. The featured works focus on Gandhi's philosophy of 'Swadharma' towards our nation and aims to discover a solution to uplift the rural population. In conversation with THE WEEK, Shelly said that the idea of Swadharma has the potential to not only reclothe urban India, but also to build new bonds between urban and rural populations; investing in communities across the nation with a common cause and purpose. Excerpts: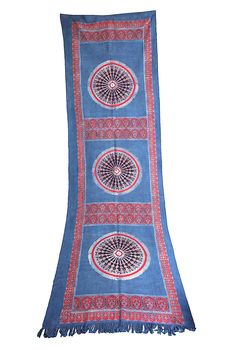 What inspired you to bring forth the idea of khadi?
I have been working on khadi for a decade. In 2008, I did a visual art project titled 'INDIGO Narratives'. My work as an Indian artist examined the politics of indigo in India's freedom struggle. I examined the plight of indigo farmers and Gandhi's first nationalist call—his first Satyagraha—the Champaran movement of 1917-18. Gandhi's Champaran movement led me to deeper inquiry about understanding his idea of non-violence and swadeshi politics. All these years, from 2008 to present, khadi has been my canvas and ajrakh printing, my expression.
As a visual artist, my work revolves around the iconographic elements within the cultural context of modern Indian history and contemporary times, and my work refers to Gandhi. Khadi becomes a natural choice for me to work on. Since my recent visual works are with ajrakh printing dyeing, khadi becomes my base to create artworks within my concept.
What is the aim of this exhibition?
This exhibition aims to challenge people who live in cities to rethink our engagement with the rural spinners, weavers and handicraft makers in India's many thousand villages.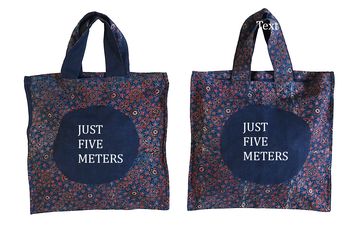 Tell us about the craftsmen behind this exhibition.
My present visual language and expression is using natural dyes and printing technique practiced by Ajrakh craftsmen. I collaborate with Ajrakh artisans from Bhuj. I also engage with women from Eastern India who have migrated to Delhi/NCR for better livelihoods.
Could you elaborate on the techniques used by these artists.
I have been working with ajrakh artisans for more than a decade now. I mainly work with 200 to 300-year-old ajrakh blocks, with the idea of documentation. Ajrakh is one of the oldest types of block printing technique in Indian craft traditions on textiles, which still practiced in parts of Gujarat and Rajasthan in India and in Sindh, Pakistan.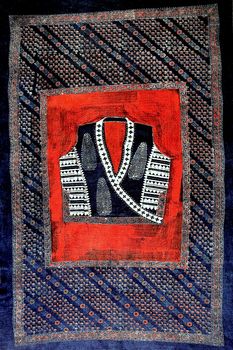 I work with Junaid M. Khatri, the tenth generation of Ajrakh craftsmen. These craftsmen are very generous in sharing the technique with textile enthusiasts. Their participation is important in implementing my story on the fabric, for example creating many different charkhas and the chakras for flag series, lending a hand series, angrakhas and blouses, and in sharing the history of Gandhi's ideas on khadi. I also engage women from eastern India who have migrated to do household jobs. I get them to do needlework which his inherent to their identity. I am interested to understand the migration and labour issues.
In the age of Make in India, what impact will these works have on Indian urbane?
Historically, during India's struggle for independence, Gandhi promoted the production and consumption of hand-spun cloth—khadi—to bridge the gap between the urban and rural populations as well as between the high and the low caste people. Gandhi's conceptualisation of khadi aimed not only at reviving the production of a handicraft, but also creating self-sufficient, self-reliant communities in rural India.
After seventy years of India's independence and industrialisation, the urban citizens have benefited and grown manifold, but 700 million people living in the villages still live in same poverty, poor infrastructure and illiteracy. I am confident that 'five meters campaign' can bring changes in lives of weavers, spinners and many unremunerated citizens in the villages. I aim to engage urban communities in the lives and livelihoods of rural Indians.
The USP of the event will be...
Multimedia works is 21st century social reality to reach out to people. I am exploring the idea of reaching out to 300 million Indian urbanites through a multimedia presentation of spoken-word poetry that features this show. This video presentation has 143-line poetry, titled 'just five meters: an urban appeal'. Why can't India's 30 crore urban population, who have been the primary beneficiaries of economic growth and modern economy, support their fellow countrymen in the villages by supporting the revival and expansion of a hand-spinning and hand-loom weaving cottage industries.