The sardarni from Punjab has now almost become a Bihari. She speaks fluent Bhojpuri and loves Bihari cuisine.
On the morning of Inter-national Women's Day on March 8, as she was getting ready for Parliament, Congress MP Ranjeet Ranjan felt she should do something special, something that would convey the ethos of the day in a powerful way. She weighed the pros and cons of riding into the Parliament complex on her Harley Davidson bike. "Will it be accepted? Will people think it is over the top? Or will they dismiss it as a gimmick?" These were some of the questions that she was grappling with.
At the breakfast table, she asked her husband, fellow Lok Sabha member Pappu Yadav—few remember that his actual name is Rajesh—and her son, Sarthak, how they felt about it. The two readily gave their thumbs up to the idea. Ranjan delighted the shutterbugs and wowed fellow MPs as she arrived in Parliament riding her swish Harley, attired in bikers' gear. Women MPs told her that they felt inspired to do something similar and a Congress MP happily remarked that at least for a day, she had pushed Prime Minister Narendra Modi down in the headlines.
It was only apt that Ranjan should reveal her biker avatar on women's day. Riding a bike was nothing new for her. In fact, she had been doing that since her teenage years. Sportiness best defines the 42-year-old Ranjan. A national-level tennis player once, she continues to be active and athletic. Her official residence in Lutyens Delhi bears testimony to her sporting spirit, which she has inculcated in her two kids. It has had a huge influence on her once-obese-and-now fit-husband, too. A part of the driveway has been converted into nets for her 19-year-old son, who plays junior level cricket for Delhi. A basketball court has been built in the lawns inside for her daughter, Prakriti, 12, who is a national-level basketball player. "I wanted them to take up tennis. But both of them took up a different sport," says Ranjan, dressed casually in a red T-shirt and blue track pants. Her husband, who has undergone bariatric surgery to control his weight, rides a sports bicycle as part of his exercise regimen.
The day starts at 5:30am for the MP from Supaul in Bihar. Ranjan goes for a walk with her husband, which is followed by a game of tennis. When Parliament is in session, she forgoes her tennis session as she has to leave early to attend her party's strategy meetings. "It is very hectic when Parliament is on. I am now a spokesperson for the party and I am booked on three to four channels on any given day," she says.
In the Lok Sabha, she is one of the more vocal and visible faces of the Congress. Party president Sonia Gandhi calls her "fire brigade". "I like to be in Parliament and listen to the speeches as it helps me understand different issues," says Ranjan. She lists BJP's Sushma Swaraj and Arun Jaitley as two of her favourite speakers in Parliament. "I am particularly impressed with the way Sushma Swaraj prepares on any issue that she has to speak on," says Ranjan.
With both husband and wife being politicians, it is only natural that she discusses issues to be taken up in Parliament with Yadav, who is an independent MP from Madhepura, Bihar. "We discuss and we argue. But I do not let my husband use my points in his speech. I tell him clearly that there can be no cheating," she says.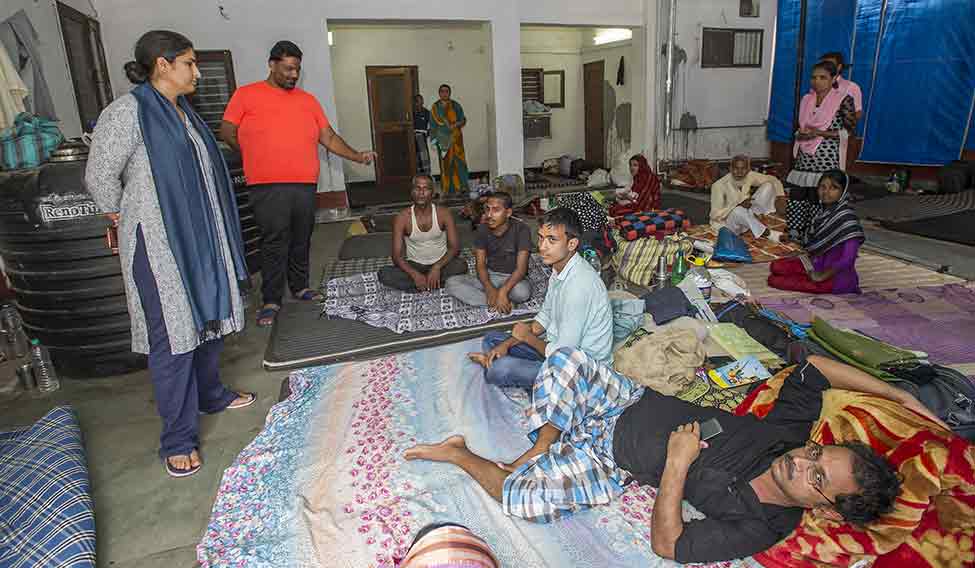 Despite the hectic schedule, Ranjan makes it a point to spend time with her children. She says she guards her private time fiercely, during which she helps her children with their studies or indulges in some leisurely activity with them. "We go to the movies. If nothing else, we go out together for breakfast or for coffee in the evenings," she says.
On weekends, Ranjan indulges in her passion, which is riding her Harley Davidson. She is a member of a Harley Ladies' Club, which organises rides out of the capital on weekends. Ranjan bought the iconic bike last year, and says she did so with her own earnings. She is extremely possessive about her bike and will not let anyone touch it, not even Yadav. "I do not allow him to ride my Harley. He can only ride pillion," she says.
She visits her constituency every fortnight. She says she is a completely different person in Supaul. "I dress up in a sari, wear bindi, sindoor and bangles. I am somewhat subdued there," says Ranjan. Both husband and wife have nurtured their political turf, and that is perhaps the reason why they managed to win the last Lok Sabha elections despite the Modi wave. They carry out a number of welfare measures for their constituents, which include running a school in Supaul, where Yadav's ancestral house is located. In Delhi, the house allocated to Yadav has been turned into a makeshift shelter for patients who come to the capital for medical treatment. Besides a roof over their heads, they are also provided free meals.
Ranjan may have taken to politics like fish to water, but she comes from a very different background. Born to an Army man in a Sikh family, she had a middle class upbringing. It was sports that changed the course of her life. When she was growing up in Patna, she had a diary in which she would pen down what she wanted to do when she grew up. Top of the list was becoming a grand slam champion.
But tennis took her to a different path altogether, which was marriage with a don, who had several criminal cases against him, including one for murder. Ranjan used to play at the Patna Tennis Club and Yadav once happened to be there for a prize distribution ceremony. He saw Ranjan and fell for her. "He pursued me for several months. He befriended my brother so that he could come to our house. But my father was against the match as people had warned us about him. Some even said he would abduct me," she says.
"However, I discovered over time that he was not like what people said. He came from a good family," says Ranjan. She laughs as she remembers the time when she saw Yadav's picture in the newspaper for the first time. "I told my mother, 'Look, this man is so fat'. Little did I know that I would get married to him," she says.
Ranjan's father put a condition before Yadav, hoping it would dissuade him. He asked Yadav to convert to Sikhism if he wanted to marry his daughter. "He readily agreed. He even said that he would leave Bihar for me."
LIFE AFTER MARRIAGE was anything but smooth initially. As Ranjan found out, it was "not normal", unlike the married lives of her five sisters. "Our life was completely uthal-puthal [topsy-turvy]. Adjusting to it was not easy. Even if we were going out for a meal, his ten cronies would accompany us," says Ranjan. She put a ban on that. She also stopped others from using his name to collect money. "I also understood that there was a backward-forward tussle at the core of my husband's problematic life. Before I got married, I did not understand caste," she says.
The biggest challenge for Ranjan came from Yadav's long stays in jail. He was in jail for 12 years of their marriage. "My son was three when he went to jail. And later, my daughter was just seven months old when his bail request was rejected," says Ranjan. And it was during this time of the 1999 Lok Sabha elections that Ranjan made her foray into politics, campaigning for her jailed husband in Purnia with her son, who was then three and a half years old. "I addressed more than 20 public meetings a day. I made him win," she says. In 2004, Ranjan made her Lok Sabha election debut and won.
The sardarni from Punjab has now almost become a Bihari. She speaks fluent Bhojpuri and loves Bihari cuisine, except for the mota chawal (thick-grained rice), which is preferred in the eastern state. It is difficult to identify her as a Punjabi when you see her interacting with people in the shelter that she runs along with her husband for patients from Bihar.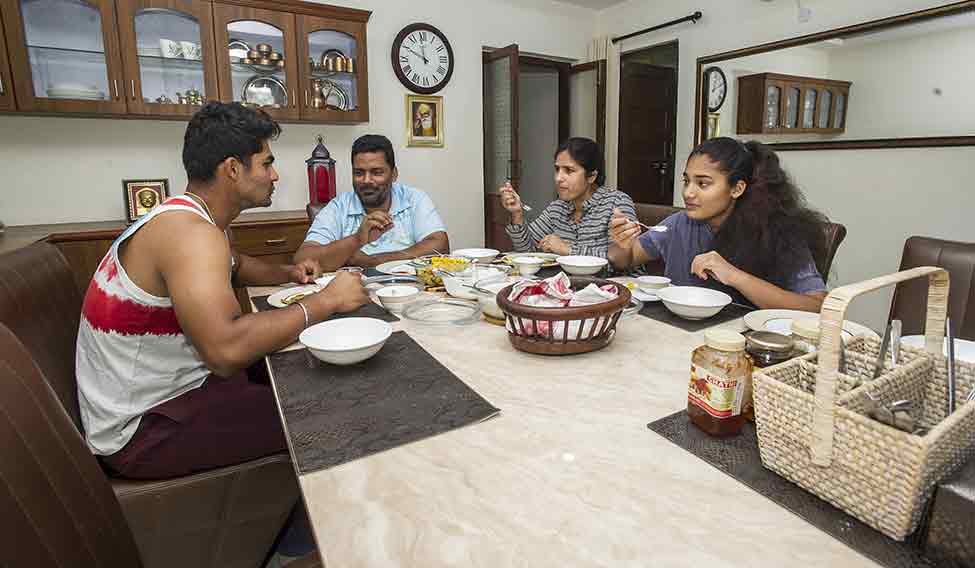 Ranjan says it was her upbringing that helped her cope with the difficult circumstances. "My father brought us up to be completely independent and deal with any kind of situation boldly."
Yadav, who calls Ranjan his "Jhansi ki rani", says he gets a lot of strength from her. He admits that she has transformed his life and changed him both as a person and as a politician. "I was headstrong and impatient. She has taught me to wait for the right time to act. She says we will emerge triumphant in our fight. But we have to be patient," he says.
From being known as a dreaded mafia don who ruled over eastern Bihar, Yadav has cultivated a Good Samaritan image for himself. He pursued a master's in sociology while he was in jail and a couple of years ago, he came out with his autobiography. While he was in jail, Ranjan and her sisters used their own savings to carry on his philanthropic activities in his constituency. Yadav credits his wife for changing his lifestyle completely. "She made me give up the company of people who were feeding on me like parasites. She made me give up the bad habit of chewing paan and made me health conscious. She has made me value family life," says Yadav.
The gutsy woman that she is, Ranjan has changed not only her life, but also of her family for the better.