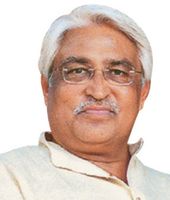 He looked quite distraught, standing on a table in the cafeteria of St Stephen's College. And, the cops were firing questions at him. They had him for a Naxal sympathiser and were grilling him in public. He was a civil service aspirant, and, hence, quite unlikely to bear arms against the state. He was not trying to do a Che Guevara or Charu Majumdar. He just wanted to be himself, and do right by his conscience. In those days, when spring thunder rolled over Indian campuses, thousands like him rose from the earth.
My friend went on to join the Indian Administrative Service. When I ribbed him about it, he said he would "fight the system from within". He held many important posts and, to my knowledge, remains untainted. He was lucky to eventually do what he always wanted to do. Many others were not. They were shot and buried.
When the theme for this cover story was raised, the names discussed were familiar. I was thinking more about the nameless. Some of the finest minds of my time, lost in street battles and torture chambers. These were lilies that needed no gilding. Some rains raise lilies and let them bloom; some just raise them to pound them back into the red earth. What kind was the Naxal movement, I always wonder.
I must confess that I have no romantic notions about the movement. A dear friend's father was chopped down in cold blood. My friend's arm was slashed open in the encounter. He was trying to shield his father.
My father-in-law, C. Kurian, escaped two attempts on his life. He used to manage the family-owned Velimalai rubber plantation in southern Tamil Nadu. As my wife and her siblings went to school in Thiruvananthapuram, my mother-in-law stayed with them. Kurian would spend six days on the estate and Sunday with the family. When the Naxal threat was scaled up, he hung a bell in the hallway of the estate home and tied the rope to the foot of his bed. It was his helpline, literally.
On April 30, 1969, a squad of Naxals loaded with bombs headed for the estate. Their aim was to kill him on May 1, International Workers' Day. But, a bomb went off and a Naxal died. The squad buried him, called off the action and went back into hiding.
The next year, they turned up at the bungalow early on a Saturday, confident that he would be there. But, thankfully, he had left the previous day to attend a nephew's wedding. It later turned out that a local resident had pointed him out to the Naxals, and provided them with his routine, too. An inadvertent breach in routine saved his life.
Jovial and strikingly handsome, Kurian would later tell me, "If they had chopped off my head and put it on the compound wall, they themselves would have felt sorry for separating such a handsome face from its body!" My wife, quite obviously, did not think it was funny.
Naxalism was hard on families. Of victims. And, of cadres. And, that is why the story dearest to me in this package is the one where the Majumdar children talk about their father. Abhijit Majumdar says his father never forbade him from attending Saraswati Puja in the locality. But, he was uneasy about it. And, so, would tuck young Abhijit early into bed, just to keep him away from the puja pandals. That sounded like what any doting father would do. And, the same Abhijit would later light his father's pyre, under duress, inside an Army cordon.
There is no win-win violence, is there?