Arvind tells me that Sitaram Jindal of Jindal Farms, purportedly an RSS sympathiser, influenced Anna's thoughts and asked him to stop Arvind from forging forward.

This was when, my hero, Arvind, began to truly falter. His impatience to change the nation for the better now turned into a desperation for power....
Social activist Mayank Gandhi was a member of the core committee of the India Against Corruption (IAC) movement which served as the platform for the launch of the Aam Aadmi Party (AAP). After the formation of the party, he served as member of its national executive and helped consolidate the AAP's position in Maharashtra. He resigned from the party in 2015 saying he had been losing interest in politics.
In his first book AAP & Down, Gandhi chronicles the behind-the-scenes drama within the party and highlights the fatal flaws of its leaders. Excerpts:
I have to say, of all the core committee members, Arvind was the most unaffected. Once, past midnight, when I reached Prashant Bhushan's Mayur Vihar house—a house that was used frequently by our volunteers—I saw Arvind sleeping on the floor on a thin bed sheet. He woke up and welcomed me in. I asked, 'Arvind, where do I sleep?' He patted the bed sheet by his side and said, 'Come, sleep here.' The whole night, I tossed and turned; I was unused to sleeping without a mattress. Arvind, on the other hand, slept peacefully.
On another occasion, when Arvind came to stay in my small house, his approach was similar. When the toilet ran out of water, Arvind filled buckets from the adjoining bathroom and carried them across. Not once did he complain or expect others to come to his assistance. It was as though he was beyond the small inconveniences of everyday living.
Not surprisingly, logistics did not preoccupy him. Once, when IAC was in the midst of planning a major protest in Delhi, I told Arvind, 'You're asking thousands of people to come to Delhi from all over the country... that's all very well, but how will we arrange for their stay and food?'
Arvind dismissed my concerns. 'Arrey, what is the big deal? We will sleep on the road outside Ramlila Maidan. Let everyone buy food from vendors. This is not somebody's wedding... these are people coming together for the country.'
***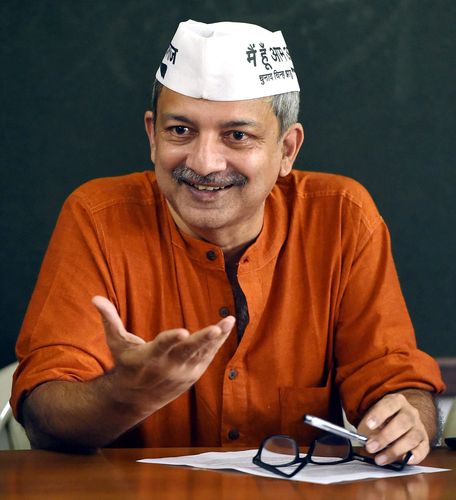 It was when Anna went to Jindal Farms near Bengaluru for treatment that everything changed. Arvind tells me that Sitaram Jindal of Jindal Farms, purportedly an RSS sympathiser, influenced Anna's thoughts and asked him to stop Arvind from forging forward. Anna, taking advantage of one of Arvind's emotional outbursts on TV—Arvind had claimed that if Anna ordered him to stop, he would pay heed—told the media that Arvind should not form a political party....
Arvind and Prashant went to meet Anna. What followed was relayed to me. Anna brusquely asked Arvind and Prashant, 'What do you want?' Arvind replied, 'Annaji, we have come all the way from Delhi, at least offer us some water.' Anna was hostile, and there was tension in the air. Arvind put forward some key questions: 'Annaji, you say that good people should be elected from other political parties... even if they are, tell me, how will you ensure that those who are elected will listen to you and not to their own party bosses? Also, you have always maintained we should listen to the voice of the people. All polls, including TV opinion polls, are overwhelmingly in favour of the formation of a political party.'
Anna scoffed at Arvind and said, 'What is the value of TV channels? If you want to know the real opinion of the people, you should conduct a proper opinion poll.' Taking a cue from this discussion, Arvind started a nationwide online opinion poll using Facebook, Twitter and SMS services. An overwhelming 76 per cent of the 7,00,000 people surveyed supported the formation of a political party. IAC Mumbai members also met Anna... on 16 September and handed over a memorandum signed by hundreds of volunteers expressing their strong approval of a political option.
But Anna's mind was made up. When, after these overwhelmingly positive opinion polls, Arvind went back to his mentor, the latter pooh-poohed the idea of a political party again. 'What is the value of these opinion polls by uninformed people? Let us seek the opinion of some eminent people who will give a studied reply as to whether a party should be formed.' So, Arvind's team, in conjunction with Anna, made a list of forty-two prominent opinion makers and had a meeting with them on 19 September in Delhi. Some of those present were General V.K. Singh, Santosh Hegde, Kiran Bedi and Yogendra Yadav, as also, of course, Anna and Arvind.... Six out of the forty-two members—including Kiran Bedi, Santosh Hedge and V.K. Singh—did not favour the formation of a political party, while the remaining were in support of the creation of one.
A resolution in support of a political party's creation was drafted and read out in the meeting in the presence of all. To the astonishment of those gathered inside, Anna—ignoring the accepted resolution altogether—stepped outside the hall and announced that not only was he against the formation of a political party but he was also against his name or picture being used if such a party were to emerge....
I remember Arvind telling me that, over this period, he had lost nine kilos and had to take sleeping pills... all because of the stress of having to deal with Anna's changing moods and stands.
***
The poor 2014 Lok Sabha results demoralised a lot of volunteers. While, to them, we'd enthusiastically say that as first-time contenders we had done marvellously, internally we remained glum, keenly aware that this was a major setback.
I remember, in the first NE [National Executive] meeting after the results, speaker after speaker congratulated the party for securing votes and a handful of seats even though it was our first election. Arvind listened, sullen and angry, while staring at his mobile phone. After some time, he exploded: 'I have not come here to talk like a loser. Nor do I plan to be happy with what we have achieved. Either we win, or we stop the party and go back home.' Everyone was taken aback at this outburst. While I could appreciate his indomitable spirit, I could also see a kind of coldness in Arvind's eyes that I hadn't witnessed earlier.
Sanjubhai and Pankaj Gupta tried insisting that we follow demarcated procedures in the future to improve our performance. Arvind grew even angrier. He got up and shouted, 'Is the party made for procedures or are procedures made for a party?' His abhorrence for set processes was well known. Structures and systems were anathema to the 'anarchist' in him. He was a destroyer, not a builder.
We realised that we had miscalculated the timing of our resignation from the Delhi government. We had incorrectly assumed that the lieutenant governor would call for re-elections in Delhi within a few months. However, the lieutenant governor did no such thing and delayed elections. AAP remained out of power and had no platform to demonstrate its competence in matters of governance. The BJP, meanwhile, had a wide open berth, and displayed a winning streak across Delhi and beyond. There were now rumours that the BJP was trying to form the Delhi state government by luring some of the Congress MLAs who had won the 2013 elections. Things seemed to be slipping away.
This was when, my hero, Arvind, began to truly falter. His impatience to change the nation for the better now turned into a desperation for power, no matter what happened to be at stake—principles, people, or PAC [Political Affairs Committee] and NE members. Arvind became terse and ruthless.
***
Yogendra and Ajit Jha came to meet me and briefed me about their preparation and their chances. I remained silent. While Yogendra was optimistic, he was seriously underestimating the cunning of the other side....
28 March 2015, the day of the NC [National Council] meeting, dawned. Just a few hours prior to the meeting, Admiral (Retd) L. Ramdas, who served as AAP's Internal Lokpal, was asked by the party general secretary, Pankaj Gupta, not to attend the NC meeting so as to avoid any kind of confrontation. In a letter to NC members, Ramdas expressed his disgust: 'I hold our leadership collectively responsible for this, and for our failure to be able to rise above personal egos, to resort to leakages—the cheapest form of stings—and spreading conspiracy theories which should put us all to shame.'
By the time I reached the venue, there were large numbers of people shouting, 'Yogendra, hai, hai... Prashant, hai, hai,' and holding printed placards that referred to the duo as traitors. It was obvious that every action was well choreographed...
...I saw Arvind coming towards me. I waved at him and smiled. He frowned in response and turned away. It was churlish. I remembered his body language and the words he had chosen when he had criticised Prashant a while ago; I was almost certain that I would be relegated to the same category.
Meanwhile, as I walked in, I saw senior volunteers of the party whisking away NC members into a room to sign a predesigned resolution seeking the removal of Yogendra and Prashant. My views were out in the open, so no one asked me to sign the resolution....
Arvind came and spoke with great gusto, pointing out that Yogendra and Prashant had betrayed the party. Then, looking at Shanti Bhushan, he changed his pitch and tone; he was rude and angry. He asked NE members what ought to be done to someone who chose Kiran Bedi over the party—referring to a moment in time when Shanti Bhushan had announced that Bedi would make a good chief ministerial candidate. In what seemed like a pre-rehearsed move, some workers, led by Kapil Mishra, ran towards Shanti Bhushan shouting, 'Gaddaro ko hatao'—remove the traitors! For a moment, I grew nervous. It seemed like things would go out of hand and a ninety-year-old Shanti Bhushan would get physically assaulted.
Fortunately, things calmed down, and Arvind continued his emotionally charged speech. …
Arvind thundered, 'I have given my sweat and blood to this party and will not allow its break up. Either get rid of Yogendra and Prashant or release me from all responsibilities and positions within the party.'
After this, in what had become his customary melodramatic style, he walked out of the meeting. This was exactly the way I had anticipated the NC meeting going. No decorum, no rules, just bullying.
As Arvind walked out, AAP member Ramzan Chaudhary tried asking him why, as the leader, he wouldn't stay back and listen to the volunteers. Arvind brushed him away and stomped off. In front of my eyes, some bouncers drew forward, caught Ramzan by his legs and hands, and carried him out of the meeting. It was alleged that he was punched outside.
A resolution to remove Yogendra, Prashant, Prof Anand Kumar and Ajit Jha from the NC was read out. It was also announced that the resolution was backed by 247 members (with fifty-four abstaining and eight being against it). The irony didn't miss me—a resolution had been signed before it was even read out.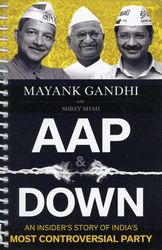 AAP & Down: An Insider's Story of India's Most Controversial Party
By Mayank Gandhi with Shrey Shah
Published by Simon & Schuster India
Price Rs 350; pages: 291