After working in the retail sector for 15 years, Vikrant Mishra wanted to fulfil his dream of working in the food industry. So, he returned to his hometown Delhi, after spending years in Mumbai and Aurangabad. Initially, his plan was to start a cafe in Gurugram, but he realised that the budget he had was not sufficient to rent a decent place in millennium city. One day, while flipping through channels, he chanced upon a programme on food trucks, which are quite popular in the west.
A year later, Mishra started 'Eggjactly', with his lawyer partner Lavanika Partis. "The problem with the concept of food trucks in India was that nobody knew about them," says Mishra. "The authorities had no clue."
Today, Eggjactly offers a variety of comfort food—pasta, lamb burgers, wraps, chicken wings, tacos, shakes, coolers, waffles, pancakes and crepes. Its main clientele comprises techies and other professionals working in the cyber city. A meal would cost anywhere between Rs 150 and Rs 300. "Besides the fact that the food quality is good, the quantity is sufficient and it is light on the pocket," says banker Jyoti Sharma, 29, a regular.
Today, Mishra owns three food trucks—two Eggjactly and one Sushi House Mafia, which specialises in sushi. "We wanted to introduce something that nobody had thought of," says Mishra. "Apart from fish-based sushi, we also serve chicken sushi."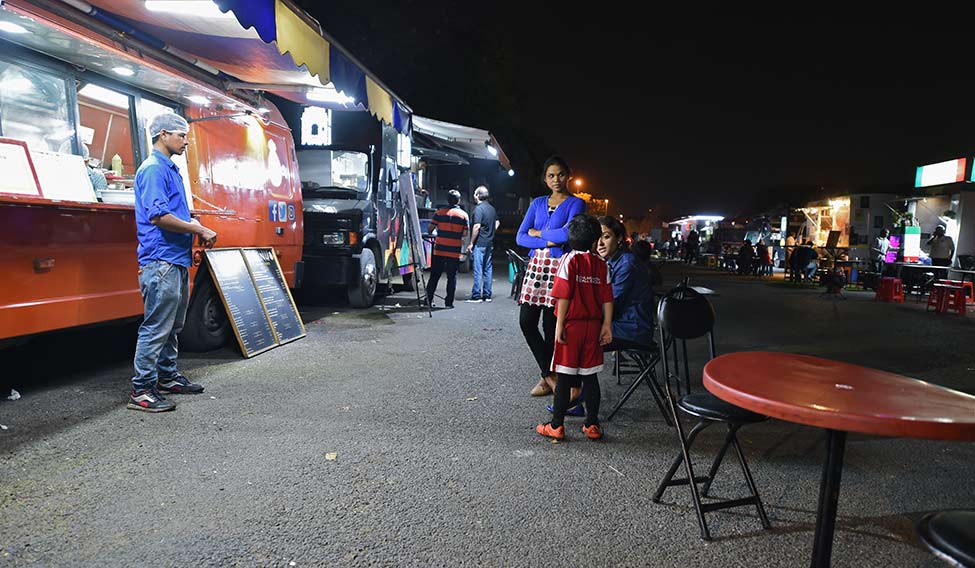 A food truck is different from a food van. A food truck has a kitchen which is almost one-third the size of a standard restaurant kitchen. So the food served is fresh and hot. "There is no compromise on quality. Only 20 per cent of the food is cooked in the base kitchen. For example, if we are preparing pasta, it is boiled in the base kitchen. The rest of the cooking is done on location," says Mishra. "Our chefs also ensure that the quality is maintained."
Harish Mittal, an engineer, moved from Meerut to Gurugram in 2012 to join a finance company. While the new job was exciting, the food served in the company's cafeteria was not. "Though there was variety, it lacked flavour and taste," says Mittal, 31. He is a fan of food trucks that offer "clean, wholesome and pocket-friendly" food.
The National Capital Region boasts several specialty food trucks. Frugopop, for instance, sells popsicles made of fresh and natural ingredients. Pallavi Kuchroo, 30, was working in an ad agency in Mumbai. But a desire to be her own boss prompted Kuchroo to return to her hometown, Gurugram. During an event, she met Sudheer Grover, who was running a food truck in Mumbai that sold popsicles. Kuchroo had a feeling that the idea would work in Gurugram, too. So, she started Frugopop "These popsicles are fresh, natural and do not have any artificial colours," says Kuchroo. "They are low-calorie and great in taste. In Delhi and NCR, people love ice creams, lollies and chuski. I wanted to introduce them to something healthy that would not just enhance their taste, but also change it."
The food truck also offers sugar-free popsicles, and for those who don't like sweets, there is even a salty variety. The popsicles are made in a factory in Mumbai. "We have obtained the licence from the Food Safety and Standards Authority of India," says Kuchroo. "Each fruit is handpicked and checked before it is sent to production. Everything is handcrafted. Hygiene is maintained throughout, even inside the van, where everything is covered in transparent pouches."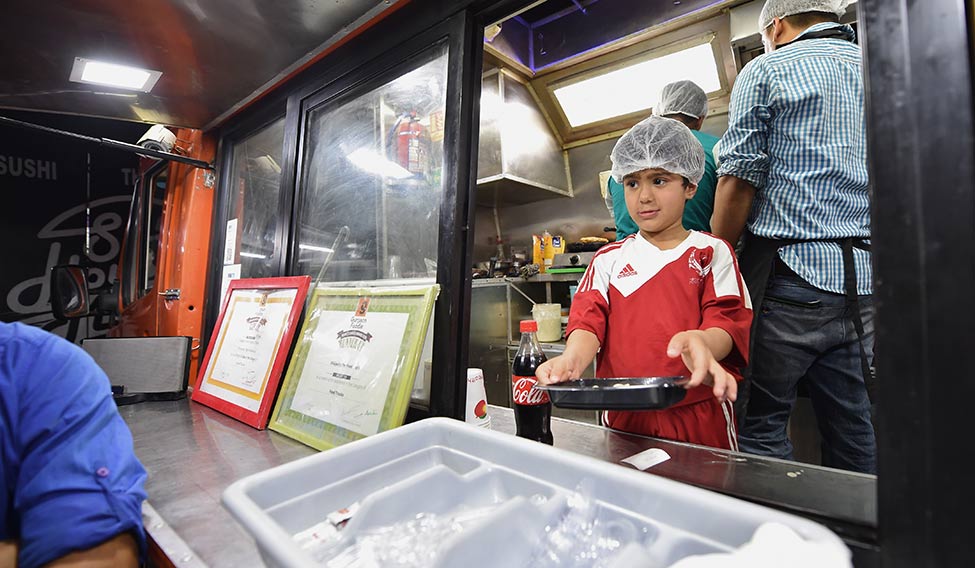 Frugopop serves two category of flavours—sorbet and dairy. Sorbet flavours have fresh fruit in them, while dairy flavours include milk-based ice creams. The salty popsicle comes in salsa, avocado and nachos flavours.
Unlike a restaurant, a food truck doesn't require heavy investment. So, even amateurs, with a passion for food, are trying their luck. Take the case of Shakti Pratap Singh and Gaurav Rathi, both 28, who started The Rolling Kitchen that serves Lebanese food. "We picked Lebanese cuisine because it had a lot of healthy ingredients," says Singh.
The duo met while preparing for the civil services examination. They did extensive research before starting the food truck in May 2016. The food truck is managed by trained chefs who have experience in preparing Lebanese cuisine. "It was essential for us to find the right chefs because we wanted to serve authentic Lebanese food, and not its Indianised version," says Singh.
The Rolling Kitchen offers shawarma, falafel, shawarma manakeesh (Lebanese pizza), rolls, breads, fish, mezze platters, pita breads and salads. "We personally audit the food truck regularly. Though the sauces and batter are prepared in the base kitchen, all finished products are made within the trucks so that the quality is not compromised," says Singh. "Since some people are finicky about the way vegetarian and non-vegetarian dishes are prepared, we have different chopping boards for the two. The staff wears kitchen caps and uniforms."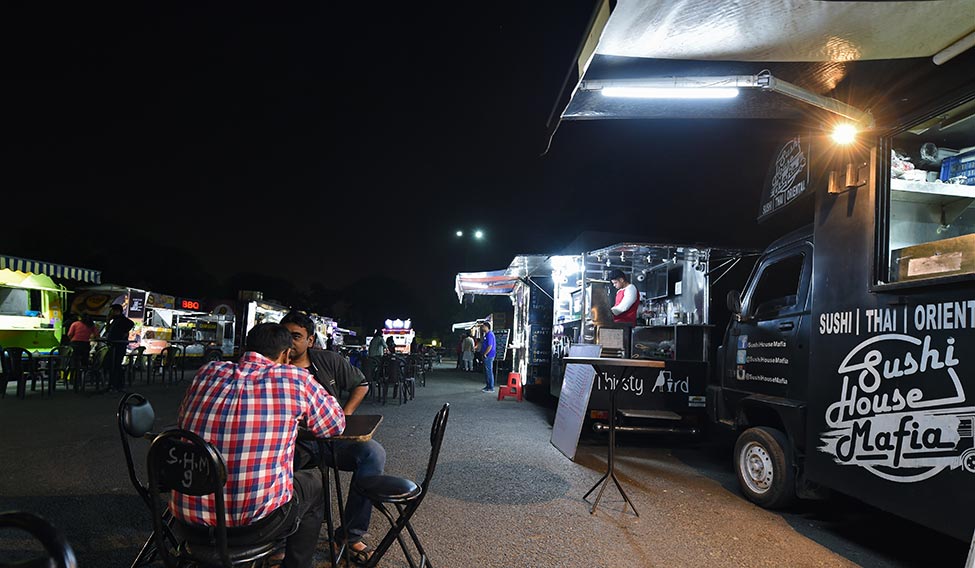 The newest player in the food truck business is Luck Nawabi that serves Lucknowi dishes. Naman Tripathi was blown away by the fare from a food truck, so he decided to try something similar. Originally from Lucknow, Tripathi got together with his two friends, Rohit Gupta and Vinayak Gupta, to start Luck Nawabi.
"Since I am from Lucknow, I wanted to start a food truck selling Lucknowi cuisine. But at the same time, I wanted to maintain the authenticity," says Tripathi, an MBA graduate. "We employed chefs who understand the cuisine well. Each chef has a well-defined job. While one chef handles the tandoor and paranthas, another one makes the accompanying dishes. This way, we ensure smooth functioning of the kitchen."
From kebabs to biryani, the food truck has something for everyone. However, their star attraction is kebabs, be it the galauti kebab or boti kebab (boneless mutton chunks served with a thick gravy). Their chicken korma, and mutton and chicken biryanis, too, are a big hit with the crowd. "We did trial runs and invited chefs, food critics and bloggers from Lucknow to taste our food before we actually opened for business," says Tripathi.
Hot and hygienic street food. What more could a foodie ask for!