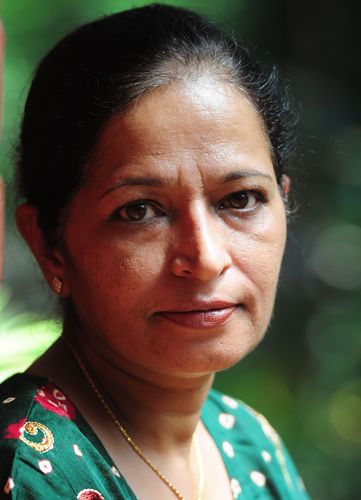 I first saw Gauri Lankesh in my college days in Mysuru. She had come to inaugurate the students' union of motley fine arts students. I was a supporter of the sangh parivar then. But, I did not hate her as my fundamentalist friends did; I just took her presence as a normal guest at a regular function.
It was only when I met her for a photo shoot for THE WEEK's then city pullout called Bangalore Beat that I realised she was a wonderful person who could gel with people of any age with ease. This time, I had evolved as a Darwinian and was able to see the world beyond the border of fundamentalistic limitations. At first glance, one would mistake her for an arrogant woman as she had a high-pitched voice and would indulge in to-the-point conversations.
For some time we were just conversing on messengers. She would ask me for photographs of various issues—"Mari [kid], do you have that picture of the farmer who committed suicide in Mandya?" Then, we would converse through emails in a then alternative journalists group called Column9—which discussed stories that never appeared in the eight columns of any newspaper—a voice for the oppressed. It was a utopian idea, but still inspired many young journalists to think beyond corporate and hyped ways of news reporting in their beats. Gauri was one of the active members and among the few who were always trying to revive the group with regular emails.
I took a picture of Gauri's filmmaker sister, Kavitha, and her baby girl, Esha, for a story in 2008. This was when my bond with Gauri became stronger. She had a great attachment to her niece, whom she used to call 'my daughter'. She told me she had a print of the picture framed at her home and said she just loved it. She wanted me to take her photo in a similar kind of Rembrandt lighting. For many of the technical doubts about photography, I was her first source. She wanted me to teach photography to Esha. Whenever she met me, she used to call Kavitha and make Esha listen to my lessons over the phone. She loved two things more than anything—her publication and her niece, Esha.
We would occasionally bump into each other at the Press Club and have a conversation for hours over lemon tea. She was alarmed that Karnataka was becoming a communal state. The last time I met her, she had returned from Hubali after attending a court case related to an article in her paper [Gauri Lankesh Patrike] about BJP parliamentarian Pralhad Joshi. I was seeing her after a long gap, and she looked frail. She was carrying several files and when I gazed at them, she said, "I am meeting principal secretary of Karnataka in relation to Baba Budan Giri [often called the Ayodhya of Karnataka]. If we don't fight, who will?"
She learnt about my new hobby of flying cameras and was excited about it like a kid. I told her I would demonstrate it when I got a licence to operate it. She instantly called Esha and gave me the phone to give her some lessons in photography. She invited me to join her for a weekend trip to her farm on the outskirts of Bengaluru. When told that the principal secretary had arrived, she ran to meet him. That is the last time I saw Gauri. She was always active. Curious about everything like a kid. She was the key person to bring some of the Naxalites in Karnataka to the mainstream. She fought religious extremism with her publication, posts and organisation called Komu Souharda Vedike (forum for religious harmony).
When I saw her body lying outside her residence 'Manushi', I was shocked by the eerie sight. It was similar to the attack on another voice against fundamentalists in north Karnataka—M.M. Kalburgi—two years ago. It made me think, if assassinations are happening over ideological differences, then how safe are we? Because, no society evolves without differences and tolerance.
Gauri was not the kind of journalist who would seem unbiased and yet would inject their ideologies into their stories. She was vocal about her activism. Sometimes, I felt that it was dangerous for her. But, she was one of the bravest women I have known. She knew about the dangers, yet continued her fight for the oppressed and the marginalised. She has been silenced by the bullets, but her voice continues in the form of thousands of readers she has earned in her decade-long journalism and activism.
The author is deputy photo editor, THE WEEK.