"As Feroze Deshmukh was working with IRF, it was natural for us to call Naik. We took his statement" - K.P. Raghuvanshi, ex-chief, Maharashtra ATS

"We sent an intelligence report on IRF to state and Central governments. But, nothing happened" - Satyapal Singh, MP and former IPS officer

"So far, not a single Indian government agency has contacted me for any clarification regarding this issue" - Zakir Naik
Quite interestingly, the Islamic Research Foundation's HQ stands on Sardar Vallabhbhai Patel Road in south Mumbai's Dongri area. The "Iron Man" is credited for uniting India, and IRF founder Zakir Naik is being accused of being divisive. The black and white signboard of IRF belies the storm that has been building up ever since two Dhaka terror attack operatives reportedly declared ideological allegiance to Naik.
Police patrol cars are stationed at three-storey IRF HQ—shutters are down—at 195/213 SVP Road, and at 60 Tandel Street, office of the IRF women's wing. The policemen keep a watchful eye as we approach. "There's no one inside," said one of them.
The winding SVP Road is crammed with bakeries, hotels and travel agencies. The IRF HQ is sandwiched between Lucky Cybercafe and Lubbaik, a travel agency which offers Hajj, Umrah and Ziyarat services. "Both Lucky and Lubbaik attract as many footfalls as the IRF does," said a local resident. Actually, Dongri seems like an unlikely place to headquarter an organisation with worldwide links.
"I know about Zakir Naik, but I do not know him personally," said the owner of the nearby studio. "He usually offers namaz at the Noor Masjid [tucked away in a lane opposite the IRF HQ] and then goes to IRF."
When the storm broke, Naik was in Saudi Arabia. It was said that he would return on July 11, but the return was cancelled. Then, there was talk of a news briefing via Skype. That, too, did not happen. Then, Naik's office announced that he was going on an Africa lecture tour. Critics accused him of evading Indian authorities. But, he is doing nothing of that sort, said Mubin Solkar, Naik's lawyer for over a decade.
"Naik is an NRI, and there is hardly any need for him to be back in India," said Solkar. "He will continue his trip across the world this year. He is only expected in India next year. And, he does not need to be here since there is no formal complaint against him. No agency has summoned him or lodged an FIR. He can, of course, come down on his own to clear the air, following adverse reporting by the media."
Naik has fans and critics in equal measure. His Facebook page has 1.43 crore likes. He joined Twitter on July 8, and has attracted 8,229 followers. On his YouTube channel, the video delinking him from the Dhaka attacks racked up 1.23 lakh views in five days.
The responsibility for the Dhaka attack was claimed by Islamic State. And, Naik had once said, "They are not Islamic State. In fact, they are Anti-Islamic State. Islam does not approve killing of even one innocent human being." In a YouTube video Naik urges Muslims to denounce IS violence. But, then why the Dhaka connection? Naik's take on YouTube was this: "He may have been my fan, but to say that I inspired him to kill innocent human beings is devilish."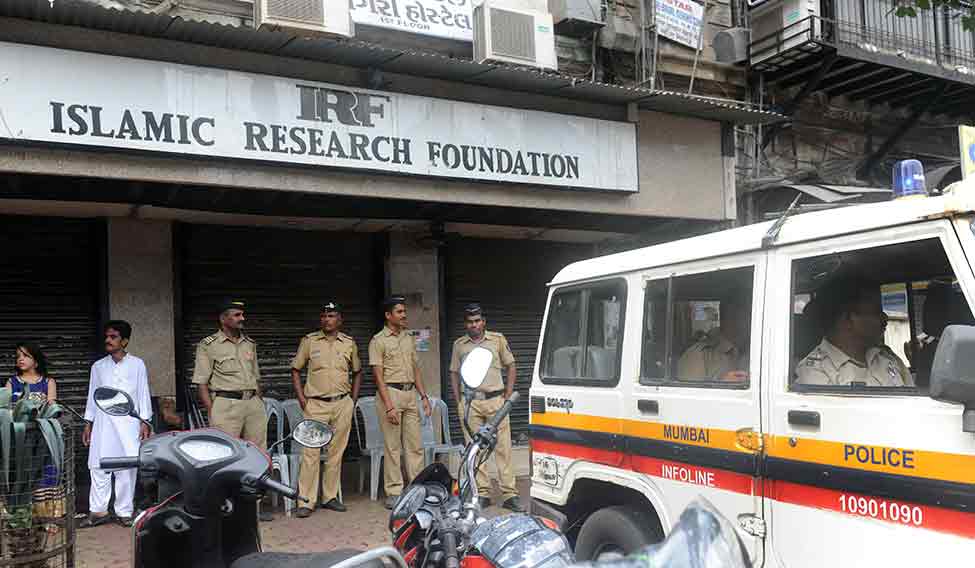 Naik grew up in Mumbai's Mazgaon area. People remember him as a bright, shy kid with a stammer and an elephantine memory. He studied at St Peter's School on Shivdas Champsi Road, and then joined the science stream at Kishinchand Chellaram College, Churchgate.
The Naiks are Konkani Muslims with roots in Ratnagiri district. Zakir Naik wanted to be a doctor like his father and brother. His father, Dr Abdul Karim Naik, is a psychiatrist. So, he joined Topiwala National Medical College and graduated. He decided not to practise medicine after being inspired by Ahmed Deedat, a South African Islamic preacher. Naik met Deedat in 1987, when he came to India to lecture.
From 1985 to 1990, Naik worked with the Rahmani Foundation, which functioned from the Dongri office of Naqshe Kokan, an Urdu publication. In 1991, Naik set up IRF and grew in popularity. In 1994, Deedat himself called Naik 'Deedat Plus'.
His critics say his interpretation of Islam is against a plural society. Feroze Mithiborwala, president of Bharat Bachao Andolan, told THE WEEK: "Naik is rooted in the extreme Salafi-Wahhabi thread in Islam. Naik ignores the basic tenets of Islam as a religion of compassion and peace, and promotes bigotry and divisive orthodoxy. His is a petro-dollar Islam funded by the Saudi-Qatari lobby. Over the years, Naik has modelled himself on the lines of Christian televangelists. No wonder that his preachings and beliefs have caught the attention of security agencies."
And, he has the rare critic from inside IRF, too. Saleem Yusuf, who had worked with him for four years, said, "His views are far divorced from that of the Prophet. He is mostly into deceiving gullible young Muslim minds for petty gains." Yusuf used to manage IRF's Bhiwandi chapter.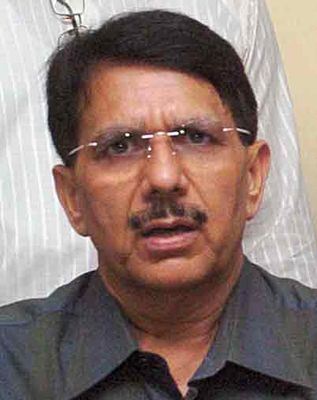 Javed Azim, Naik's friend and a civil engineer, said the televangelist was misunderstood. "He is an intellectual deeply grounded in comparative religion," said Azim. "The recent controversy around him could be the handiwork of vested interests. He is often misunderstood, and his teachings distorted intentionally."
2006 could be called a watershed year for Naik. He launched Peace TV in January 2006, with the tagline 'The Solution for Humanity'. The 24/7 channel is broadcast from Dubai, and has two sister channels—Peace TV Urdu and Peace TV Bangla.
And, it was in 2006 that law-enforcement agencies became concerned about Naik and IRF. He was on a lecture tour to Kashmir, accompanied by IRF staff. One staffer received a phone call from a suspected terrorist, who was being watched by the Intelligence Bureau.
In the same year, IRF librarian Feroze Deshmukh was arrested by the Maharashtra Anti-Terrorism Squad in the Aurangabad arms haul case. "As Deshmukh was working with IRF, it was natural for us to call Naik," said K.P. Raghuvanshi, then ATS chief. "We took his statement. We did not question him after that." Raghuvanshi remembers Naik as being soft-spoken, calm and polite.
Deshmukh was arrested because the suspects—Rahil Shaikh and Sayed Zabiuddin Ansari—were allegedly in touch with him. The suspects were reported to have had links with the Lashkar-e-Taiba. In 2008, during the 26/11 attacks in Mumbai, the police noted that a handler in touch with the suicide squad had a Mumbai accent. It was suspected that he was Ansari aka Abu Jundal. In June 2012, he was deported from Saudi Arabia and arrested at New Delhi airport. Deshmukh was later discharged by a special court.
In 2008, Dr Satypal Singh—formerly a Maharashtra cadre IPS officer who is now MP from Baghpat, Uttar Pradesh—prepared a dossier on Naik and forwarded it to the Union government. Singh had prepared the dossier after 12 youth converted to Islam at a two-day IRF event in Pune. Naik was reportedly present during the conversion.
Singh said: "I was commissioner of police in Pune when this programme was held. The youth who converted were from Hindu and Jain communities. IRF is registered under the Foreign Contribution (Regulation) Act, and they cannot do such activity. So, we sent an intelligence report to state and Central governments. But, nothing happened."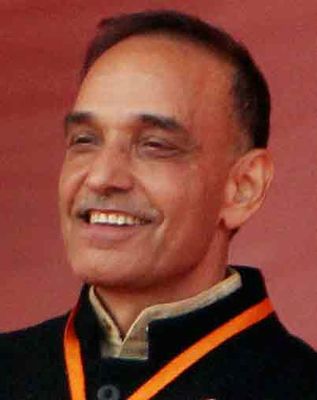 Naik also had a run-in with Muslim clerics when his comments angered Shia and Sunni communities in 2009. The clerics asked Mumbai Police to take strict action against Naik, who later apologised.
In December 2011, Naik was denied permission to conduct his annual Peace Conference at Mumbai's Somaiya Ground, after he allegedly made an inflammatory statement during Ganesh Chaturthi.
So, Naik renamed the event as International Islamic Conference. The venue was to be Mumbra, in neighbouring Thane district. But, a delegation of elders from the Muslim community filed a complaint with the police saying the event would upset communal harmony. Raghuvanshi, then Thane police commissioner, withdrew permission. In 2013, a case was registered against Naik in Kurla police station for insulting sentiments of the Hindu community.
As Naik's popularity grew, state and Central intelligence agencies kept tracking him. "We often attended his meetings," said a former intelligence officer from Maharashtra Police. "I have even taken trainee intelligence officers to his lectures on a few occasions. IRF volunteers were always smiling and well-behaved. These gatherings were open for all. They were very courteous, especially with people from other faiths."
Social commentator Javed Anand said Naik was too one-sided in his takes on Islam. "His observation that Islam is the only true religion is grossly off the mark," Anand said. "And, his is no scholarly take on the religion. Rather, his brand of preaching and articulation is exclusivist and in tune with the radical Salafist way. He has, since 1993-94, been marketing a carefully selected strand of Islam to further his own objectives. Nonetheless, IRF is flush with funds and it is not difficult for one to get their sources."
According to a senior police officer, IRF began receiving funds from Saudi Arabia and the United Arab Emirates more than a decade ago. "He came on the radar of financial and intelligence agencies because of his involvement in conversion activity in late 1990s," said another officer. Naik's close ties with the Saudi royals had always been an issue of interest to the internal security establishment. In 2015, after Naik was awarded the King Faisal International Prize, an existing dossier on him was reviewed.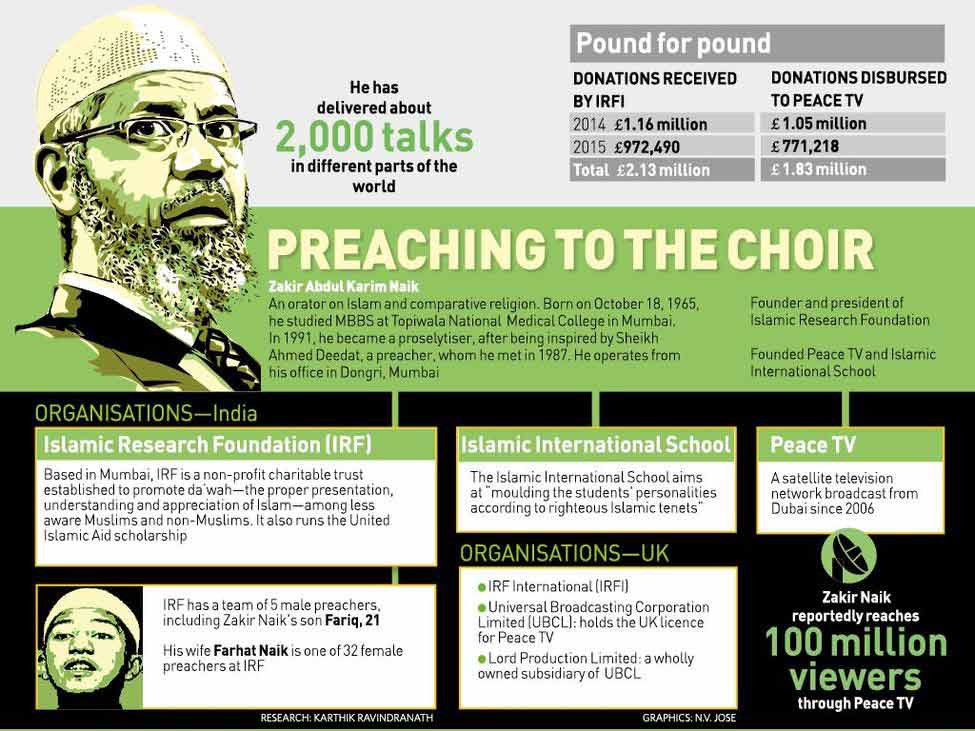 Not much is known about IRF. People who have worked with Naik told THE WEEK that IRF had 70 to 100 staffers and volunteers. "IRF began by circulating free booklets on the various facets of Islam," said a volunteer. "IRF circulated translations of the Koran in Marathi, English, Hindi and Urdu. It also distributed cassettes of Naik's speeches to willing Muslims. The books were printed by Darussalam Publishers, based in Riyadh."
Arif Kapadia, who grew up listening to Naik's preaching, is disenchanted now. "I understood that Naik never really condemned the brand of Islam promoted by Osama bin Laden," Kapadia said. "And, he promoted sectarian divisions and thoughts inside Islam. I found his intellectual offerings regressive."
Dr A.R. Anjaria, scholar and community leader, said Muslims should not support Naik just because he is a Muslim. "Similarly, Hindus should not oppose him just because he is a Muslim," said Anjaria. "We must see if his speeches are violating the law of the land. At the same time, it does not show IRF in good light when it is listed on Jamat-ud-Dawa's website."
Meanwhile, political parties have come out in Naik's support. Samajwadi Party's Maharashtra unit president Abu Azmi said, "Naik has been a preacher for around 25 years now. If he has been inspiring terrorists, why was no action taken against him for so long? There should be an inquiry by a retired Supreme Court judge. But, this media trial should stop." Lok Sabha member E.T. Mohammed Basheer of the Indian Union Muslim League said Naik was being "harassed for no valid reason".
On his part, Naik is sure that there is nothing to link him to terrorists or terror plots. In a statement from Saudi Arabia, he said, "So far, not a single official Indian government agency has contacted me for any clarification regarding this issue. It would be my pleasure to cooperate with any official Indian government investigation agency."