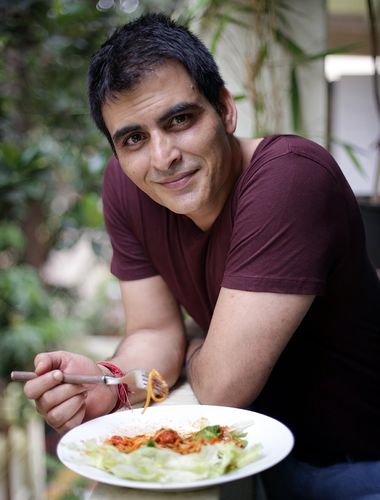 Sometimes, on a Sunday, when I'm free and the weather is pleasant, I hit the road. While Zara Hatke Zara Bachke plays on the radio, I think of going to town [South Mumbai] via the sea-link. If the trip takes place in the morning, I go to Kyani's [a popular Irani restaurant] for a quick bite of bun-maska, and to Cafe Mondegar [in Colaba] in the evening.
I think it was in 1999. I had just arrived in Mumbai. I was in my early 20s and used to do backstage for a lot of plays. Some of those were for NCPA Experimental [at Nariman Point]. The organisers never used to pay. Instead, they said: "We'll treat you well." That meant taking us to Cafe Mondegar for beer and a huge spread. After the show, we would all head to Mondegar. We would have worked really hard the whole day, without a penny as remuneration, but the treat made up for everything.
Then, when I started writing and directing my own plays in the early 2000s, invariably, I used to take all my crew to Cafe Mondegar until around 2007. It was a post-theatre ritual. We went there, asked for a pitcher, and indulged. It was also our bonding time. The good food added to the revelry. And I liked everything they made. There were 45 of us, and no one was making a lot of money then. It was the initial stage of my career, doing plays like Peele Scooter Waala Aadmi and Shakkar Ke Paanch Daane. All of us were desperate to make a mark, working very hard. But we never let go of the times when we could make memories. We never let go of the days our plays were staged. In fact, I remember all those days when we spent almost everything we earned from the play on partying with friends. And that is why some of these places have a special significance for me, whether it is Kyani's, the watering holes near Prithvi theatre or Cafe Mondegar.
It was either [actor] Kumud Mishra or one of my girlfriends at that time who introduced me to Mondegar. I was amazed at the history of the building. It is fascinating. The sketch by Mario Miranda is invigorating. It boosts your mood. I used to click pictures of the sketch every time I went there.
I remember the hunger pangs and the times we spent at the entrance of Mondegar, waiting for a table while a cat slept or purred at our feet. It is a scene that is permanently etched in my mind. Every time you go there, you know that scene will repeat itself—you will have to wait, just like the cat that is permanently there. It makes you nostalgic and brings a smile to your face. And then, when you finally get a table, it is so crowded and buzzing with people that you literally have to scramble through the thin bay between the tables to get inside. Then, the wait for the treat that you crave begins and sometimes lasts nearly an hour.
The frequency of my going to Cafe Mondegar has reduced in the last couple of years because I haven't done a play at NCPA for some time, and I only go when I am watching something there. But if I ever go to town in the evenings, Cafe Mondegar is the first destination on my mind. Only after having a pint of beer there will I proceed with my work. It reminds me of the days when I had come to Mumbai and was still trying to figure out my life. Mondegar is Bombay for me.
Manav Kaul is a theatre director, playwright, actor and filmmaker.
AS TOLD TO PRIYANKA BHADANI