Even today, Charu is worshipped in the jungles of Odisha, Chhattisgarh, Jharkhand, Bihar and West Bengal.

Charu's detractors called him autocratic. But his children said they grew up in an environment of freedom.

After his arrest, Charu was lodged in Lal Bazaar police lockup in Calcutta. Anita rushed to the police headquarters on hearing about his arrest and saw him being held by a few policemen under heavy security.
In Siliguri, everyone knows the Mahananda Para road and the man who once lived in house number 25. A local sweetshop owner smiles when asked about the house of Charu Majumdar, the father of the Naxalite movement. "Oh! You want to go to that house," he says. "Just go straight and the house would be on the right."
Charu's son, Abhijit, who teaches English at Siliguri College, lives in the house with his two elder sisters: Anita, a doctor, and Madhumita, a school teacher. While Abhijit is single, Anita is separated from her husband, and Madhumita is a widow.
The house is now divided into two sections. The newly constructed front portion is open to everyone and is used as an office by one of Abhijit's cousins, who is an insurance agent. The rest of the house is forbidden territory for outsiders. It was in this wooden cottage that Charu once sat in his reclining chair, working with his comrades, to free Naxalbari from landlords. It was here that he drafted the Historic Eight Documents, calling for an armed revolution in India. It made him an enemy of the state and his party, the CPI(M). The police went after him and his party expelled him. He left home in 1969 and went underground. Siliguri never again saw him, not even his dead body.
But as I entered his house, it seemed alive with Charu's presence. Born in 1918 in a family of landowners, Charu became a rebel, an atheist, who denounced Bengal renaissance—represented by Raja Ram Mohan Roy, Ishwar Chandra Vidyasagar, Swami Vivekananda and Rabindranath Tagore—as nothing but a refinement of British colonialism. It is said he once ordered his followers to break the statues of Tagore and Subhas Chandra Bose. But in his bedroom, I saw Tagore's works in a bookshelf.
Are these new? "No, no. These are all collections of my father. He was an ardent lover of Tagore's works," said Abhijit. Then how come story spread that he was against poets like Tagore? Abhijit said it was because history writers wanted to erase his father's memory from everywhere. "He used to love Rabindra Sangeet and Indian classical music. He was a true Bengali and a true Indian. But people remember him for raising slogans like 'China's chairman is our chairman' and for allegedly proposing an annihilation theory, which called for the murder of class enemies."
Yet, even today, Charu is worshipped in the jungles of Odisha, Chhattisgarh, Jharkhand, Bihar and West Bengal. Abhijit has got a bust of his father made by a sculptor from Santiniketan, and has kept it beside his father's bed. "His reclining chair has been kept as it is. We don't let anyone sit on it," said Abhijit.
Charu was the first to call for an armed peasant revolution in India. He had cut his teeth as a CPI activist during the Bengal famine of 1943 and in the Tebhaga movement of 1946, which forced land owners to give two-thirds of their produce, instead of half the produce, to peasants who were their share-croppers. In 1967, he exhorted the peasants to unite and wrest land through armed struggle, a call which made the CPI(M) expel him. Several leaders left the party with him. People from all walks of life—intellectuals from Calcutta, Andhra Pradesh and Kerala and commoners from rural Bengal—started frequenting his house. "I remember the famous actor Utpal Dutt once coming to our house and meeting him. My father used to talk with a lot of people like him," said Abhijit.
The peasant upsurge in Naxalbari took place the same year. As the police were looking for him, Charu moved to an underground shelter in 1969, leaving his wife and three school-going children behind. Abhijit said his mother, Lila, who was also a Communist Party member, struggled to make ends meet. Though Charu asked students to leave institutions run by class enemies, he allowed his children to study at such intitutions.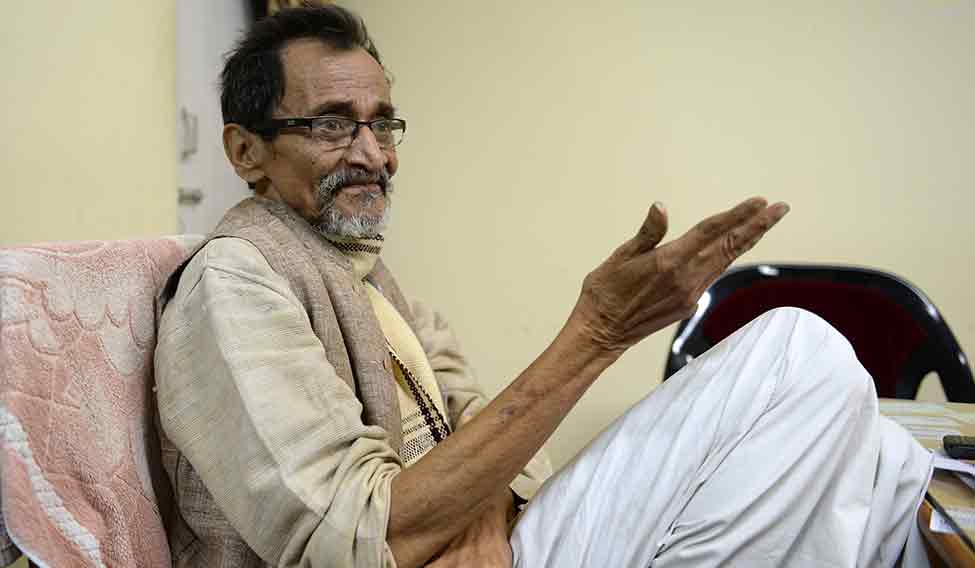 Abhijit called it a canard. "Father never spent money on our education. Mother ran the family with the money she earned as an insurance agent." He said no one realised the truth, and the family was completely isolated. Although Abhijit today heads one of the small factions of his father's party, Anita and Madhumita have been reluctant to mix with society or talk about their parents' role in the peasant movements. For more than 50 years, Anita declined to talk about her father to the media. She, however, spoke frankly with THE WEEK.
Anita quit her medical practice long ago, unable to withstand ill-treatment from a section of society. She said she loved her father but never considered him her hero. "He was my friend, philosopher and guide. Yes, he did not help me get my education, which my mother did. But my father had a great impact on me as he was the one who saved us from utter destruction in life," Anita said.
She became a doctor against her father's wishes. "I am a little perturbed to see you taking up science subjects," Charu had told her. "Who would spend for your education? At least I am not going to."
"At Calcutta Medical College I was teased and taunted by my classmates. They asked me why I was studying in a high-profile medical college when my father wanted everyone to leave school. I told them that my father did not say that to everyone, but only to those who wanted to be revolutionaries. In every sphere of life, he was misunderstood," said Anita.
"I fulfilled my father's wishes by serving the poor in the free zone of Naxalbari. But I was really disheartened. Yes, landlords were no longer there. But the environment was extremely polluted. I could not continue as a doctor," she said.
Thin and frail in her mid-sixties, Anita said it was an irony that while her father was known as a killer, her mother insured people's lives. His ideology seemed very much alive in her mind, but she denied she had any soft corner for Naxalites.
Charu's detractors called him autocratic. But his children said they grew up in an environment of freedom. "My mother used to be sister-in-law for everyone. She was loved by all partymen. They all came and talked to my father frankly," said Abhijit. His father did not even object to his attending local religious festivals, although he appeared a little perturbed. "When I was a kid, I used to attend Saraswati puja in my locality and my father never scolded me for that. But often, during the puja days, he would tuck me into bed early so that I could not go," he said.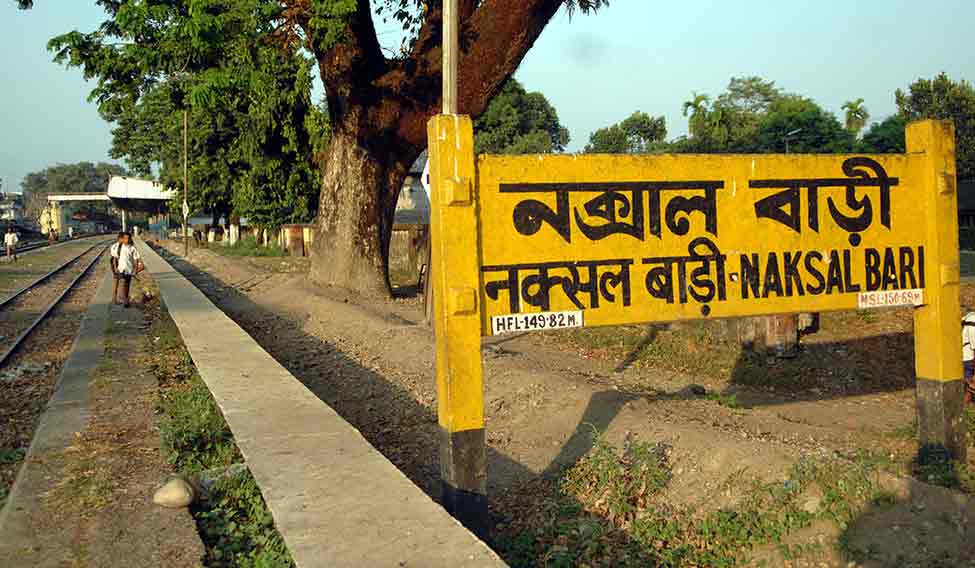 For many, Charu was a terror. His supporters killed, in the name of ideology, more than 100 landlords in Naxalbari. They executed about 1,800 policemen and government servants in West Bengal. They were beheaded, beaten to death or hanged from trees. All blame fell on Charu, who was underground.
"I asked him whether he had ordered the execution of policemen. He denied it," said Amiya Samanta, who retired as director-general of West Bengal Police in the 90s. "I asked him whether the annihilation theory was his brainchild, and he denied it. But he admitted that armed revolution was his idea. He said he ordered to punish only the landlords," said Samanta. "The movement fell into nasty hands. They dominated it throughout taking the name of Charu Majumdar."
Abhijit said his father could not have ordered the execution of policemen and teachers. "He gave the slogan of armed revolution thinking of the pathetic lives of the poor peasants and labourers. He was a very sensitive person. By class enemies, he meant people who hurt poor people. He never asked anyone to touch commoners," he said.
Anita said her father was a brave man. He chose the path of armed revolution at the age of 49, after suffering two heart attacks. In 1965, he had spent many days at Chittaranjan Medical College in Calcutta because of cardiac problems. Yet, he plunged into revolution. "He could not stay at home as a mute spectator after seeing the plight of the people," she said.
Charu was arrested from his hideout at Entally in Calcutta on July 16, 1972. Samanta, who was then a senior police officer, said, "Calcutta's detective chief Debi Basu was given the task of arresting him. Calcuttans never revealed to our department that he was in the city. That showed how popular he was. But his close aide Deepak Biswas revealed to us that he had been living in Calcutta."
Deepak was the man whom Charu had trusted the most. He was even sent to China to meet Mao Zedong in 1967. "Deepak babu could not bear the torture by the police. So he disclosed our leader's hideout. He was punished for it," said Azizul Haque, another close aide of Charu.
Deepak returned to Siliguri after Charu's death and was shot dead on Hill Cart Road, barely 500 metres from Charu's house. According to police documents, he was killed by Haque's Second Central Committee, an offshoot of Charu's CPI(ML). "Of course, some of us killed him," Haque said, neither confirming nor denying his role.
After his arrest, Charu was lodged in Lal Bazaar police lockup in Calcutta. Anita rushed to the police headquarters on hearing about his arrest and saw him being held by a few policemen under heavy security. "He was feeble and looked very thin and pale. He was gasping for breath," said Anita. "Being a medical student, I wished he received at least an inhaler or oxygen then. But he did not receive anything. I am sorry to say this, but I feel he was killed as his life-saving medicines were all withdrawn. The nation never wanted to keep him alive. But they should have allowed him to die a natural death and not have withdrawn his life support system."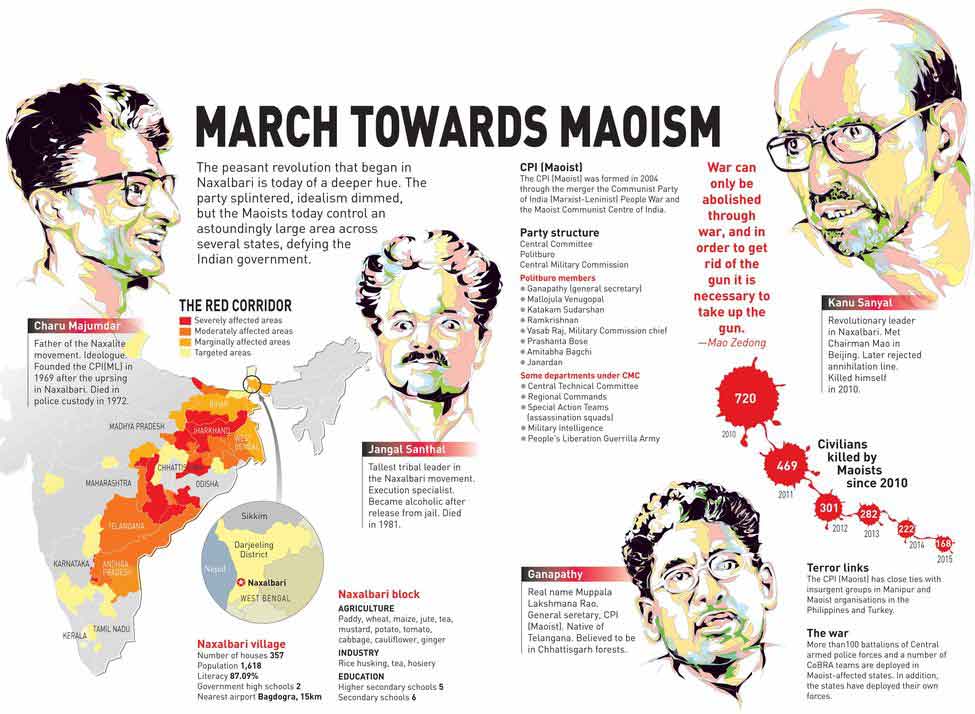 At the police station, Anita had asked him about his condition in custody. "I am with these policemen. So I will be what I will be," were his last words to his family. On July 28, 1972, only 12 days after his arrest, the family was informed that Charu was no more. Neighbours bought tickets to fly them from Bagdogra to Calcutta. They were taken to the medical college morgue where tray after tray was pulled out to show them Charu's body. It was kept in the last tray. Abhijit said that his father's toes were extremely black as if they were burnt.
The family was then taken to the crematorium in a car, even though being a communist Charu had not wanted his body to be cremated. The area around the crematorium was cordoned off by the Army. Lila wanted to perform the last rites but was not allowed. It was little Abhijit who was told to light the funeral pyre. The family was then asked to leave Calcutta immediately. They, however, chose to stay the night in a hotel. "The manager of that hotel was arrested for giving us rooms to stay for a night," said Abhijit.
What rankles him more is that his father's role in land reforms and peasant movements has not been recognised. "History writers completely avoided his role, despite the fact that many good things in India happened only because of him," said Abhijit. "Had there not been a person like Charu Majumdar, India would have been a place full of landlords. Millions of farmers would have lost their lives, and India would have disintegrated because of that."
Charu remains Abhijit's hero. "I am really proud when people call me a Naxal," he said. "Had the ideology been so obsolete and hated, it would not have survived for 50 years. I agree that Naxals today are not the same as that of the 60s and 70s. But Charu Majumdar's ideology still remains relevant and the state wants to crush it by any means."