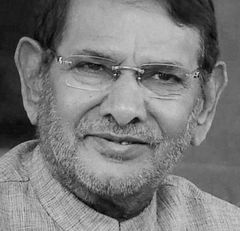 I cut my teeth in politics before the Emergency, when Jayaprakash Narayan or JP, as he was called, launched the Navnirman movement in Bihar and travelled across India mobilising support for his anti-government agitation.
The Emergency was imposed much later as an extreme step to stop people's movements across the country. The people had been tired of the problems caused by the concentration of power in the hands of Indira Gandhi.
In 1974, JP asked me to contest the Jabalpur byelection. I did not expect to win, but JP was sure the people would vote for anyone but the Congress. My doubts were misplaced; I got elected. JP was thrilled and took it as a definite sign of the public mood. JP was the real force of those days, and he was the one feared the most by the Indira Gandhi government.
As I entered the Lok Sabha for the first time, Indira Gandhi welcomed me just like she used to welcome other youngsters into Parliament. Many people say Indira was a tyrant. There, however, was no personal animosity between Indira and her opponents. She often looked around for me, and would say Sharad Yadav has brought some temper into the house.
I was very young at that time and it was a great opportunity to learn. But, the times were such that I witnessed confrontation between Indira and her opponents.
On June 25, 1975, I was asleep when my house in Jabalpur was raided. I was shocked. The police did not have any valid documents, and the entire procedure of arrest was conducted in total silence with no explanations. It felt as if some enormous disturbance had broken out in the country.
The policemen, however, were courteous as they took me away. I noticed that, though late in the night, people had flanked the road in front of my house. I requested the policemen to let me step out of the vehicle, salute the people and bid them goodbye.
I got a few seconds to ask a person I knew about what was going on. He told me that Indira had imposed Emergency. Soon, I was driven to the Jabalpur jail. I decided to fight from jail against this sort of illegal rule.
The jail was full of youngsters. It was ready for some revolutionary action. Such was the anger among the people who had been arrested and beaten up unnecessarily. The jail authorities sensed that I was fomenting trouble, so they shifted me to another jail. In the next 19 months, I was hosted by almost all the jails of Madhya Pradesh.
The most memorable was the interaction with the dacoits of Chambal who, too, had been jailed. They loved my speeches, and they had their code of activities. The jails of Madhya Pradesh turned into war rooms of political ideas.
I remember that there were many disagreements within the JP camp about how to take on Indira Gandhi. On one occasion, JP humiliated me in front of many supporters when I stopped him from going to a meeting with the Jana Sangh and the Hindu Mahasabha. I said JP should not join hands with the non-secular forces. But, JP poked me with his walking stick, which he often used on his followers.
A few days later, JP took me on a long drive. He told me that none of us understood Indira, and that to fight her growing authoritarian rule, we needed as many friends as possible.
"She is like a cornered cat," JP told me. "She has more physical and mental strength than her father, Jawaharlal Nehru. I know her since her childhood. She will scratch at the eyes of the opponent, just like a cornered cat. She has a habit of surprising her opponents."
Indira did not like losers, nor did she enjoy losing. Her opponents rejoiced when political anarchy grew and she was disqualified from politics for six years by the Allahabad High Court on June 12, 1975. Just when her opponents felt they had victory in their grip, Indira played her ultimate card and assumed total power.
It was a very dangerous move, but we survived. I hope the country will remember the lessons of the Emergency.
I came out of jail when the Emergency was lifted, and I met Indira in Parliament again. She was always nice to me. The Emergency was bad, but, as a senior leader, Indira always showed respect to younger members of Parliament.
(As told to Kallol Bhattacherjee)