Modi's singular aim is the preparation of the ground for Hindu raj, which our nation has repeatedly bucked over close to seven decades of independence.

Poet Ashok Vajpeyi says, "Violence, murder, intolerance and bans are creating a fearful ethos. Being a minority is almost a crime."
Are we witness to the beginnings of the Talibanisation of Hindustan or the Nazification of India that is Bharat? A bit of both, it would seem. These are early days and hindutva is still to unleash the full force of its fascism on the country. But the warning signals are there for everyone to see and, if we are not vigilant, the worst could yet overtake us.
Fortunately, our Constitution is stronger and more stable, better tested and tried, than the Weimar constitution proved to be in the Germany of the 1920s. But unless we keep our ears pricked and remain on red alert to danger, there is the awful possibility of our slipping, unbeknown even to ourselves, into the coma of cultural dictatorship with which we stand threatened.
For, make no mistake, these are not "incidents" or "accidents". They are part of a pattern that the RSS and other hindutva forces have woven with deliberation for nearly a century since 1925, when V.D. Savarkar introduced the evil word, 'hindutva', into our political lexicon. Many confuse hindutva with Hinduism. It is a cardinal mistake that must be avoided—for Savarkar himself was an atheist, not a Hindu godman.
He had provoked others to undertake terrorist acts at his bidding, but was caught and sentenced to life in the Cellular Jail at Port Blair in the Andamans. But, from virtually the moment he got there, he begged and pleaded with the British that he was, in fact, a loyal subject of the Raj and sought the viceroy's pardon to devote his youth and his talents to the greater glory of His Imperial Majesty's British Empire. The British were not fooled, but relented enough to send him to Ratnagiri under house arrest on the strict condition that he not indulge in overt political activity.
That did not stop him from writing. Some of his writings found their way to K.B. Hedgewar in Nagpur, who was awaiting mentorship to guide him to his calling. He readily found that in Savarkar and, inspired by a brief meeting with him, returned to Nagpur and founded the Rashtriya Swayamsevak Sangh. The RSS always claimed to be cultural and non-political, which was a clever way of securing the benevolent patronage of colonial rule while working on their basic agenda of producing muscular Hindus shorn of any space for dissenting opinion.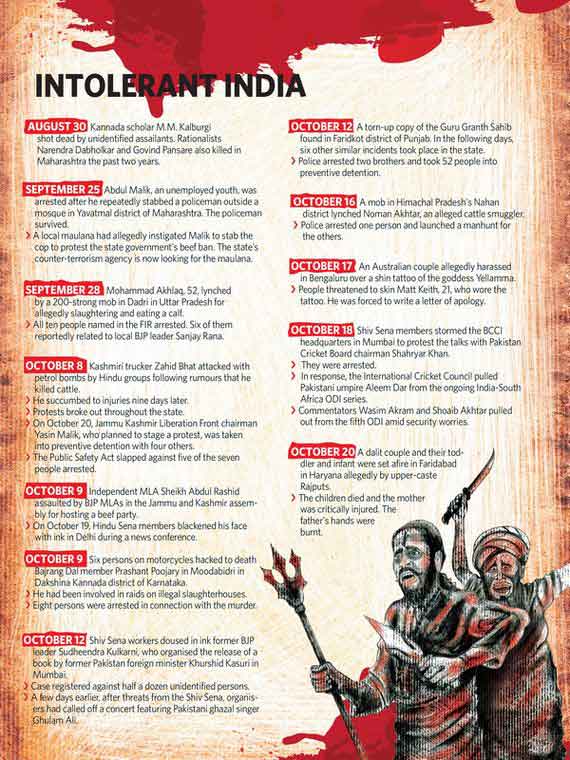 This had nothing to do with the gentle religion that has been our country's greatest contribution to human civilisation. Hindutva seeks, in a perverted way, to Semiticise the spiritual values handed down to us by our forefathers. As Subramanian Swamy, a lifelong devotee of the RSS, remarked in Hyderabad on March 16, 1992, the RSS has always been less pro-Hindu than anti-Muslim. Its raison d'etre is the assiduous cultivation of hatred for The Other. Its icon, until he was humbled in war, was Adolf Hitler. That is why the Hitler motif keeps popping up in any analysis of the RSS.
While the RSS remained apparently aloof from politics (which meant, at that time, keeping itself aloof from the freedom movement, thus implicitly collaborating with the Empire), politics was the lifeblood of the Hindu Mahasabha, founded just a little earlier than the RSS. On his release in 1938 by the Congress government of Bombay, which took office after the 1937 elections, Savarkar was elected leader of the Hindu Mahasabha. He led straight from the front—right into the ranks of his colonial masters. For he was determined, as a matter of strict party policy, that the Hindu Mahasabha would have nothing to do with agitating for freedom.
They wanted instead to build their internal strength, while the Congress leadership withered away in incarceration. Savarkar's politics were oriented towards promoting hatred against Mahatma Gandhi and endorsing Muhammad Ali Jinnah's mischievous two-nation theory—for the definition that Savarkar gave the word that he had invented, 'hindtuva', was, in his own translation into English, "Hindudom" (like Christendom), that is the rule of the Hindu over the rest, Hindu raj or majoritarianism at its ugliest. Savarkar sought the end of all history since the advent of Muslims and Christians. At a stroke, he denied the integral diversity of our nationhood and asked that an Islamic Pakistan be matched by a Hindu India.
From these dubious beginnings arose the RSS decision not to go into electoral politics but, instead, to sponsor a political party, the Bharatiya Jana Sangh, under Dr Syama Prasad Mookerjee in October 1951: a leader without a party, as has been said, found a party without a leader!
This is the party that Narendra Modi led to victory in the general elections of 2014. His singular aim necessarily is the preparation of the ground for Hindu raj, which our nation has repeatedly bucked over close to seven decades of independence. For the BJP, its victory is a small window of opportunity—for the nation is already waking up to its gross error of last year. That realisation is accelerating the urgency of unfolding the century-old heritage of the BJP. To expect them to become sincere adherents of the liberty-loving, secular, pluralistic ethos of the Indian Constitution is as much an illusion as was the Rath Yatra's promise to hold their pledge to the Constitution above their pledge to build the Ram Mandir only there: Ram ki saugandh hum khate hain, mandir 'wahin' banayenge—that is, precisely where the merab of the Babri masjid had been built. Destruction before construction—that has always been the motto of hindutva.
It is this promise of hindutva that we see unfolding in this concatenation of ministers and ministers of state of the Central government, several chief ministers, even several governors (like the notorious Tathagata Roy of Tripura), a cabal of BJP MPs (mostly sadhu- and sant- and sadhvi-turned parliamentarians), and a host of BJP bullies, seeking every chink they can find in the armour of the nation's secularism.
Make no mistake. Modi, an RSS pracharak since he was almost a toddler, has got himself elected the Riechsfuhrer of India not to continue "business as usual", but to subtly undermine the fundamental values of the Constitution, without which there can be no Hindu raj. 'Hindudom' is, indeed, the overarching aim of the BJP, the sangh parivar that backs it, miscellaneous advocates and practitioners of goonda raj in the name of Brahma/Vishnu/ Shiva, and its allies in state governments, above all the Shiv Sena. Hindus in general demonstrated their disgust with communalism when Babri masjid was hauled down gumbaz by gumbaz. Hence, as a political party in an electoral democracy, the BJP has to tread carefully; hence, its plethora of mukhautas [masks]. But they remain unwavering on their ultimate goal. They seek a Hindu Rashtra.
It is our public intellectuals, above all, who have seen through the BJP game at its very inception. We should be grateful to them for drawing our attention to the emerging threats to our national values. "Writers from Maharashtra, Gujarat, Karnataka, Goa, Punjab, West Bengal, Jammu & Kashmir, Kerala, Delhi and elsewhere [including, I would add, Uttarakhand, where Nayantara Sahgal, who started it all, lives] feel moved to return awards given to them," wrote the Economic & Political Weekly.
Sahgal calls it the "Unmaking of India" because "India's culture of diversity and debate is now under vicious assault". Poet Ashok Vajpeyi says, "We are on the brink of a tyranny of uniformity and parochialism. Violence, murder, intolerance and bans are creating a fearful ethos. Being a minority is almost a crime." Another poet, Keki Daruwalla, decries the erosion of values that literature stands for, like "freedom of expression against threat, upholding the rights of the marginalised, speaking up against superstitions and intolerance of any kind". Urdu writer Rahman Abbas protests the "growing intolerance of Hindu right-wing groups against minorities". Academic Sukrita Paul Kumar says, "Writers feel a sense of desperation and exasperation in the face of threat to freedom of speech and the aesthetics of communication." Novelist Shashi Deshpande declares, "This is the right time for writers to reclaim their voices, [for] silence is a form of abetment"; Salman Rushdie foresees "alarming times for free expression in India". Poet K. Satchidanandan points to "cultural institutions" being "under threat". Veteran Hindi writer Vishwanath Tripathi warns of nefarious attempts to "deform this country's secular fabric and convert it into uniformity". And so on and on. They cannot all be wrong.
Last week, this magazine quoted Bertolt Brecht asking: "Why were their poets silent?" He wrote of Nazi times:
"In my time, streets led to the quicksand
Speech betrayed me to the slaughterer
There was little I could do. But without me
The rulers would have been more secure . This was my hope."
Our hope is that our poets have not kept quiet: they have spoken out. Bless them for saving us.