In the 1950s, the Dravida Munnetra Kazhagam in Tamil Nadu did what Joseph Goebbels did in Hitler's Germany—use cinema to propagate its ideology. Legendary actor M.G. Ramachandran became the party's face, and he soon started to act in films tailor-made to propagate his party's ethos—Dravidian ideology and rationalism which questioned the existing government and system. The actor soon turned into a demigod. The man became bigger than the ideology. His on-screen persona of fighting against evil and uplifting the poor made people worship him off the screen, too. Thus, it changed the way films were made. Every film tried to glorify its hero, and every hero wanted to be MGR. 'Ilayathalapathy' Vijay is no exception.
In Atlee's Mersal (his second with Vijay after Theri), Vijay plays three characters and fights against the corrupted health care system and, in the process, avenges his father's death. The film begins with the kidnapping of four individuals and the arrest of Dr Maran played by Vijay. Investigating officer Rathnavel (Sathyaraj) questions Maran about the motive behind the kidnapping. By the end of the investigation, Rathnavel learns that the man he is interrogating is Vetri (again, played by Vijay) a magician and a lookalike of Maran. The story then deals with the reason for the kidnappings and how Maran and Vetri are related.
Vijay plays a doctor, a magician and a villager. He is stylish in all three characters, impressing us with engaging fight sequences and dance. There are instances when the magic stunts performed lack logic, but then, it's a Vijay film after all and one should not expect logic! For a Vijay fan, there are enough wow moments—slow-motion scenes, 'Ilayathalapathy' saving people and punch dialogues. In fact, a scene showing Vijay talking to the media about the problems in the country has become mandatory.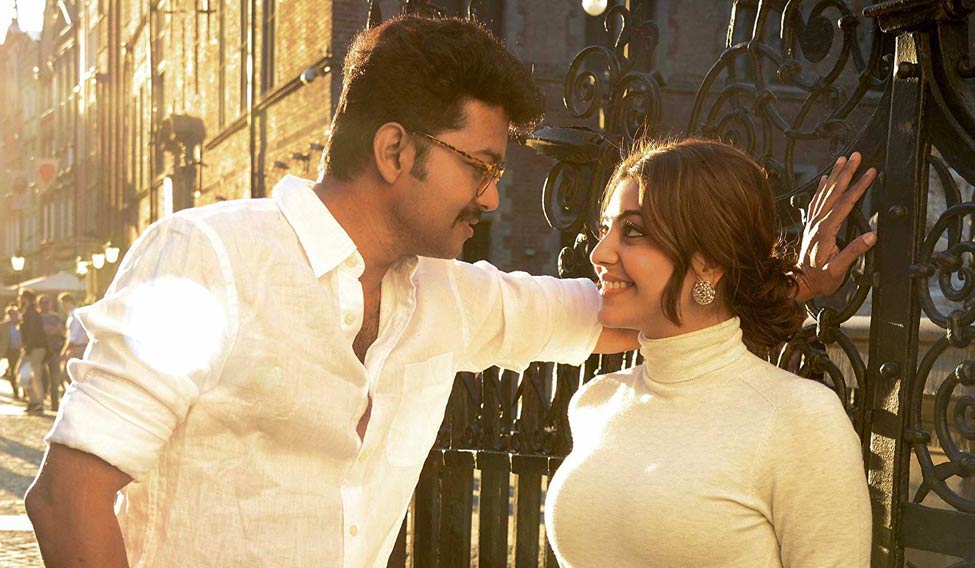 Atlee, through the film which is packaged with heavy drama and action sequences, tries to convey a message. There are certain parts where you feel the scenes are right out of Shankar's film (Atlee was director Shankar's assistant). In fact, there are two particular scenes, which are similar to Bahubali—interestingly, Vijayendra Prasad who wrote Bahubali, is also the writer of Mersal. A.R. Rahman's music adds pace to the narration, especially towards the climax. The song Aalaporan Tamizhan, which is already a huge hit, deserves special mention for the way it was picturised by G.K. Vishnu.
Vadivelu is back after a long hiatus but has not lost his charm. In spite of being long, with two flashbacks and separate love tracks for Samantha and Kajal Aggarwal, the film is entertaining solely because of Vijay. The portions with Vijay and Nithya Menen stand out, with Nithya coming up with a stirring performance like always. S.J. Surya, plays a clichéd, loud villain that Tamil cinema is accustomed to. After his performance in Spyder, which was praised unanimously by critics and the audience, we expect to see him in different and diverse roles. The film has all that it takes to be a Diwali blockbuster, with all the commercial elements in the right quantity woven around a social message.
Tailpiece: There are four instances in the film where Vijay is compared with MGR—in fact, his introduction scene starts with an MGR song.
Film: Mersal
Director: Atlee
Cast: Vijay, Samantha, Kajal Aggarwal, Nithya Menen, S.J. Surya
Rating: 3/5