War is romantic only to those who are far away from the sounds and turmoil of battle, wrote war veteran Major Dick Winters in his memoir Beyond Band of Brothers. In his latest cinematic venture, master filmmaker Christopher Nolan takes you up, close and personal with one of the great war tales of all time—The Miracle of Dunkirk.
Nolan comes out of the realms of super heroes, time travellers, magicians, insomniacs and folks who inhabit the world of dreams, to find inspiration in the real world, from a survival tale, which, according to the auteur, is "one of the great human stories of all time". He takes Operation Dynamo—the miraculous evacuation of British Expeditionary Force and Allied troops, who were stranded in seaport of Dunkirk in France and were staring at certain death—and turns it into a cinematic extravaganza.
The audacious, but harrowing, tale of the evacuation told through three perspectives—land, sea and air—boasts of an ensemble of talented actors, including Tom Hardy, Mark Rylance, Kenneth Branagh, One Direction's Harry Styles and Nolan regular Cillian Murphy. Hardy plays a Royal Air Force pilot engaged in aerial fights with German planes. The actor has proved that he is comfortable on screen with confined places (Locke) or his face partially covered (Mad Max: Fury Road, The Dark Knight Rises). In Dunkirk, Hardy spends most of his time in a fighter plane, with his face almost covered, letting his eyes and the camera do most of the talking. Oscar winner Mark Rylance plays Dawson, a sailor who was part of the 'Little Ships of Dunkirk'—private boat owners who volunteered to help in the evacuation.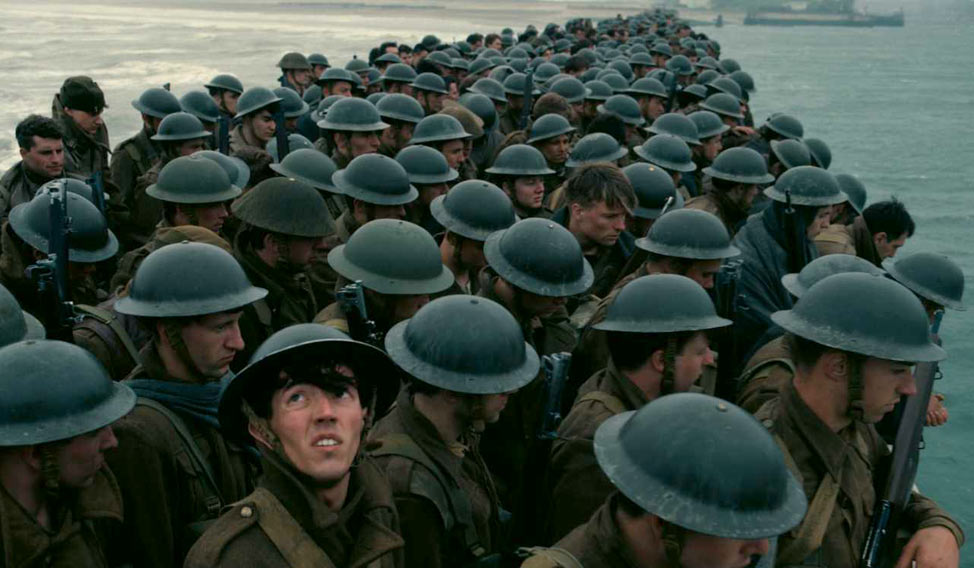 But Dunkirk is not about these stars or their roles. It is about Gibson, Alex and Tommy and thousands of soldiers who struggled to cling on to the hope of a miracle even as their fellow troopers died by their side. "The more I read first-hand accounts, the more apparent it became that, part of the terror, part of the real sense of fear and isolation and vulnerability of these men, was not knowing what was happening. Not knowing, lining up on the beach out to sea, if somebody was going to come and get them or not," Nolan said in an interview. Dunkirk is about every soldier who lived to tell the tale.
The director barely spares time to discuss the perils or politics of war. Neither does he want you to enjoy the cinematic ride, he would rather have you experience the war. From the very first shot, he places the audience right in the middle of the chaos. The film is often wordless; there are also no backstories told, there aren't any high-ranking generals discussing strategy for evacuation. Instead, there are soldiers, many barely into their early twenties, struggling to stay afloat and alive.
Nolan also refrains from giving face to Nazi forces. Yet, they are everywhere. You see them in the fear-filled eyes of soldiers who are bound by a common yearning to be home which is so close by. You see them in every bullet ever fired from the opening scene, accompanied by a stellar background score by Hans Zimmer.
With Dunkirk, Nolan pushes the medium of war cinema, quite a bit like Stanley Kubrick in the 1957 anti-war drama Paths of Glory. The director and his crew relied less on CGI, instead used real boats, plans and thousands of extras to create the warfront. The dogfights, spraying bullets and battlefield carnage are unnerving real. Cinematographer Hoyte van Hoytema, who worked with Nolan in the space drama Interstellar, successfully ferries the viewers to the warfront, to the claustrophobic confines of a fighter plane and to a sinking boat which is taking bullets, to give them an immersive cinematic experience that only Nolan can promise.
Film: Dunkirk
Director: Christopher Nolan
Cast: Tom Hardy, Mark Rylance, Kenneth Branagh, Cillian Murphy
Rating: 4/5