Voting has opened in Turkey in the presidential run-off on Sunday after the first round of elections held on May 14 saw President Recep Tayyip Erdogan emerging front-runner but falling short of the 50% threshold needed to win. 
The President remains the current favourite and is almost certain to extend his rule into a third decade, defying expectations and opinion polls that predicted his rout. 

In the first round, Erdogan secured a five-point lead over left-leaning Kemal Kilicdaroglu, a 74-year-old bureaucrat and leader of the Republican People's Party (CHP). Erdogan's chances of a comeback were further accelerated by the support extended by the third-place candidate Sinan Ogan, who won 5% of the first-round vote. 
"We expect Turkey's President Erdogan to extend his rule into its third decade at the run-off election on 28 May, with our judgment-based forecast assigning him an 87% chance of victory," Hamish Kinnear, senior MENA analyst at risk intelligence firm Verisk Maplecroft, wrote in a research note.

Erdogan's potential win comes despite six major political parties joining hands with Kilicdaroglu to highlight his alleged authoritarian grip over the power which saw him repressing judiciary and dissent. He also faced backlashes over a floundering economy and a delayed response to the catastrophic earthquake, which claimed over 50,000 lives in Turkey and neighbouring Syria. The Opposition has described the election as a last stand for Turkish democracy.

Interestingly, the election is keenly watched by the West as Turkey's foreign policy has seen it cultivate close connections with Russia and Gulf states despite being a NATO member.

Erdogan, in a recent interview with CNN, had made it clear that he would continue to block Sweden's access to NATO, despite Western criticism that he was obstructing a unified front against Russia's invasion of Ukraine. He also hailed his relationship with Russian President Vladimir Putin as "special." 

Eedogan's AK Party won the majority in Turkey's Parliament too, meaning his opponent would have far less power as president.

Nationalism trumps economic ruin? 

Critics have partially blamed Erdogan's unorthodox policies for the country's economic crisis, which witnessed currency plunging and prices soaring. They blamed the soaring inflation for Erdogan's decision to cut interest rates. He was also blamed for loosening construction standards which resulted in a construction boom. This same had proved detrimental during the earthquake.

The President was also accused of controlling the judiciary and other institutions and of sidelining liberals and critics and committing human rights violations.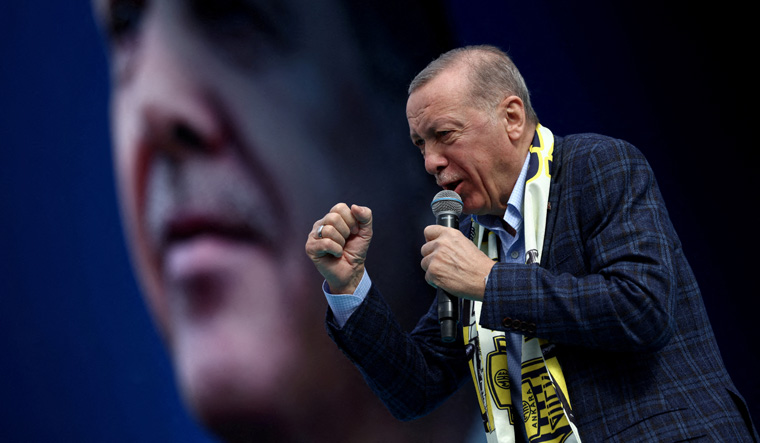 However, the edge for Erdogan proves that nationalism trumps everything else. Erdogan's conservative Islamist-rooted AK Party (AKP) had ridden the wave of symbolism and nationalism as Turkey marks the 100th anniversary of its foundation as a post-Ottoman republic.

"Turkey has a longstanding democratic tradition and a longstanding nationalist tradition, and right now it's clearly the nationalist one that's winning out. Erdogan has fused religious and national pride, offering voters an aggressive anti-elitism," Nicholas Danforth, Turkey historian and non-resident fellow at think tank ELIAMEP told Reuters.

"More Erdogan means more Erdogan. People know who he is and what his vision for the country is, and it seems a lot of them approve."