Demonstrations against the ruling Communist party's zero-Covid policies are flaring up in China as protests have spread to other Chinese cities like Guangzhou and Chengdu.
Hundreds of people who took to the streets against the stringent government policies clashed with police in Shanghai on Sunday night. Videos doing rounds on social media, that couldn't be verified, showed protestors chanting "Xi Jinping, step down! CCP, step down!"
Reports said the protestors are fuelled by anger over the deadly fire in the western Xinjiang region that claimed 10 lives. The demonstrations began late on Friday and Saturday in Shanghai and at universities across China. This comes as China's Covid measures have left people frustrated and its economy stumbling.
Beijing too witnessed civil disobedience as over 400 people gathered on the banks of a river in the capital city for several hours, with some shouting: "We are all Xinjiang people! Go Chinese people!" 
Some in the crowd sang the national anthem while others listened to speeches as police cars waited on the other side of the canal bank, reported AFP.
Interestingly, people were seen waving blank sheets of paper symbolising censorship in China. Reports said citizens were mocking China's laws as they "heeded" the police demand to stop chanting "no more lockdowns" by sarcastically changing their slogans to "we want more lockdowns and covid tests."
People also clashed with police in Shanghai as they chanted "Xi Jinping step down! CCP, step down!" After police tried to move them away from Wulumuqi street, named after the Mandarin for Urumqi, people dispersed, only to return to hold silent protests.
"We just want our basic human rights. We can't leave our homes without getting a test. It was the accident in Xinjiang that pushed people too far," a 26-year-old protester in Shanghai told Reuters.
"The people here aren't violent, but the police are arresting them for no reason. They tried to grab me but the people all around me grabbed my arms so hard and pulled me back so I could escape," he added.
The city of Wuhan, from where Covid is said to have emerged, too witnessed protests as videos showed crowds walking through the streets cheering and filming on their phones. These videos were quickly taken off Chinese social media.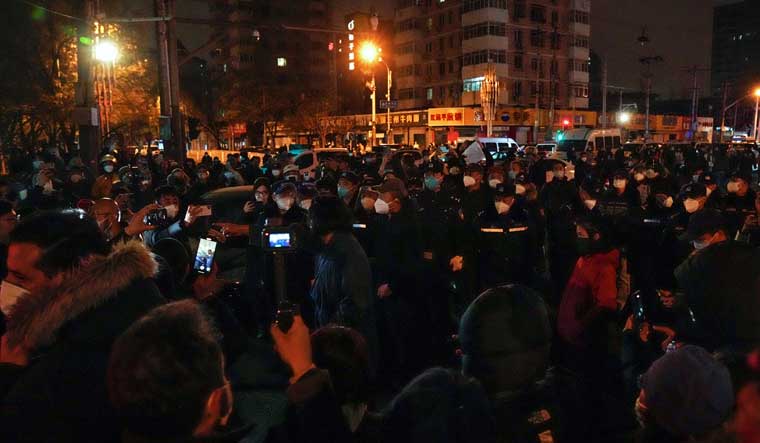 Students across elite universities, including Tsinghua University and Peking University, too rallied to protest against the government. Videos from the varsities show students shouting, "democracy and the rule of law, freedom of expression." These videos too disappeared from the internet soon.
A large crowd gathered in the southwestern metropolis of Chengdu too held up blank sheets of paper and chanted: "We don't want lifelong rulers. We don't want emperors," a reference to Xi, who has scrapped presidential term limits. 
This comes as China's case numbers have hit record highs for days with nearly 40,000 new infections on Saturday. This has prompted the authorities to impose lockdowns in cities across the country. According to CCP, this is necessary to prevent overwhelming the healthcare system.