Elon Musk's former girlfriend has put up unseen pictures of the billionaire for auction. Jennifer Gwynne, whom Musk dated while at University, has put up pictures of the couple in a dorm room, and several others, along with a card he signed for her for auction at RR Auction. The couple dated while they were studying together at the University of Pennsylvania. The duo dated in 1994. They were together for a year. Among the items up for auction is also a 14-carat necklace Musk gifted her. Gwynne, now 48, is auctioning off the items to fund her stepson's education.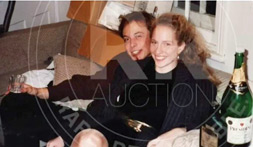 Gwynne said that Musk was always into academics and she knew that he would go places, the Daily Mail reported. She also said that Musk always talked about electronic cars and that they were going to be the way of the future. She also added that Musk was very reserved by nature. Gwynne, who now lives in California, said that Musk wasn't very affectionate, especially publicly. The CEO of Tesla is currently involved in a lawsuit with Twitter. He was in the news in July after it was revealed that he fathered twins with Shivon Zilils, a top executive at his artificial intelligence company Neuralink.
Musk is now the father of nine children. He has five children with his first wife Justine Musk, and two with the singer Claire Boucher, known professionally as Grimes.