In what is feared could affect the effectiveness of a future vaccine for known strains of COVID-19, mink-based strains of the coronavirus were founded to have infected 214 people in Denmark since June, the country's State Serum Institute said in a report on Thursday.
In response, Denmark plans to cull its entire population—up to 17 million—of minks. Denmark is the largest producer of mink skins in the world, producing 40 per cent of the world's pelts. 
Announcing the decision in Wednesday, Prime Minister Mette Frederiksen said it was made with a "heavy heart" but that health authorities had recommended it. "The virus has mutated in mink. The mutated virus has spread to humans," he said.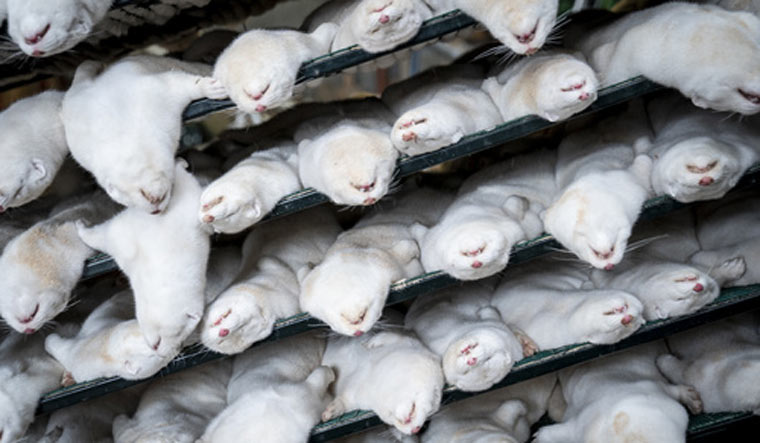 While several different strains of coronavirus had been detected in the 214 people since June, one particular cluster of 12 which had spread to five mink farms appears to have worried authorities. A new lockdown in North Jutland is being enforced to prevent the spread of infection.
"From tonight, citizens in seven areas of north Jutland are strongly encouraged to stay in their area to prevent the spread of infection," Frederiksen said at a news conference on Thursday.
"We are asking you in north Jutland to do something completely extraordinary. The eyes of the world are on us," he added.
Thousands of mink had earlier been found dead in the US after getting infected by COVID-19. Spain culled over 90,000 mink in May after finding they had been infected by the coronavirus, killing them in order to prevent the virus from spreading back to humans. Over one million mink have been culled in the Netherlands alone.
The World Health Organisation has urged caution in dealing with the mutation while saying that there is currently no evidence that the new strains could affect vaccine efficacy. 
WHO chief scientist Soumya Swaminathan on Friday said it was too early to jump to conclusions about the implications of the virus on vaccine efficacy.
"We need to wait and see what the implications are but I don't think we should come to any conclusions about whether this particular mutation is going to impact vaccine efficacy," she said, adding that there was no evidence at the moment that it would, the Guardian reported.