ISRO on Friday tasted maiden success in the small satellite launch vehicle segment, with its SSLV D2 rocket injecting three satellites into an intended circular orbit, months after the maiden mission failed to bring in the desired results.
Buoyed by today's success, the premier agency said the launch has "set the tone" for its activities this year, dotted with a number of proposed PSLV and GSLV missions, among others.
The payloads launched by SSLV D2 rocket on Friday included ISRO's earth observation satellite EOS-07.
ISRO's first mission in 2023 and SSLV's August 2022 sequel saw a strange coincidence--a 9.18 AM launch, the same time the vehicle lifted off from the Satish Dhawan Space Centre here on August 7 last but could not deliver due to orbit anomaly and flight path deviation.
With the earlier SSLV not living up to the expectations, 'corrective measures' were put in in its successor.
A visibly relieved Chairman of the Indian Space Research Oragnisation (ISRO), S Somanath said SSLV in its second flight put the three satellites in the intended orbit accurately.
One of the senior scientists described the SSLV as a "smart kid."
"Congratulations to the space community of India. So we have a new launch vehicle, small satellite launch vehicle SSLV. In its second attempt today, SSLV D2 has placed the EOS-07 satellite into the intended orbit very accurately. Along with EOS-07 two more satellites were placed in the required orbit. Janus-1 through NSIL (NewSpace India Ltd) and from ANTARIS and AzaadiSat through In-Space, realised by SpaceKidz," he said.
Recalling the rocket's maiden flight, SSLV D 1, Somanath said "we had a narrow miss of placing the satellite in the orbit because of the shortfall in velocity."
"And I am very happy to report that we have analysed the problems we faced in D1, identified the corrective actions, implemented (them) in a fast pace, qualified all of those new systems, went through a lot of simulations and studies to ensure that the vehicle will become a success this time. And I am very happy to see that the really intended model of the vehicle has been executed in reality in flight," he said in his address from the Mission Control Centre after the launch.
Orbit achieved by the vehicle today using its novel, very cost-effective and innovative guidance navigation system is exceedingly good, he said.
"We were targeting to put it in a 450 km orbit. We have very close apogee and perigee (relating to orbit distances)...inclination is very small error only. This also shows that the new model of vehicle navigation system and electronics that we have incorporated in SSLV is doing very well," Somanath, also Secretary, Department of Space, added.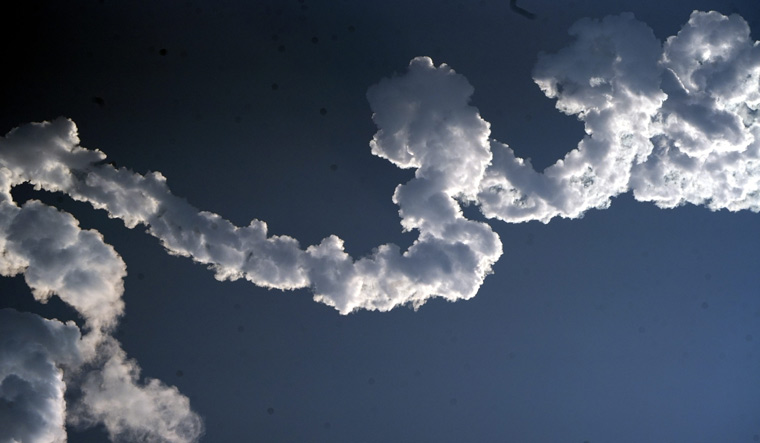 "This is the inaugural launch of 2023. This will set the tone for the rest of the activities that are going to happen," this year, he said.
Mission Director S Vinod said the ISRO team made a "comeback" is short time soon after the August 7, 2022 launch.
ISRO now has a "new launch vehicle" on offer for the launch vehicle community, he added.
"It is a momentous occasion for us, proud occasion for ISRO that we now have a new launch vehicle to be offered to the launch vehicle community. It all began in 2018--a journey started in 2018 that has reached its intended destination today.The journey which has traversed through its nascent phase of configuration, realisation, fabrication, testing analysis and finally it even had to overcome the covid phase."
"It reached the launchpad last year. We had the maiden flight on August 7. As mentioned by the Chairman, we observed a small anomaly in that. The detailed analysis by a number of teams carried out and we were able pinpoint the problem in the system and we had to overcome that. I would like to say we overcame that and in the shortest period of five months we have comeback. In the shortest period of five months we had to realise five new hardware, a new separation system. In addition to that we had to make modification to the navigation and the guidance system and also carry out a lot of testing to make the system robust," he added.
With this launch, ISRO has accomplished the laid objective of SSLV, "that is to have a low-cost low turnaround time satellite which can offer launch on demand," he said.
Earlier, the 34-metre tall SSLV soared majestically into clear skies at 9.18 AM, after a six and a half hour countdown, carrying with it the EOS-07, besides Janus-1 and AzaadiSAT-2 satellites. The rocket placed the satellites into the intended 450-km circular orbit after a 15-odd minute flight.
EOS-07 is a 156.3 kg satellite which has been designed, developed and realised by ISRO. New experiments include mm-Wave Humidity Sounder and Spectrum Monitoring Payload.
Janus-1, a 10.2 kg satellite, built by Antaris, USA is a technology demonstrator, smart satellite mission, ISRO said.
AzaadiSAT-2, weighing about 8.2 kg is a combined effort of about 750 girl students across India guided by Space Kidz India, Chennai. It aims to demonstrate amateur radio communication capabilities, measure radiation, among others, the space agency added. Somanath congratulated the girls behind the initiative.
According to ISRO, SSLV is capable of launching mini, micro or nano satellites in the 10-500 kg segment into the 500 km planar orbit. It caters to the launch of satellites to Low Earth Orbits (LEO) on "launch-on-demand" basis. It provides low-cost access to space, offers low turn-around time and flexibility in accommodating multiple satellites, and demands minimal launch infrastructure, ISRO added.
It is configured with three solid propulsion stages and a velocity terminal module.