Karnataka Chief Minister Siddaramaiah held a meeting with retired Supreme Court judges, advocate generals and irrigation experts on Thursday to consider the next course of action on the ongoing Cauvery row.
According to a statement released from CM's office, the Union government will face contempt of court if they willfully disagree to release water from Cauvery river to Tamil Nadu.
The consequences of denying the water release was explained by CM Siddaramaiah.
"Our opinion is that water should not be released. But if we don't do so, then the Union government may take over the reservoirs...It'll lead to contempt of court and the government may be dismissed," said Siddaramaiah.
However, the government is all ears to chalk out a formula as Cauvery Water Management Authority's (CWMA) directed the state to release 3,000 cusecs of water to Tamil Nadu. Challenging the CWMA's decision, the state government had filed an appeal in the Supreme Court. TN also moved to SC with an appeal to release 5,000 cusecs of water.
Karnataka requires a total of 284.85 tmc ft. Due to shortage of rain, there is no more water to spare to TN, said officials.
Meanwhile, hundreds of protestors were detained during Friday's Karnataka bandh called by pro-Kannada organisations and farmers' outfits to protest over Cauvery row.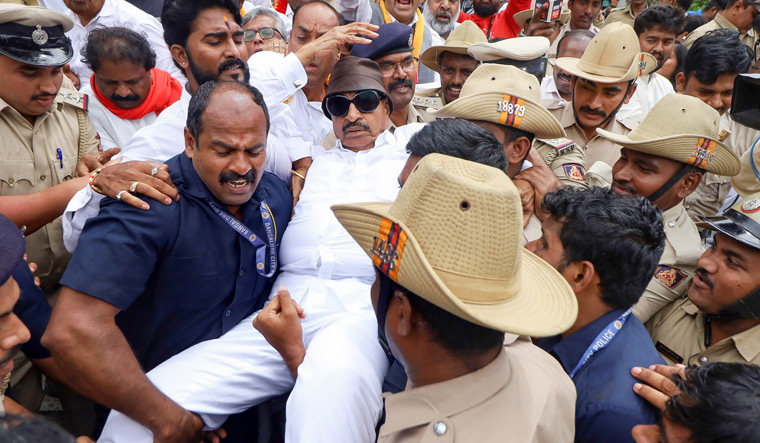 Deputy Chief Minister D.K. Shivkumar said that there was no need for a bandh and a new formula will be devised with Tamil Nadu. "There was no need for bandh, which some organisations have called," he said. DKS also added that the state government ensured that no one faced hardships during the bandh as it was peaceful in most of the places.
The Kannada film industry also came forward extending their support to the bandh. Theatres across the state had cancelled shows till evening. The Karnataka Film Exhibitors Association also backed the bandh.
The Kannada organisation headed by Vatal Nagraj has called for 'KRS Chalo' on October 5. Organisations will hold a rally from Mysore Circle in Bengaluru and Gherao at KRS dam against the release of Cauvery water. Nagraj was detained by police while he was protesting outside the town hall during the bandh called on by the outfits.