French investigative news outlet Mediapart has published new documents which it claims are "bogus invoices" used by aircraft maker Dassault Aviation to pay up to €7.5 million in secret commissions to a firm owned by a middleman, in order to facilitate the sale of the Rafale fighter jet to India.
The deal has been in the spotlight after the July appointment of a French judge to lead a "highly sensitive" judicial investigation into it following allegations of "corruption and favouritism" in the sale of 36 Rafales to India in 2016 for an estimated €7.8 billion (Rs 59,000 crore).
Exclusive. @mediapart publishes the "bogus invoices" that allowed Dassault to pay at least € 7.5 million to the intermediary Sushen Gupta in Mauritius between 2007 and 2012 to facilitate the sale of Rafale jet fighters to India. #RafalePapers Thread 1/3 https://t.co/jbVmHGIvcB

— Yann Philippin (@yphilippin) November 7, 2021
The report claims that a firm controlled by alleged middleman Sushen Gupta, Interstellar Technologies, received at least €7.5 million from Dassault between 2007-2012, "thanks to IT contracts that were clearly overbilled, and from which most of the money was discreetly sent to Mauritius using a system of alleged false invoices".
ALSO READ: Rafale probe implications: Why it is different from the Bofors scandal
The story by Mediapart's Yann Philippin, who has covered the deal in the past, says Indian investigative agencies like the Central Bureau of Investigation (CBI) and Enforcement Directorate (ED) were aware of the invoices since at least 2018 but took no action on it.
"It involves offshore companies, dubious contracts and false invoices. Mediapart can reveal that detectives from India's federal police force, the Central Bureau of Investigations (CBI), and colleagues from the Enforcement Directorate (ED), which fights money laundering, have had proof since October 2018 that French aviation firm Dassault paid at least 7.5 million euros (equivalent to just under Rs 650 million) in secret commissions to middleman Sushen Gupta," Mediapart claimed in the report.
Gupta had been a person of interest to the Enforcement Directorate (ED), which had accused him of being a middleman in the AgustaWestland VVIP chopper scandal, stating that he held classified documents, draft letters and sensitive information about the Defence Ministry, Indian Air Force and Hindustan Aeronautics Ltd. He was arrested by the ED in 2018.
As part of this case, Mauritian authorities sent documents related to the company to the CBI and ED. While the documents were sent to the CBI on October 11, 2018, a week after the CBI received a formal complaint alleging corruption in the Rafale deal, it did not open an investigation "even though just seven days after that corruption complaint was filed it received information proving that secret commissions had indeed been paid," the report said.
The Mediapart report notes that "Dassault" is incorrectly spelt "Dassult" in one of the invoices, dated May 19, 2009. Philippin tweeted saying an employee of Sushen Gupta's lawyer told the CBI that the invoices were "fake".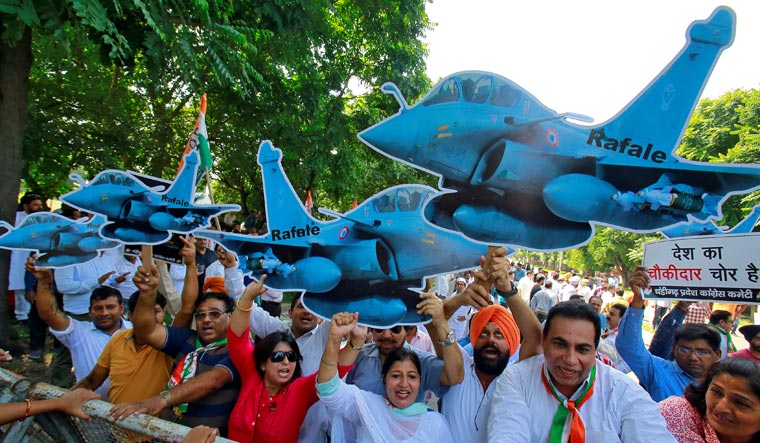 Earlier this year, Mediapart reported that a company controlled by Gupta had been commissioned to make 50 large replica models of the Rafale following the signing of the Indo-French contract in 2016.
Both Dassault and the Indian defence ministry have in the past trashed allegations that there was any corruption in the contract for 36 Rafales. In 2019 the Supreme Court of India also dismissed petitions seeking a probe into the deal saying there was no ground for it.
BJP IT Cell head Amit Malviya tweeted Mediapart's story, alleging that it was the UPA government that collected kickbacks.
"Dassault paid €14.6 Mn to intermediary Sushen Gupta over the period 2004-2013 to sell Rafale. So UPA was collecting kickbacks but couldn't close the deal? NDA later scrapped it and got into a contract with the French Govt, which upset Rahul Gandhi no end," he tweeted.
On November 7, India reportedly lifted its ban on dealings with Italian firm Leonardo (formerly known as Finmeccanica), which had been banned for its role in the VVIP helicopter scam. the ban was imposed in 2014 following allegations of corruption in the Rs 3,600 crore contract to supply helicopters to carry the prime minister, vice president and president. However, investigations into the case against the company by the CBI and ED are still ongoing.