He was a police officer with a doctorate on the topic of land reform in West Bengal. He served the left front in the state for over two decades. He described Benoy Chowdhury, land reforms minister in the Jyoti Basu government, as Gandhi. He compared Basu himself to Nehru. He knew CPI(M) general secretary Sitaram Yechuri since his college days in Delhi university, and described former West Bengal chief minister Buddhadeb Bhattacharjee as "a man of unparalleled honesty, conviction, highly principled to a fault".
The police officer, former state inspector general of police Gaurav Chandra Dutt, committed suicide on Tuesday. According to reports, he blamed Chief Minister Mamata Banerjee for his death, alleging mistreatment by the administration.
An officer of the 1986 batch, Dutt took voluntary retirement early last year and had applied for the release of his pension papers and other retirement dues like provident fund and gratuity. The total dues apart from monthly pension was around Rs 72 lakhs.
"The vindictiveness of this chief minister is unparalleled. My honest hard-earned savings have been blocked," Dutt said in the suicide note. Before taking his life, he had sent the note to some former IPS officers in the state, known to be very close to him, and some well-wishers.
The BJP demanded a CBI inquiry. "The chief minister should be booked for pushing the former officer to death," said Mukul Roy. Dutt was found at his home in Salt Lake, profusely bleeding. He reportedly slit his wrists when his wife was not at home. He was rushed to a local hospital but declared dead after a few minutes.
Dutt had spent most of his life in the national capital as his father Gopal Dutt was an IPS officer of the 1939 batch. The senior Dutt was among the first batch of officers who formed a part of the Research and Analysis Wing (RAW). Gopal Dutt was also the chief security officer of then prime minister Indira Gandhi in the late sixties.
The grudge against junior Dutt stemmed from the fact that he was the superintendent of police of undivided Midnapore when the 1999-2000 Keshpur political massacre took place. In the violence, many Trinamool Congress members and workers were allegedly killed by the left front leaders. In his suicide note, Dutt said that the police started two departmental proceedings against him.
"One case file was deliberately lost by the West Bengal government. In the second case, no corruption charge could be substantiated. Even the DG requested the CM, but she refused to close the cases. The CM is directly responsible for my action [suicide]," he wrote.
He said that due to two departmental proceedings, he was singled out for bias and prejudice. "I was refused leave, and not sent on deputation. I was not sent to any police course or training, and was not allowed to renew my passport," Dutt wrote in the note.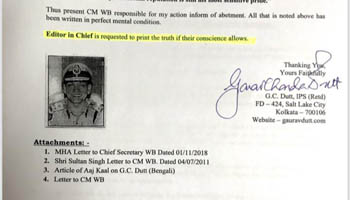 Dutt said Banerjee had "victimised him for 10 years" and went all out to "demoralise me due to her single-minded vendetta for reasons best known to her". "Her secretary Gautam Sanyal refused to meet me every time I tried for an appointment," said Dutt.
Ironically, Dutt even approached the Union home ministry, but said he received little help from the Modi government. "The chief minister is specifically responsible for my action. I have been approaching Delhi every year for the last few years, and camping out at the North Block. My pleas to the Union home secretary have fallen on deaf ears. I have returned frustrated every time," said he.
Dutt also said some of his colleagues tortured him. "By torturing me, they could please the CM and thus get some benefits. Like rats in a sinking ship, all service friends, social acquaintances and well wishers abandoned me. That was my biggest failing in my career of 33 years, as my parents did not teach me sycophancy and servility".
Defending his decision to commit suicide, Dutt said, "I decided to take the drastic step to highlight genuine problems faced by honest officers in West Bengal, and other parts of India."
"Maybe senior officials will henceforth think twice before tormenting, torturing and destroying honest officers like me who stand desolate, abandoned, homeless and humiliated. If one cannot live with honour, it is better to die with honour," Dutt said.
Dutt said Mamata's dharna in Esplanade against the CBI was all for show. "The favourites sitting with her at Esplanade got palatial bungalows, multiple SUVs, guards, servants and staff to keep them totally servile, subservient, pliable and spineless. Both sides are happy and content in this symbiotic relationship," he mocked the IPS officers close to the chief minister.
The West Bengal government refused to give an official statement on the incident.