Two months after protests by the BJP and other Hindu groups forced a Christian-run college in Tiruchirappalli to call off a seminar on harassment of women, the prestigious Loyola College in Chennai is facing the ire of the Hindu rightwing.
Loyola College, which was founded in 1925 by Jesuit priests, had hosted a two-day event on reviving traditional art forms on January 19-20. The event, 'Veedi Viruthu Vizha', was being organised for the sixth time at Loyola College in collaboration with two other groups. An art exihibition was organised on the sidelines of Veedi Viruthu Vizha, which attracted the ire of rightwing groups.
Social media users started sharing images from the art exhibition, which purportedly showed derogatory drawings of Bharat Mata, in the context of the MeToo movement, and Prime Minister Narendra Modi.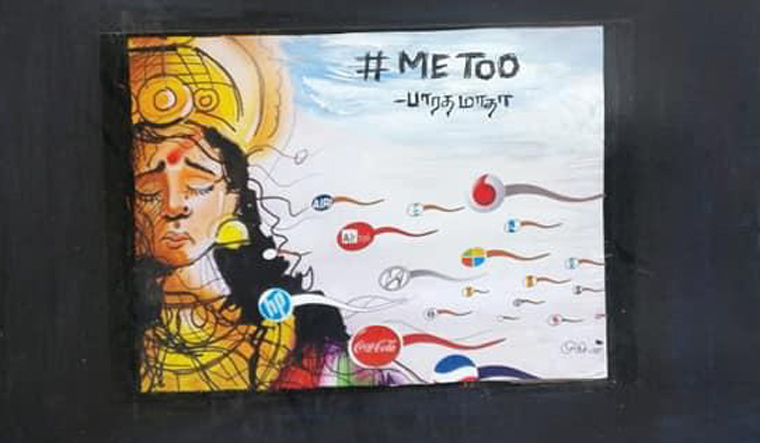 Taking to Twitter on Monday morning, BJP national secretary H. Raja called for action against Loyola College for offending Hindu sentiments. Raja tweeted, "VCK, Communist, Naxalite and Christian conversion groups have joined together in a planned way to attack Hindu religion and our nation at Chennai Loyola College. A complaint has been filed...".
பாரதமாதாவை, பாரதப் பிரதமரை, இந்து மதத்தை இழிவு படுத்தும் லயோலா கிறித்துவக் கல்லூரி மீது நடவடிக்கை எடுக்கக்கோரி புகார் மனு கொடுக்க டிஜிபி அலுவலகம் முன்பு 11.30 க்கு அனைத்து தேசபக்தர்கள் இந்து உணர்வாளர்கள் வரும்படி கேட்டுக் கொள்கிறேன்.

— H Raja (@HRajaBJP) January 21, 2019
Raja also called for a demonstration in front of the DGP's office in Chennai on Monday. In a tweet, Raja wrote, "Loyola College has defamed Bharat Mata, Prime Minister Narendra Modi and Hindu religion. I appeal to all 'deshbhakts' and Hindu support groups to assemble at DGP's office at 11 30 to demand action."
BJP Tamil Nadu unit president Dr Tamilisai Soundararajan also condemned the exhibition at Loyola College, saying it "insulted Hindu sentiments, RSS, Modi and Bharat Mata". Interacting with mediapersons, Soundarajan claimed, "the MeToo artwork on Bharat Mata at Loyola College has made me furious. We demand an explanation from the college, else there will be a protest from BJP's side."
Minister of State for Finance and Shipping Pon Radhakrishnan demanded action against Loyola College. Speaking to mediapersons, Radhakrishnan claimed that the state AIADMK government not acting against Loyola College over the art exhibition would show it supported such actions.
In November, St. Joseph's College in Tiruchirappalli cancelled a seminar on 'harassment of women as registered in Tamil literature' after protests from Hindu rightwing groups. Raja had demanded it be cancelled as the event would bring disrepute to Tamil and Vedic literature. Raja alleged the seminar was planned by "Urban Naxals" and "Christian missionaries" to create unrest.
Tamil Nadu Minister for Tamil Official Language, Tamil Culture and Archaeology K. Pandiarajan assured of intervention on the issue. St. Joseph's College had claimed the seminar was cancelled on account of diversion of resources for relief work after cyclone Gaja.