With 118,381 confirmed cases, 4,292 deaths across 114 countries, the World Health Organisation (WHO) on Wednesday declared Covid-19 caused by the novel coronavirus a pandemic. What's the difference between an outbreak, an epidemic and a pandemic? What does it mean to you? Read to find out. 
What's a pandemic?
The WHO defines a pandemic as "an outbreak of a new pathogen that spreads easily from person to person across the globe". To be classified as a pandemic, a disease must be contagious. For instance, cancer is a widespread disease but it cannot be categorised as a pandemic as it is not a communicable or infectious disease. Pandemic classification also has nothing to do with the seriousness of the illness. 
So what's the difference between an outbreak, an epidemic and a pandemic? An outbreak is the sudden spread of an illness at a particular place. For example, it was an outbreak when coronavirus started off in China's Wuhan area around two months ago. Soon, it spread to other parts of China, resulting in an epidemic. Now, with more than one-third of the positive cases being reported from countries other than China, Covid-19 has promoted itself to become a pandemic. 
The official declaration of a pandemic means the disease has reached a tipping point where it spreads on a far wider geographic scale—sweeping through populations faster. It is not a black-and-wide decision, as experts would say, but what the WHO typically looks for is sustained community outbreaks in different geographies. 
Until WHO's Wednesday declaration, Covid-19 was considered an epidemic, which refers to the spread of an illness in a "community or region", but that which exeeds the normal expectancy levels. It could also mean a cluster of outbreaks in a number of countries as was the case with coronavirus until earlier this week when most of the positive cases were confined to China, Italy, Iran and South Korea. However, as time progressed, about one-third of the positive cases are now outside of China, the epicentre of the outbreak. 
For a disease to be declared a pandemic, it should have self-sustaining links of infection. This means that there are new potentially dangerous outbreak spots, far away and with no links to the original geography of the outbreak. When there is no obvious link to an outbreak, signalling wider spread of the illness, it becomes a significant factor to be a pandemic. 
For instance, an infected man returning from Italy—the second worst affected nation currently—might not kick off a pandemic even if he passes on the infection to a close circle of people. However, if the same man sparks a local outbreak with no obvious contact points and soon spreads to other geographies as well, it becomes a pandemic. 
The pandemic phase is the most fearful when the disease spreads like wildfire. It is in this phase that the disease would reach its saturation level. According to the WHO, the next phase would be a transition phase when the global risk factor diminishes and countries begin to recover.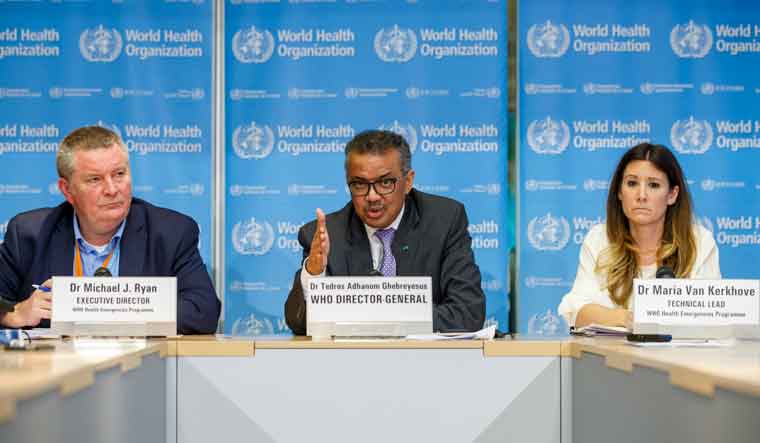 For the WHO to declare a disease a pandemic, it has to spread in at least two regions in the world. Covid-19 is now spreading in four major parts of the world. 
Previous pandemics
The last time the world saw a pandemic outbreak was in 2009, when the H1N1 swine flu outbreak sent out chills across major continents  within just six months. One in five people across the globe, or about 20 per cent of the global population, had contracted the swine flu virus then. Fortunately, swine flu was only a mild outbreak with a low mortality rate of 0.02 per cent. Hence, H1N1 swine flu was a mild case of a pandemic. 
Today, the "swine flu" strain is has come to be known as an "endemic"—a part of every season's regular flu outbreak—across the worldwide.
The best example of a pandemic is the '1918-19 influenza' fanned by frequent troop movements during the World War I. It had struck an estimated 500 million people, around 25 per cent of the world population then. The death toll is estimated to have been 40 million to 50 million.
Pandemic and fatality rates
The classification as a pandemic does not mean that the fatality rates are high for a particular disease. On the other hand, it simply means that the disease is spreading at a faster pace than thought before, though the more the disease spreads, the more casualties it might have. More often than not, these fatalities might not be because of the severity of the disease, but due to unavailability of sufficient medical care or hospitals and clinics running out of capacity. 
Hence, declaring Covid-19 a pandemic necessarily does not mean that more people are dying from the disease or a higher mortality rate.  Seasonal flu has a mortality rate of 0.1 per cent. While a clear picture of mortality rate of coronavirus is yet to emerge, the disease has so far proven to be less fatal than SARS (Severe Acute Respiratory Syndrome) and MERS (Middle East Respiratory Syndrome), even though it is spreading more easily than those earlier outbreaks.
The SARS outbreak in China and Hong Kong in 2002-03 had a mortality rate of about 10 per cent. MERS coronavirus had a rough mortality rate of 35 per cent. However, both SARS and MERS outbreaks were contained effectively faster and hence, were never declared pandemics. 
What does a pandemic mean to you and me?
Declaring an illness a pandemic should not raise unnecessary alarms. It merely means that nations around the world have to keep everything aside and step up their efforts on war footing to check and stop the monster from spreading further. "We should double down, and we should be more aggressive," WHO chief Tedros Adhanom Ghebreyesus said on Wednesday announcing the coronavirus outbreak a pandemic. It should not be taken by countries as a signal to give up on efforts to contain the virus with methods like contact-tracing, he added.
 
In fact, notwithstanding the faster pace at which coronavirus spreads, this is the first case of a "pandemic that can be controlled at the same time."

The restraining efforts must continue. The word "pandemic" should trigger an emergency-grade response system from governments. From closing borders to shutting down airports and schools, and encouraging people to work from homes, governments worldwide have already put in place social distancing. Person-to-person contact must be discouraged to the maximum extent. 
But remember, even as governments should strive for social distancing, there should be more efforts to send in help and medical aides, volunteers and helpers. "We are not saying the world should move from containment to mitigation... the blended approach should continue. It will be a mistake to abandon the containment strategy," reminded Tedros.
There is a lot to learn from China in this aspect. Currently, Covid-19 is tapering off in China with the number of new positive cases reported per day narrowing down to single digits.